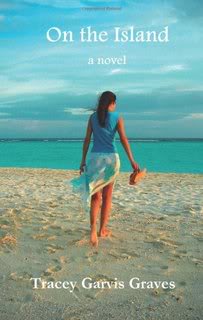 On The Island by Tracey Garvis-Graves
Publish Date: September 3, 2011
My Source: review copy from the author
When thirty-year-old English teacher Anna Emerson is offered a job tutoring T.J. Callahan at his family's summer rental in the Maldives, she accepts without hesitation; a working vacation on a tropical island trumps the library any day.
T.J. Callahan has no desire to leave town, not that anyone asked him. He's almost seventeen and if having cancer wasn't bad enough, now he has to spend his first summer in remission with his family – and a stack of overdue assignments – instead of his friends.
Anna and T.J. are en route to join T.J.'s family in the Maldives when the pilot of their seaplane suffers a fatal heart attack and crash-lands in the Indian Ocean. Adrift in shark-infested waters, their life jackets keep them afloat until they make it to the shore of an uninhabited island. Now Anna and T.J. just want to survive and they must work together to obtain water, food, fire, and shelter. Their basic needs might be met but as the days turn to weeks, and then months, the castaways encounter plenty of other obstacles, including violent tropical storms, the many dangers lurking in the sea, and the possibility that T.J.'s cancer could return. As T.J. celebrates yet another birthday on the island, Anna begins to wonder if the biggest challenge of all might be living with a boy who is gradually becoming a man.
-(summary from Goodreads.com)
On The Island by Tracey Garvis-Graves
My Thoughts
:
I will admit, you guys, when I started this book – I didn't really know what to expect. Another blogger,
April
, had raved and gushed about On The Island…so I knew that it would at least be good. I had no idea that it would be FANTASTIC. I sat down to read a little bit of it for a few minutes – you know, to check it out – and ended up reading the whole doggone book. I couldn't put it down. Could not.
What I LOVED about On The Island:
1. The Characters. Anna & TJ. Anna is a thirty-year-old teacher who has been hired to tutor TJ during the summer while he vacations with his parents in the Maldives. TJ has just been through the ordeal of a lifetime. Who can imagine going thru cancer in high school and missing most of the year? While TJ just wants to spend the summer with his friends – like normal people – his parents are insistent that he catch up on his studies.
TJ and Anna meet at the airport in a friendly, albeit typical student/tutor-like exchange. He, of course, thinks his teacher is hot and all she can think about is how she is just ready to get to the islands. Their first test in character comes when there is trouble on the plane and they are immediately thrust into having to work together.
Anna is a quick thinker – level-headed and a take-charge kinda gal, but in a good way. TJ is a smart teenage boy – he is quickly able to realize the danger of the situation and that he needs to listen to Anna for guidance. As the plane goes down, their true characters begin to emerge. Both beaten and battered, floating in the ocean, they still look out for one another – their first concerns each being safety and survival, then fear.
Anna is a great leader – strong and fierce – but she is every bit a woman, and I loved this about her. She is the best of both worlds – strong and weak – and she isn't afraid to show both sides. I found this a very real quality in this fictional character and it helped me identify and connect with her almost instantly. She is smart in the ways of education, an bookish (despite not having any books on the island), but she also has plenty of common sense and I just thought she was very well-rounded and fleshed out perfectly.
TJ…aaahhh, TJ. At first, when he was a teenager, he seemed exactly like a teenager. When they arrived on the island, however, TJ began to change almost immediately, despite his young age. Already a bit mature for his age given the health crisis he'd faced before, he became that much more mature given the severity of their survival situation. What TJ didn't know, he learned quickly – whether by Anna's teaching or by life experience – and I loved the person that he became because of this. TJ was strong and also vulnerable, but not wimpy. He was unafraid to tell Anna his feelings, to open up and share his thoughts. This strengthened their friendship in the beginning and ultimately made the basis for their relationship truthful, honest, and virtually unbreakable.
These two characters were fantastic together. They had chemistry on the pages and once their relationship changed, it was intense. Anna and TJ were written almost as if they were real people that had been through this experience and were telling their story to the author. Never awkward, never shy, and always real – I loved them.
2. The Romance. Intense, very slow-burn, and WOW.
When the plane goes down and TJ and Anna are stuck on the island, TJ is sixteen and Anna is thirty. They are in full survival mode as teacher and student first, then as two people trying to just survive another day. They gradually become easy companions and things stay this way for a very long time. As their unusual relationship becomes more of a friendship over the course of a couple of years, TJ has grown and matured from a post-cancer teenage boy to an island-survivor man. He's grown into a role where he is helping to make choices – in some cases, making serious grown-up decisions – and Anna begins to view him more as an equal. Eventually, over the course of about three years or so, Anna realizes that she doesn't really see him as a boy anymore because he is a man now, and she realizes that things are about to change.
I knew they would have an intimate relationship going into this book. I knew it sounded controversial, and if the author had handled it differently it might have been. But guys, I assure you that this relationship – from the very beginning – was handled completely appropriately. I was never uncomfortable reading On The Island. In fact, I was so fully immersed in it that I had to remind myself that I wasn't on the island with TJ and Anna.
3. The Setting. An uninhabitable island somewhere off of the coast of the Maldives. The author describes the island well. I read about the shore, the inland area, a cave area, an abandoned shack, a reef, and the lagoon where TJ and Anna occasionally swim with dolphins. I was immersed in the island survival culture of these two. I felt the pounding rain, I listened to the annoying buzz of the mosquitoes, and my skin felt hot as I sat in the sun with these two all day long. I felt the joy of small and large successes, the pain of small and large losses, and the agony of defeat with the realization that there would be no rescue. I felt hungry. I felt thirsty.
I felt despair
.
I could visualize this setting so well, not only based on this author's writing but on the placement of the characters inside of it.
4. The Survival. The actual survival story was a roller coaster of emotion. My stomach was in knots – the good kind – the kind that goes along with a book that makes you turn the pages faster and faster because you have to KNOW if they found anything to eat today, or if it rained so they had drinking water, or if today is the day when they finally admit to each other that they have feelings that they can't ignore anymore. I wanted to cry sometimes and laugh at other times. I was sometimes shocked and sometimes so happy. I was always nervous for the pair and I was always comfortable with their relationship at each phase. I wanted them to get off of the island but yet I wanted them to stay just as they were.
From a technical standpoint, the story is very well-written and enjoyable. It is very action-driven to this end and the pacing is quick. I suppose that is how it must be to really be stranded on an island having to work for everything – food, shelter, water. It was non-stop – something new on every page. Every new issue and event Anna and TJ encountered was written well and was captivating to me.
5. The Ending…was great! I loved this book, cover to cover. A solid recommend to me and from me to other people from now on. Friends, this is one where you close the book and hug it. Then you spend days thinking about it. THIS is that book.
On The Island was an absolute pleasure to read. It was an emotional roller coaster, and I enjoyed every up and down. TJ and Anna are great characters. They are never bore to read, keeping me on my toes the entire time. They're very easy to become attached to. I felt fully invested in their trip as they boarded the plane, their survival as they arrived onto the island, and their life as they realized that help might never come. I was invested in their relationship as it grew from teacher-student to friends to more than friends. Even though I tended to forget that Anna was considerably older than TJ, she never did – and this attention to the appropriateness of their relationship was one of the things that I liked about her and one of the things that I loved about how the book was written.
I cannot recommend On The Island highly enough to an age-appropriate crowd. It is everything I love about a great book. It brought out every emotion and made me feel all sorts of things for these two excellent characters.
On The Island will appeal to fans of:
Romance
Survival Stories
Action-Driven Stories with Excellent Characterization
Slowly developing friendship-into-romance
Quick pacing
Alternating POV
Suitable for older YA and adult readers
On the Island by Tracey Garvis-Graves is currently available for purchase
.