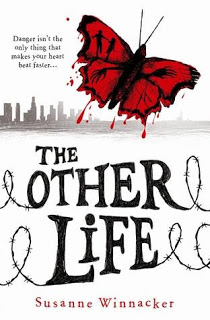 The Other Life by Susanne Winnacker
Published by
Usborne Publishing

UK Publish Date: February 1, 2012
US Publish Date: May 1, 2012
320 Pages
My Source: Borrowed
The Other Life by Susanne Winnacker
3 years, 1 month, 1 week and 6 days since I'd seen daylight. One-fifth of my life. 98,409,602 seconds since the heavy, steel door had fallen shut and sealed us off from the world.
Sherry has lived with her family in a sealed bunker since things went wrong up above. But when they run out of food, Sherry and her dad must venture outside. There they find a world of devastation, desolation…and the Weepers: savage, mutant killers.
When Sherry's dad is snatched, she joins forces with gorgeous but troubled Joshua – an Avenger, determined to destroy the Weepers.
But can Sherry keep her family and Joshua safe, when his desire for vengeance threatens them all? -(summary from Goodreads.com)
My Thoughts: I've had my eye on this book for quite some time now. It shouldn't be a surprise to my blog followers that I was captivated by the cover and synopsis for this story. When the opportunity arose for me to read it

and

share my thoughts, I jumped all over it.
The Other Life is an interesting post-apocalyptic story because the 'big issue' in the book is rabies. Yep, rabies! Some big apocalyptic event happened that did away with most of the population. Those that are left are either infected with a strange strain of rabies or trying to stay away from the infected Weepers.
When Sherry and her dad venture out of their sealed bunker in search of food, they begin to see for the first time what has happened while they've been in hiding, but they don't really understand what they're seeing. They see animals roaming the once-busy streets, homes and business destroyed

and

covered in soot and grime,

and

even a couple of mauled human bodies. They're confused and shocked, but they press on to find food – almost oblivious to the dangers around them.
Eventually Sherry and her dad make it to an abandoned grocery store in an attempt to scavenge some canned foods. While they're there, they're attacked by…something. The attacking creatures look sort of human, but are hunched over

and

partly covered with gray hair. They make growling, groaning noises

and

they have strange, hungry eyes that seem to weep a milky liquid substance. It makes them look like they're crying. (Weepers. Get it??)
Sherry's dad is kidnapped by the Weepers and taken to some unknown place. Sherry is rescued by Joshua and taken to Safe-haven, which is located way out of the city and houses a few other survivors, each with their own story. The rest of the book deals with Sherry's attempts at finding out if her dad is still alive, where the Weepers have taken him, and collecting the rest of her family from the bunker. Along the way, Joshua is there to help Sherry, all while nursing issues of his own – and his motives for helping Sherry and hunting down the Weepers may be surprising.
The Other Life, broken down:
1.
The Story
. I like Winnacker's story. She has taken rabies and made it the basis for a post-apocalyptic event. The HOW

and

the WHY will knock your socks off, especially toward the end! I feel like I'm hanging on for the next book, which will likely take the story in a completely different – although highly thrilling – direction.
2.
The Setting
. The Other Life takes place in and around Los Angeles, but this area is nothing like we know it in real life. There are several sub-settings within the abandoned metropolis, and each of these are laid out

and

described pretty well. However, I wish that the world was set up and laid out a little better for me. I know that the area was barren and desolate, but I just wish I could have felt it a little more. When I am reading a story that I have not lived through first-hand (post-apocalyptic, fantasy, sci-fi, etc.), I need excellent world-building. In this case, I have a larger world that I have built for myself. The sub-settings are described well, but I needed the world as a setting to be laid out for me.

(ie, What did it look like exactly? Colors, sounds, smells, etc?)

Did this keep me from enjoying the book? Nope, not at all. But a lover of superb world-building like myself misses it when it is away.
3.
The Characters
. There is a nice-sized cast of colorful characters in this story,

and

I really enjoy them all. They all have a unique story to tell. I wish that they were a little more developed – every one of them, but particularly Joshua. I think he has a back story that is begging to be told, and while we are given glimpses of it in The Other Life, I am hoping that in the next installment we will see much more of who he is and what makes him that way. And among the supporting cast, there are some interesting people! For example: Tyler doesn't speak throughout the book at all, until the end – and when he does finally speak, he is the one who reveals the HUGE plot twist that will carry us into book two. And whoa! what he has to tell will leave you in near-disbelief…I'm hoping that they all stick around for the second book, and I'm hoping we can get to know them all a little bit better.
4.
The Romance
. There's a romance, yes. It isn't quite insta-love and it isn't quite slow-burn. In fact, I'm not really sure it is love like we know it; it might be the product of a stressful situation and two young people thrown together…At any rate, we have a young girl and a young boy, and they both have been away from people their own age for months

and

months

and

months. So they're attracted to each other pretty much right away. They spend the majority of the book this way until the end when things go berserk-crazy and then BAM! – the romance instantly moves to another level. Without a doubt, this will be explored in the next book. Sherry and Joshua are very sweet and their story is a chance to catch our breath from the fast-paced everything-else-that-is-going-on in the book.
5.
The Pacing
. Good gracious, this is an action-driven book! A page-turner, for sure. Incredible pacing.
6.
The End
. Not quite a cliff-hanger, but I'm definitely hanging on by a thread until the next book is released. Very close to the end, some

big

big BIG things are revealed that really kicked this book up into a different level of interesting for me. These revelations at the end were a complete surprise

and

made me SUPER PROUD that this book was written by a GIRL.
I flew through The Other Life, turning the pages faster and faster – particularly closer to the end. I was impressed by Winnacker's story and am highly anticipating the next book in the series. I do wish that the world had been built-up a little bit more and that the characters were more full and developed, but the pacing and action-driven plot do very well to keep this story engaging and I enjoyed it very much.
The Other Life is a post-apocalyptic book that will appeal widely to younger YA readers and might even be suitable for older middle graders. The romance is clean and even the action scenes are, in my opinion, suitable for a younger audience as well. If you're a fan of the post-apocalyptic genre, YA horror, or zombie-ish type books, I recommend that you add Susanne Winnacker's debut novel to your wish list.
*I borrowed this book as part of Around The World Book Tours in exchange for my honest thoughts and opinions. I received no compensation for my review.