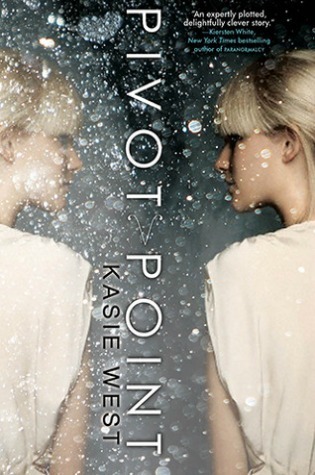 Pivot Point by Kasie West
Series: Pivot Point #1
Published by Harper Teen
Publish Date: February 12, 2013
320 pages
Source: ARC Tour & Edelweiss
Knowing the outcome doesn't always make a choice easier . . .

Addison Coleman's life is one big "What if?" As a Searcher, whenever Addie is faced with a choice, she can look into the future and see both outcomes. It's the ultimate insurance plan against disaster. Or so she thought. When Addie's parents ambush her with the news of their divorce, she has to pick who she wants to live with—her father, who is leaving the paranormal compound to live among the "Norms," or her mother, who is staying in the life Addie has always known. Addie loves her life just as it is, so her answer should be easy. One Search six weeks into the future proves it's not.
In one potential future, Addie is adjusting to life outside the Compound as the new girl in a Norm high school where she meets Trevor, a cute, sensitive artist who understands her. In the other path, Addie is being pursued by the hottest guy in school—but she never wanted to be a quarterback's girlfriend. When Addie's father is asked to consult on a murder in the Compound, she's unwittingly drawn into a dangerous game that threatens everything she holds dear. With love and loss in both lives, it all comes down to which reality she's willing to live through . . . and who she can't live without. -(summary from Goodreads)

Pivot Point by Kasie West

My Thoughts: Addie has a pretty neat ability: she is a Searcher. When faced with choices, she can look into her own future and pick the best outcome. When her parents tell her they are divorcing, she is stunned. They completely throw her for a loop when they tell her that her father is moving from their home on the paranormal compound to live among the Normals – those without abilities – and that she can choose whether or not she stays on the compound with her mother or move to live with her father among the Normals. She doesn't want to leave the life she knows, life with her friends and the ease of using their abilities. But she can't stand the thought of not living with her father, even if it means adapting to a new way of life, a life without her paranormal abilities, a life off of the compound. In order to make her decision, Addie does a search: she looks six weeks into the future. She figures if she looks that far, she'll be able to see in which life she is happiest and know which decision to make. Addie had no idea exactly what the future held for the people she loved when she decided to look into it.

************************************************************

In one possible future

, Addie stays on the compound with her mother. Life does not change much at home except that her father is not there, which is sad. Addie blames her mother for the divorce so their relationship is a little strained, but her best friend Leila remains by her side. They have tons of fun, as always. And there's Duke. Dreamy, handsome Duke. Duke is the quarterback of the football team and the boy of every girl's dreams. He seems to have a crush on Addie, but he isn't her type at all. Duke likes to be the center of attention. He's loud. He's the so-called king of school. Addie doesn't care for his loud reputation…but she soon finds herself attracted to him and then falling for him. Interestingly, when she's around him, there is no place she'd rather be. When she's not around him, she can't figure out what it is about him that she really likes. Addie is so confused.

The other possible future has Addie moving off of the compound to a town a few hours away, in or near Dallas, Texas. She begins to attend a public high school and tries to acclimate to the Norm world, which is sort of amusing. Everything in the Norm world is slightly behind the technologically-advanced world on the compound, so Addie has to figure out simple things like door locks and car radios. Addie blames her mother for the divorce so she doesn't call her or want to talk to her yet. Leila is not there, so she is without a best friend for a short while…until she attends a high school football game with her father and meets Trevor. Trevor is a guy in the stadium, watching the game. Addie sits by him and feels comfortable immediately. He is on the quieter side and not boisterous at all, like his friends appear to be. Addie likes this and soon she and Trevor are friends. Over the next few weeks, Addie and Trevor become closer until their friendship is a romance. When Leila comes to visit, she remarks to Addie that it seems like she has lots of friends and Addie realizes that even though it was hard, she has carved out a place there in the Normal world.

*There are several characters that cross-over into both futures – characters that I didn't realize would do so. Also, and more importantly, there are events that cross-over: there are unusual things happening in the Norm world and the Norms can't figure out what is going on, but they are suspicious of the students from Lincoln High (the school on the paranormal compound, which happens to come off of the compound to play other schools in sports). The two worlds do collide or cross-over, but the compound does everything it can to ensure that their paranormal existence remains absolutely a secret. Addie is in an interesting position, being a person that previously went to Lincoln High and now living in the Norm world. She knows that she has to keep her abilities and the compound a secret, but since living off of the compound, she is becoming suspicious too. Hmm.

************************************************************

I had seen some really excellent comments and reviews about

Pivot Point

by Kasie West before I began reading it and I have to admit that I was super curious. I do love a good science-fiction book and this one sounded interesting. When I started reading, right away I loved that it blended science-fiction with paranormal and threw in a dash of time travel to the future. And oddly enough, it felt like it had a little dash of contemporary to it as well, even though it clearly is not a contemporary book. I was completely sucked into this story and I loved it.

See, it isn't just that Addie has to make a choice on where to go live. It isn't that she travels to two different futures for herself. These two futures are smartly written because 1) they are alternating points-of-view between the choice of living with her mother on the compound and living with her father off of the compound and 2) the author manages to connect them. I was reading along, totally interested in the story already and then BAM! things GOT REAL. Addie realized that in these two futures, the right decision wasn't only what was more fun for her – making the right decision had real-life, big, huge consequences for some of the people she loved most. Addie had to figure out which one of the people that showed up in both futures was a bad guy, a really bad guy, and make her decision based on eliminating that bad guy from the future of the people she loved. Of course, the choice could not be easy. Of course, Addie had to agonize over her decision for a little bit. And of course, I had to agonize right along with her. But then I kept reading and YAY for the ending. And THEN I found out there will be a book two. YAY for a book two because I was completely invested in the romance these characters.

I want to mention the romance aspect of the book: Since there are two possible futures, there are two possible romance interests. This makes it look like a love triangle exists, but you have to remember that the two futures are not occurring at the same time, so there is no love triangle. Addie is searching each future separately, so she is getting to know each guy, Duke and Trevor, separately. Also, Addie's heart is at war with her mind for a good chunk of the book as she tries to determine which future to choose and which decision to make. As a reader, I want her to choose based on her heart because I love the romance aspect, but I also know that the bad guys are so bad and they must be stopped.

Pivot Point was incredible. Just awesome and fun to read. It was a great story that was made better by its structure, which was alternating POV's that had a linear feel, but really were not. I had to remember that Addie was only searching one future at a time and not leaping back and forth. It was a great way to tell the story and give the reader information about each possible future while forcing us to remember both possibilities and remain invested in both. Bravo, author, for this structure. The book begins at a comfortable pace and is enjoyable, and then after a point, when things start happening and I started questioning several people, I started gulping down the book. Not kidding.

I recommend Pivot Point to everyone, really. It's a great debut, it's an awesome story, and it was shockingly good because I didn't realize that it had so much packed into it. I've seen some mixed reviews out there, but I have to wonder how that happened. I was interested from the beginning, and from about the middle to the end, I was all-in, fully invested, complete with the pounding heart. I wish I had the second book in my hands right now. I can't wait to see where the story goes from here.

**************************************************************

Pivot Point will appeal to fans of:



YA Science-Fiction/Paranormal
Romance: No triangle, Slowly-developing relationships
Alternating POV's



Pivot Point by Kasie West

will be available for purchase on February 12, 2013.

*I borrowed this book as part of Around The World Book Tours in exchange for my honest thoughts and opinions. i also received a copy from the publisher via Edelweiss. Thank you Harper Teen and Edelweiss! I received no compensation for my review.

************************************************




Is PIVOT POINT on your wish-list?

I am SO GLAD there is another book coming out.
I want more of this story.