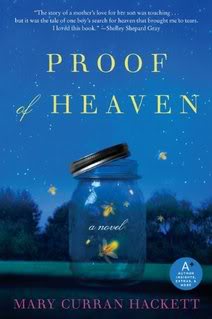 Proof of Heaven by Mary Curran Hackett
Published by HarperCollins
Publish Date: November 1, 2011
336 Pages
My Source: HarperCollins/TLC Book Tours
Proof of Heaven
by Mary Curran Hackett
A mother's faith, a child's courage, a doctor's dedication—a moving and thought-provoking tale of hope, love, and family.
He might be young, but Colm already recognizes the truth: that he's sick and not getting better. His mother, Cathleen, fiercely believes her faith will protect her ailing son, but Colm is not so sure. With a wisdom far beyond his years, Colm has come to terms with his probable fate, but he does have one special wish. He wants to meet his father who abandoned his beloved mother before Colm was born.
But the quest to find the dying boy's missing parent soon becomes a powerful journey of emotional discovery—a test of belief and an anxious search for proof of heaven.
A magnificent debut novel, Mary Curran Hackett's Proof of Heaven is a beautiful and unforgettable exploration of the power of love and the monumental questions of life, death, and the afterlife. (Goodreads)
My Thoughts: Proof of Heaven is an emotional roller coaster for readers, in particular (I assume) those with children who are terminally ill or are going through sick processes. I found this to be a particularly emotional book because the story's protagonist, Cathleen, struggles to come to terms with her faith and whether or not heaven is real–all while being the sole caregiver to her young, sick child.


Colm – a bright, young boy of about five years – has an unknown condition at the start of the story which periodically causes his heart to stop beating. During these unpredictable times, Colm ceases to live and breathe. He has been fortunate thus far in that his heart has always restarted and he has been able to live again, but Cathleen knows that there is always the possibility that the next time could be the the last time. She lives with a constant fear that she will lose her child, her miracle, her purpose for living. Cathleen prays for her child–for a miracle, for healing, for answers. She also takes him to doctor after doctor, subjecting him to countless tests and physician interviews in hopes that each new specialist or program will be the one to give her the answers she needs.


Cathleen also struggles with deep feelings of rejection from where Colm's father, Pierce, walked out and left her. But Colm's feelings of rejection run even deeper. As a reader, I was privy to the spoken feelings that each character had, but I also caught glimpses into the thoughts of each of these characters, and my heart broke each time. I felt sad for Cathleen–sadness for a single mother raising a sick child by herself and sadness for a lonely woman that no longer felt beautiful. But I was wrecked every time I read about Colm yearning to know his father. Colm had a piece missing from his heart that was shaped like his father, and he had no way to fill it. I found that emotionally gut-wrenching.


Reading the struggles of Cathleen was taxing, but there was a payoff. I mean, here we have a desperate mother who flops back and forth between faith/fervent prayer and science/medicine for healing for her child. As exhausting as it was for me to read, I could only imagine how it must have been for Cathleen…and to be doing it pretty much alone. While these turnabouts initially seemed to make Cathleen a weaker character (and understandably so), by the time I reached the end of the book I realized she had developed quite a bit, and I had developed a marked respect for her growth.


And Colm as a character? He was such an interesting child. He certainly seemed to be a little bit wise beyond his years, but haven't we all met "sick" children who seem to carry a certain wisdom about them? It is true that Colm did speak like someone older than his age, but he did hang around adults all the time. Colm also had some very mature concerns. I found it very interesting that he was so worried about how his mother would feel if she found out his true feelings about heaven's existence. I also loved how mature and sweet it was for Colm to be so selfless as to worry about who would take care of Cathleen after he was gone.


Because I am such a fan of a character-driven story and a great supporting cast, I'll take this opportunity to nod to Sean and Dr. Basu, who each showed great development from the beginning of the book to the end. Sean was Cathleen's brother and Colm's uncle. I loved him as a character; despite being flawed, he provided wonderful support to Cathleen and Colm where they had no other available family, and he provided a different point of view in the discussions regarding heaven and faith. Additionally, Dr. Basu was a great character not only because he was finally the doctor who began to provide some absolute and concrete answers for Cathleen and Colm, but because he was able to provide additional support. Finally, in the latter of the story, it is Dr. Basu that gives Colm a great sense of peace about some unresolved issues that had the child worried.


Proof of Heaven is a tearjerker. It is a story that makes you think and makes you thankful. It is about family, faith, and the search for life beyond this earth.


**I received a review copy from the publisher in exchange for an honest opinion and review. I received no compensation for my thoughts. Thank you HarperCollins and TLC Book Tours!