The Reading Promise:
My Father and The Books We Shared
by Alice Ozma
When Alice Ozma was in 4th grade, she and her father decided to see if he could read aloud to her for 100 consecutive nights. On the hundreth night, they shared pancakes to celebrate, but it soon became evident that neither wanted to let go of their storytelling ritual. So they decided to continue what they called "The Streak." Alice's father read aloud to her every night without fail until the day she left for college… -(taken from Goodreads.com)
My Thoughts: Where do I start with this a book like this?
When I first saw this book, I wanted to read it simply because I thought it was a book about reading books. But it was really much more than that. Alice did chronicle The Streak as best as she could from memory-with a little help from her father-but she also included a lot of her father in the book. What I mean is that she not only paid tribute to The Streak, but she paid tribute to her father as well. And in return, reading this book proved to be one of my most emotional experiences lately.
Why? Because I am one of those people who are deeply committed to reading. For me, it is much more than something I enjoy. Like many of you, I think about books and reading and bookish things all the time…if I can't be reading, I'm thinking about reading. I'm thinking about my husband reading and my children reading. I'm thinking about our next trip to the library and about which books I am sure my children will enjoy. I want my children to understand how important reading is to society and to culture and to existence and to growing up. I want them to know at the end of my life, among other things, that their mother was a lady who loved to read, and that she was happier because books were in her life. And hopefully, hopefully, my children will carry their love of books on into their lives as well.
Alice's father spent his life working as an elementary school librarian. He felt it was important to create an atmosphere in his library that allowed the children to love their time there, so he filled his library with well-worn rugs, couches, and lamps. He read aloud to his students everyday. Alice talks about how her father was much like an actor; he practiced reading the books out loud so he would have the different voices mastered perfectly and often had the books memorized so he did not even need to look at the pages as he was 'reading.' Even after reading to students became banned in the library, Mr. Brozina would huddle them together in the back of the library and read to them in secret.
Alice's stories of her father reading out loud at home are even more wonderful. The Streak continued for thousands of days and not a single day was skipped…not even when divorce shattered the family or when Mr. Brozina had laryngitis. No matter what the circumstance or what the event, this exchange between father and daughter occurred every single day. The very last day of the streak was Alice's first day in her dorm as a college freshman…as soon as all of her belongings were unloaded and placed in her room, Alice and her father found the most secluded spot they could to read the final installment of The Streak.
I can say with absolute honesty and truth that I have never sobbed as fiercely before over a book, and I've read a ton of emotional stories. But this story tugged at me for a couple of reasons:
I was distraught at the way society has changed their opinion on books and libraries, and how it affected Mr. Brozina so personally. I know this happens, but I have never read it from the perspective of someone who works inside the industry and has made it their life's work.
After the divorce of her parents when she was still quite young, Alice and her sister were raised by her father, which can be somewhat awkward. It was very evident in reading this book that these two shared a very close bond and love for each other, and this was only increased by their shared love for books. Not only that, but it was precious to me how Mr. Brozina used the stories he read out loud to teach life lessons, to counsel, to entertain, to lessen life's blows. He was relating to his daughter in the best way he knew how. The little things he did to show his girls that they were first and foremost to him made that book almost radiate with fatherly love.
I have three children who are the perfect age to start a reading promise or a streak, or whatever they want to call it. My children are some of the most bookish children around-they get it honest from me-but they still love it when books are read aloud to them. I love to read to them before school in the mornings during the school year. But now that I, as a parent, have read what it can mean to a child to have books very present in their lives in a very big way, it just makes me want to read to them even more. I don't know that my family will do a streak that ends up being 3,218 nights long like Alice's was, but I definitely see a streak of some sort beginning in our very near future. It is very exciting, and I'm thankful to have been inspired.
I would highly, highly recommend this book to anyone who loves books with every ounce of their being, just as I do. I would recommend it to parents with younger children, because it is inspiring. I would recommend it to fathers, if they aren't afraid of a little bit of emotion. I would recommend it to people who love their fathers fiercely. I am not exaggerating when I said that this book tugged at my heart. I tried to read it by the neighborhood pool while my kids were swimming…by the third page in the Forward
(not even into Chapter One yet, y'all)
, I was a dripping with tears and the other mothers were asking me if I was okay.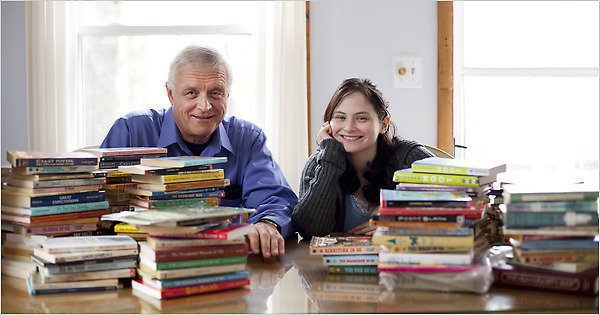 Alice and her father, Jim. This is the picture on the back of the book.