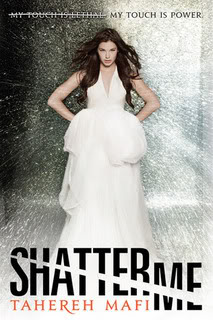 Shatter Me by Tahereh Mafi
Published by HarperCollins
Publish Date: November 15, 2011
342 Pages
My Source: Borrowed
Shatter Me by Tahereh Mafi
Juliette hasn't touched anyone in exactly 264 days. The last time she did, it was an accident, but The Reestablishment locked her up for murder. No one knows why Juliette's touch is fatal. As long as she doesn't hurt anyone else, no one really cares. The world is too busy crumbling to pieces to pay attention to a 17-year-old girl. Diseases are destroying the population, food is hard to find, birds don't fly anymore, and the clouds are the wrong color.
The Reestablishment said their way was the only way to fix things, so they threw Juliette in a cell. Now so many people are dead that the survivors are whispering war- and The Reestablishment has changed its mind. Maybe Juliette is more than a tortured soul stuffed into a poisonous body. Maybe she's exactly what they need right now.
Juliette has to make a choice: Be a weapon. Or be a warrior.
In this electrifying debut, Tahereh Mafi presents a world as riveting asThe Hunger Games and a superhero story as thrilling as The X-Men. Full of pulse-pounding romance, intoxicating villainy, and high-stakes choices, Shatter Me is a fresh and original dystopian novel—with a paranormal twist—that will leave readers anxiously awaiting its sequel. -(summary from Goodreads.com)
My Thoughts: Whoa, Shatter Me is incredible! It is hard not to just gush over this one. But for the sake of actually giving my thoughts, I'll list a few reasons you should pick it up and give it a shot:
1. Characters. Love them! I'm a character-driven-book kinda gal, and this is a great example of such a story. We have:
Juliette – Locked in a prison and hasn't had human contact for 264 days. Her touch can hurt or kill people and she doesn't understand why. Recognizes Adam from long ago and is falling hard for him. How can she fall for someone she can't even touch?
Adam – Super handsome. Locked briefly in the cell with Juliette, but now works for Warner…or does he? The best things about Adam are the little things he reveals as the story progresses, little secrets and motivations for why he does the things he does. Each little tidbit has you falling harder and harder for him. He's incredible.
Warner – Creepy and disgusting; a repulsive villain. Warner is one of those incredibly-handsome-but-really-bad guys. He tells Juliette that he keeps her locked up to keep her safe, then uses her for some pretty detestable things. Warner is a great villain – totally power-hungry to the max – but I just don't like him. Which…totally makes him a great villain. Well played, Tahereh Mafi.
Kenji – Interesting supporting character. His story picked up at the end of the book. I'm excited to see what his role will be

(hopefully a big one!)

in the next book.
2. Genre. Something big (a virus) has destroyed much of the world (hungry people) and a revolution is coming! Now one girl (special power! killer touch!) can help the world, but which team will she work for? (good vs. evil) — Hmm, sounds like a little Science-Fiction with my Dystopian. Yes, I think I'll have some of that.
3. Cover. You guys, I do not like this cover. Eeeek. That is all.
4. Writing Style. The writing style of this book is something special. Tahereh Mafi has a style and voice of her own, and I love it so much. She crosses out words and phrases to show the varying depths of Juliette's thoughts. She also uses run-on sentences and leaves out a few commas. I loved the way these devices put me inside of Juliette's head and allowed me to see how being isolated for almost one year made Juliette's thoughts somewhat scattered. There is such a poetic feeling to the book, especially for a genre that is typically so rough-around-the-edges. Mafi makes it soft and beautiful when it needs to be.
5. Romance. Yes, um, yes. Here is one romance that I didn't cringe over. Here is one book relationship that I wanted to read more, more, more. MORE in Book Two, please. Please. Please? Have mercy…
I really have nothing negative to say about the book. The cover is a different story and I'm hoping they go a different route for the second book. I seriously gobbled this book up and have no doubts that anyone else that reads it will as well. If you are a fan of YA dystopian, you need to read Shatter Me. If you like YA romance, grab a copy ASAP! If you love beautiful, poetic prose, consider reading Tahereh Mafi's writing — she has an amazing style. I felt instantly connected to these characters and story. I'm not looking forward to the long wait for book two but you better believe that I will have my little paws on it as soon as I can!
*I borrowed this book as part of Around The World Book Tours in exchange for my honest thoughts and opinions. I received no compensation for my review.