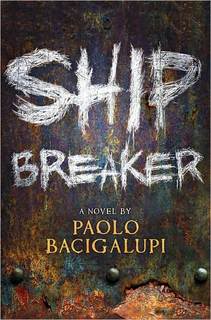 Ship Breaker
In America's Gulf Coast region, where grounded oil tankers are being broken down for parts, Nailer, a teenage boy, works the light crew, scavenging for copper wiring just to make quota-and hopefully live to see another day. But when, by luck or chance, he discovers an exquisite clipper ship beached during a recent hurricane, Nailer faces the most important decision of his life: Strip the ship for all it's worth or rescue its lone survivor, a beautiful and weathy girl who could lead him to a better life… -(summary from inside book jacket)
My Thoughts: I chose Ship Breaker as the next selection for my Awards Winning Reads Challenge because it is the recipient of the 2011 Printz Award. The Printz Award is given for excellence in young adult literature. I completely see why this book was chosen and awarded. It is incredible. It also qualifies for the Dystopian Challenge.
Nailer Lopez is a teenager with a tough job: he climbs into the wreckage of abandoned and wrecked ships to scavenge copper wires and turn his findings over to his boss to be sold. All day long, every day, he works to make quota…and to survive. One day in the aftermath of a violent hurricane, Nailer and his friend Pima are lucky enough to find a wrecked clipper. It is more luxurious than anything they have ever seen! Once inside, however, they find a girl who is barely alive. Nailer and Pima are faced with the choice of saving the injured girl's life or scavenging her stuff and living a much better life for a long time.
In my research for this book, I read that Ship Breaker is Mr. Bacigalupi's first young adult novel. I would never have guessed this. He wrote this book directly to his target audience while doing a great job of keeping me (a little older than his target audience) biting my nails and on the absolute edge of my seat. This book is gripping and gritty and exciting, and that makes for great young adult stuff.
Among all of the awesomeness that is YA, though, there are some really grown-up themes. Remember back in high school English class when we were learning about the "person vs. person" and "person vs. society" and "person vs. self" stuff? Well, all of that is in there. Every bit of it. And even a little "person vs. nature" a few times for good measure. The author started early in the story with these themes, and they were recurring throughout until the end. It is these themes…these themes that I thought I left way back in high school…that leave me thinking about Nailer and the other characters even though I have already read an additional book since Ship Breaker.
I really like Nailer Lopez. He had some real issues to deal with. His father was a poor excuse for a human. He was a poor provider for his kid, and this was why Nailer had to try so hard to make it on his own. We never find out Nailer's exact young age (Nailer doesn't even know how old he is.) but I had an intense emotional connection to Nailer based initially on his need to work so hard just to feed himself and make up for his father's lack of…well, everything. This was probably due in part to me being a mother. It is probably the mother in me that also feels so intensely angry at Nailer's father (and so thankful for Pima's mother). And it is probably my strong maternal-ness that makes me feel so ambivalent towards Nita; I like her when she is nice to Nailer and I don't like her when she makes fun of him.
An interesting thing I want to share with you guys: In the beginning of the book, Nailer is deep inside the wreckage of an abandoned ship. It is dark and quiet, and it is dangerous. He is only able to climb so deeply in there because of his small size. During this scene in the book, I felt so claustrophobic. I felt like I was mashed up inside a small area inside that abandoned boat, lonely and in the dark. How awesome is that? To be reading a book in broad daylight in my giant living room with cathedral ceilings and still feel the same way Nailer felt?!? Mr. Bacigalupi did an amazing job all throughout the book, I think, transferring these physical feelings from the book to me as the reader. But this claustrophobic feeling I felt while I was reading was so cool. (Because I knew it wasn't real. And because the book had such an impact.) Way. To. Go. Dude.
All in all, this book was fantastic. It was metallic and gritty. It was industrial. It was one that even the guys can read and enjoy. Would I recommend it? Heck yeah. It was awesome.