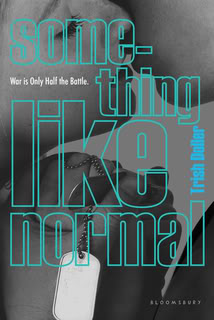 Something Like Normal by Trish Doller
Published by Bloomsbury USA
Publish Date: June 19, 2012
224 Pages
Source: NetGalley/Bloomsbury
When Travis returns home from a stint in Afghanistan, his parents are splitting up, his brother's stolen his girlfriend and his car, and he's haunted by nightmares of his best friend's death. It's not until Travis runs into Harper, a girl he's had a rocky relationship with since middle school, that life actually starts looking up. And as he and Harper see more of each other, he begins to pick his way through the minefield of family problems and post-traumatic stress to the possibility of a life that might resemble normal again. Travis's dry sense of humor, and incredible sense of honor, make him an irresistible and eminently lovable hero. –(summary from Goodreads)

Something Like Normal
by Trish Doller

My Thoughts: I just know that I'll leave something out that I love about this book. Really, I could just make this entire blog post say something like
READ IT! I LOVE IT! IT'S SO AWESOME! PUT IT ON YOUR WISH LIST NOW!
and that would be basically my feelings on Something Like Normal. This book is another reason I'm having a fantastic time with Contemporary Month: because I've found, with one book, an author that I will read again and again with Trish Doller because 1) she's cool like that and 2) she NAILED IT on the first try.

1. The Characters.
Travis

. Travis Stephenson is just returning from seven months in Aghanistan. He's greeted at the airport only by his mom, which is a slap in his face (his father and brother didn't show up). His mother is ecstatic but Travis is already battling extreme guilt – survivor's guilt – and we can tell this because he is seeing visions of his buddy, Charlie, that was killed over in Afghanistan. ~ Once home, things are terribly awkward. See, his father is nasty-rude. His brother Ryan barely acknowledged him before leaving to be with Travis' ex-girlfriend, who is now

his

girlfriend (she broke up with him via letter while he was deployed to be with his brother). ~ At night, Travis has nightmares and can only sleep when he is on the floor. Ex-girlfriend Paige (brother's current girlfriend) comes around secretly during the night for sex, which he obliges, but his heart isn't in it and he thinks only about one other girl, Harper. Coincidentally, Harper doesn't think a thing about Travis.

Harper. Harper Gray is a girl that Travis kissed a long time ago – like when they were 13 years old or something – and when word spread that they'd done more than kiss, Travis didn't do anything to correct that nasty rumor. So of course, Harper had been labeled as a slut and the name stuck with her throughout her school career. All because of Travis. The two interesting things about this fact are that 1) Harper is a virgin and 2) Harper never forgot what Travis failed to do. She can barely believe the nerve of him when he approaches her at a bar – looking smokin hot, which is irrelevant. She won't look at him or talk to him. Instead, she finally punches him! Because he seems baffled, she tells him why and of course he feels awful. (And here is where he begins to think of her constantly.)
2. The Story. Travis comes home with some problems, which he doesn't want to admit. He's scared that if he admits he has problems and seeks out treatment, it'll cause more problems for him when he goes back. So he's a tortured guy already with his post-traumatic stress issues, trying to deal with his post-Afghanistan real-life nightmares and stresses on his own – and poorly. He needs help.

Travis is also finding out things about his family that he doesn't like and he doesn't know how to deal with them. He is falling in love – for real, not just for sex – and he doesn't know how to deal with that either, because it has never happened before. Plus he has to come to grips with the death of his best friend, Charlie. Travis is such a broken boy. Now enter Harper, the girl that doesn't take any crap from him, but somehow seems to be able to help him with his problems. She accepts him how and where he is, which is more than anyone else has ever done before.

Harper hasn't had the easiest of lives either, so she's a tough girl. She doesn't take junk from people, least of all Travis Stephenson, especially after all he's put her through. She cannot believe she's falling for him, but she is. She is patient with Travis, letting him grieve when he needs to, never judging him when he has his triggered episodes, and just letting him talk or be himself. Things begin to look normal for Travis and Harper, for once, and it is so nice.

Aside from all of the Afghanistan-talk and swoony-love, of which there is plenty of both, there are tons of family issues. Travis' family is pretty awful in every way. And it is written so well. So very well. His family members are such great secondary characters, even though you pretty much cannot stand them. I give high fives to Trish Doller and her amazing ability to write like this! Travis also has a couple of friends from Afghanistan that come to visit him that are great secondary characters and have problems of their own – also perfectly written and I throw high fives at Trish for these guys as well.

3. The Romance. YES! The slow-burn of wonderful. I love it. No love triangle. A romance with issues and resolution, friends!

4. The Cover. There is a kissy face, but I love it. I noticed this cover on another blog for a Waiting on Wednesday post, which is how I found out about this book, which is what started me pining away for it, which is odd because it was before I even started reading contemporary. LOVE IT. Nods to Trish's creative team. Well done!

********************************************************
I started reading this book and could not put it down. COULD NOT PUT IT DOWN. It's really just incredible. These characters are so good, so developed, so well-written – and I was absolutely caught up in their story. I felt like I was following them around, watching everything happen before my eyes. And the story, all of it, every piece of the story was so believable and so heart-breaking and heart-warming at the same time. How on earth does Trish Doller do that? She has written a character in Travis that has problem after problem but has such redeemable qualities that you cannot help but absolutely fall in love with him and root for him probably harder than any character, ever. And Harper? What an awesome gal. Butt-kicking, for sure, right smack-dab in the middle of a contemporary book. I love her.
If you ask is this a "swoony contemp" or an "issue contemp" – I think it is the perfect marriage of both. I'm finding that I like these maybe the best, perhaps. There is a depth here that is unbelievable and hardcore but the romance emerges at all of the perfect times so that you aren't bogged down with too much of anything.
Trish Doller, congratulations on a pretty-much perfect debut! I love it like crazy, but I've already let you know that by tweet-stalking you and telling you how I fell asleep with my Kindle on my face while I was trying to stay up reading it. I want to read more of your stuff, and I am waiting not-so-patiently!
Friends, THIS IS A CONTEMPORARY BOOK YOU WANT ON YOUR WISH LIST. Trust me.
Something Like Normal will appeal to fans of:
YA Contemporary
GREAT Male Lead – YAY!
Romance-No Love Triangle, Slow Burn
Excellent Secondary Characterization
New-ish Contemporary Subgenre: Military Deployment
Books Containing Issues: PTSD, family issues

Something Like Normal by Trish Doller
will be available for purchase on June 19, 2012.
**I received a review copy from the publisher in exchange for an honest opinion and review. I received no compensation for my thoughts. Thank you Bloomsbury USA & NetGalley!

********************************************************

Just for fun, Trish Doller has stopped by and given us a playlist
to go along with Something Like Normal!
AND some commentary for each song. I love it!
1. Bad Company – Five Finger Death Punch
It's probably stereotypical of me to say this, but whenever I hear this song I think of Marines. Defiant. Tough. Strong. Badass. It's a 4:22 testosterone fest, but I've loved this song since I heard the original version (by Bad Company) when I was a kid and the FFDP version is even better.
Favorite lyrics: "…chose a gun and threw away the sun…"
2. Brothers – Jimmy Stare
Jimmy is a Marine, so he understands the bonds of brotherhood that can sometimes be closer than family. Hearing this song reminds me of the quote attributed to Col. Hal Moore of the 7th Cavalry (Mel Gibson played him in We Were Soldiers): "They don't fight for Mom, apple pie, the American flag. They fight for one another."
Favorite lyrics: "…and there's nowhere to find me, my brothers define me tonight…"
3. Final Transmission – Street Dogs
This is a really painful song because it's about a 19-year-old Marine who was killed in combat and includes a last letter–his final transmission–to his parents. Most of our soldiers are so young and when they are lost, their potential is lost with them.
Favorite lyrics: "He went abroad to serve when he was only nineteen. Reality caught up with him, stole a heart full of dreams."
4. Life in the Pain – SafetySuit
To be honest, before Ginger at GReads! recommended this song, I'd never heard of SafetySuit, but this song really fits Travis, coming home to turmoil after losing his best friend. The only way he can feel better–something like normal–is to live through the pain.
Favorite lyrics: "Now there's something inside you starting

Like there's a fight coming your way

But there'll be no fists you'll be throwing

Just some words you've got to say"
5. Santa Monica – Bedouin Soundclash/Jay Malinowski
This song evokes some really strong feelings in me whenever I hear it. It's sorrowful and angry, and although the lyrics don't really fit the story in any way, some of my most productive writing came while listening to this song.
6. Fourth of July – Chris Murray
For such an upbeat tempo, this song really cuts to the heart of things. And there's so much of Travis in it.
Favorite lyrics: "…and it seems like there's nobody else

who can see my situation, help me with my heavy load

and it feels like I'm going to explode

in flames all over the sky – just like the 4th of July"
7. Lay Me Down – Dirty Heads
This song just kind of captures the mostly relaxed vibe of the day Travis spends with Harper and a couple of his buddies, who are also Marines. It makes me think of sandy between your toes, cold beers, and messy beach hair.
Favorite lyrics: "Well you're my green eyed girl and I been running around with you. It's the afternoon and we got nothing left to do."
8. Savior – Rise Against
True story: I once played this song on repeat ALL DAY LONG. Not sure if I channel Travis' anger or his frustration, or a little of both, when I hear it, but it will always be THE song I think of when I think of Something Like Normal.
Favorite lyrics: "There is no reconciliation that will put me in my place

And there is no time like the present to drink these draining seconds

But seldom do these words ring true when I'm constantly failing you

Like walls that we just can't break through until we disappear"
9. Bullet – Mat Kearney
When I first made the playlist, this song was higher up the list. I was thinking of the bond between Marines–between Travis and Charlie–and how either of them would have taken a bullet for the other. But as the story unfolds, Travis' relationships with other people evolve and change and I think he widens the scope on that love.
Favorite lyrics: "You cared enough to call my bluff through the junk from the start

That's why you're holding onto half of my heart"
(Note: Mat Kearney is one of my favorites. Expect his songs on every playlist.)
10. Like a Soldier – Johnny Cash
There are some really obvious lyrics in this song ("like soldier getting over the war" and "like a young man getting over his crazy days") and I almost didn't choose it. But it's a really beautiful love song and there are other lyrics that fit in a less obvious way.
Favorite lyrics: "There were nights I don't remember

And there's pain that I've forgotten

Other things I choose not to recall

There are faces that come to me

In my darkest secret memory

Faces that I wish would not come back at all"
11. This is Letting Go – Rise Against
I've been told that you shouldn't have more than one song from an artist on a good playlist, but when I heard this song, I knew it had to be on the SLN playlist. It's perfect and if you asked me to choose only one song for the book, this would be it.
Favorite lyrics: "Go on alone, 'cause I won't follow.

But this isn't giving up, no this is letting go

Out with the old dreams I've borrowed

The path I carve from here on out will be my own
(Note: The first song I had in this spot was Second Chance by Shinedown, but I took it out because my husband hates that song.)
12. If I Ever Leave This World Alive – Flogging Molly
I feel like this is a redemption song. And I chose it to go with the letter. If you read the book, you know. If you haven't….you'll see.
Favorite lyrics: "Wherever I am you'll always be more than just a memory…"
13. Smile – Uncle Kracker
Travis would hate this song because it's SO cheesy, but it's a guilty pleasure of mine because it's unapologetically sweet and romantic. And I think Travis would secretly agree with all the sentiments, even if he never, ever spoke them.
Favorite lyrics: "…'cause every time that I get around you I see the best of me inside your eyes."
********************************************************
Do you love the
"swoony contemp" + "issue contemp" mix
like I do?
Will this be on your wish list?
What do you think about this music playlist?
Any favorites?
(I'm kind of in agreement with her thoughts on Mat Kearney.)
Thank you, Trish! So much!