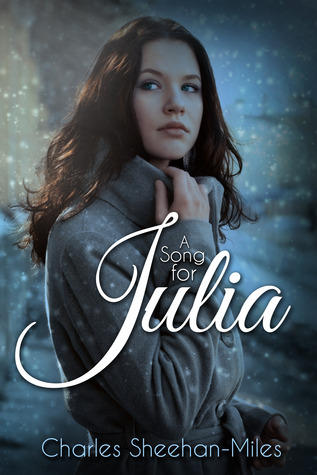 A Song for Julia by Charles Sheehan-Miles
Series: The Thompson Sisters
Published by Cincinnatus Press
Publish Date: December 15, 2012
374 Pages
Source: Author for review – Thank you!



Everyone should have something to rebel against.

Crank Wilson left his South Boston home at sixteen to start a punk band and burn out his rage at the world. Six years later, he's still at odds with his father, a Boston cop, and doesn't ever speak to his mother. The only relationship that really matters is with his younger brother, but watching out for Sean can be a full-time job. The one thing Crank wants in life is to be left the hell alone to write his music and drive his band to success.

Julia Thompson left a secret behind in Beijing that exploded into scandal in Washington, DC, threatening her father's career and dominating her family's life. Now, in her senior year at Harvard, she's haunted by a voice from her past and refuses to ever lose control of her emotions again, especially when it comes to a guy.

When Julia and Crank meet at an anti-war protest in Washington in the fall of 2002, the connection between them is so powerful it threatens to tear everything apart. -(from Goodreads)
A Song for Julia
by Charles Sheehan-Miles
My Thoughts: A Song for Julia is SO GOOD. It is the second book in a companion series by this author, and since I have not yet read the first book, I will be fixing that this week.
The first thing you need to know is this
:
Julia Thompson and Crank Wilson couldn't possibly be more different.
Julia grew up all over the world, the child of an ambassador. She and her family moved every three years, never really settling down, never really making friends or feeling at home anywhere. When she was just fourteen years old and living in Beijing, something really awful happened to Julia – something so bad that it caused a political stir in the US and actually threatened her father's career. Her mother has never let her live that event down and has treated her awfully since then. As a result, Julia has had trouble trusting people – trusting anyone – and she has avoided making relationships with friends or having boyfriends at practically all costs. It's just not worth it, she thinks. Julia's life is pretty lonely, but she would rather be lonely than go through all of that again. She can never go through that again.
Crank has had a tough life too. At sixteen, he moved out of his home in South Boston and began hanging with the wrong crowds, doing dangerous things. Thankfully, before he ended up hurt or killed, he found a life in making music. Now the lead singer of the local Boston band Morbid Obesity, Crank has dreams of being a rock star – but his reality is a full-time job as a short-order cook and helping his father care for his special needs brother with music on the side. His mother left their family years ago, and when his father is working his shifts as a Boston cop, Crank helps out at home with caring for his brother. There is a ton of angst in Crank's family over several unresolved issues, and Crank is tired of a lonely life. He's tired of being angry, tired of being the rock star with the one-night stands, tired of not having anyone to love.
When Julia and Crank meet by chance at an anti-war protest rally in Washington DC, they both let loose and have a lot of fun together for the evening. Julia keeps telling herself that she won't get attached to Crank, that she isn't looking for a relationship because she'll never let herself trust anyone again – but she can't help but be intrigued with him. And as out of character as it is for Crank, he cannot believe that he is falling for this girl.


Over the course of the book, Julia and Crank begin a shaky relationship – shaky because Julia does not want to become attached to someone. She is completely consumed with fear of trusting someone and getting hurt. It is almost torturous reading the relationship between these two because it is so clear that Crank falls so hard for this girl – which is so different and new for him – and it is clear that Julia has deep feelings for him as well. The problem is that Julia has to work through the problems she faced years ago before she can even begin to learn how to trust and love and be in a relationship, and she has such a hard time with that. Crank suffers because he loves her so much, and Julia constantly wars with herself. Despite the torture of this relationship, the slow-build is wonderful and I enjoyed reading about it so much.
The second thing you need to know is this
:
This book has real issues in it
.
While I enjoy a nice, fluffy romance story every now and then, that isn't what what we have here. A Song for Julia is a romance with that is multi-layered with several other stories going on at the same time. We have the romance between Julia and Crank, which we've already briefly discussed…but there's more.
The book opens in the fall of 2002, which is not long after the 9/11 attacks. At this time in American history, the US military is facing continued deployment to different areas of the world – including Afghanistan, Iraq, and the surrounding regions – in response to those attacks. Julia's father is an ambassador. Crank's father is in the National Guard and is facing deployment. This places Julia in the middle, and she has concrete feelings of her own regarding the decisions of our Presidential administration, which are not in line with what her mother and father have told her to think and feel. Speaking of her mother and father, they are basically absentee parents, never really spending time caring for Julia but always planning her life out for her, and she has decided she doesn't want the life they have decided for her. Julia is finding her own way, and it just might be way off course from the life she is supposed to live.
There are also the issues surrounding Julia's past – the things that happened to her when she was fourteen and also during her senior year are horrific and tragic, and she has never had the opportunity to heal from those deep wounds. We find out in bits and pieces what happened to her in Beijing and in Bethesda, and how her family actually dealt these issues, and how Julia is currently dealing with them. We find out how these past traumas affect her interaction with every single person she comes in contact with, and it is eye-opening and a brilliant story-line. It is hard to read, but I love the way the author weaved these things into the relationship between Julia and Crank, and I loved how they were weaved into relationships with other secondary characters as well.
In addition, there is the issue surrounding Crank's family and all of the anger and resentment and brokenness within it. Crank's brother Sean has Asperger's, and has difficulties at school with bullying. Crank and his father walk on eggshells at home, always afraid that he'll have one of his outbursts. Crank and Sean have residual anger from when their mother left home, but there is so much to the story that they just don't know. And what will happen if Crank's father actually gets deployed or if Crank actually gets a record deal? Who will take care of Sean? Sean constantly worries, and it seems the only person he can relate to is Julia, which is interesting, considering that Julia rarely allows herself to be close to anyone, ever.
There are so many parts to this book and they are written so well, you guys. So very well. This book is so much more than a romance.
The third thing you need to know is this:
There are so many great relationships in this book.
They are damaged. These characters are REAL.
Aside from the relationship between Julia and Crank, there are a ton of other relationships in this book – all made up of wonderful characters. Each of these relationships are so very real, so wonderful, and need work. That's one of the things that I loved most about A Song for Julia – that this book isn't sugar-coated and all happy-ever-after. These characters had to dig deep and work hard to mend relationships with one another. These characters are written like real people.
**************************************************************
A Song for Julia by Charles Sheehan-Miles is one of the better New Adult Contemporary Romances I've read in a while. It's really more than just a romance story – there are real life issues involved that make the story seem so real and emotional. In this story, Sheehan-Miles touches on deployment after 9/11 and autism, as well as a couple more that would spoil the plot if I mentioned them. This story is multi-layered and complex, but not too much, and I loved reading a romance story that had some depth to it.
I particularly loved Julia and Crank as characters and the dynamic they presented against one another. They are so very different, having been raised in two totally different families. This is especially evident as Julia begins to spend time with Crank's family, particularly with his father and his brother. Despite having much less in the way of material possessions and money, and having almost no social standing in comparison to Julia's family, Crank's family was so rich in love for one another that Julia almost didn't recognize that love when she was among it – she had never seen anything like it. Spending time with Crank's family at holidays and mealtimes was a wonderful treat for her because she has almost no memories of times like this. To Crank, this was the home life that he knew, at least until his family was torn apart.
The author put a wonderful secondary cast of characters in this book – which I love – but it is also wonderful that they are a diverse bunch, including characters from Sierra Leone and India and Spain in the recurring secondary cast. I loved that. The secondary characters add so much to the story of Julia and Crank, and most of them are colorful in their words and actions. They are very enjoyable to read.
The issues presented by Mr. Sheehan-Miles are emotional and real and give the romance and the story in general so much depth. A Song for Julia feels like such a real story because people actually do have many different facets to their life, and often these parts of their life have flaws and crazy things going on. That is demonstrated so well in this book. Even though I've listed some pretty heavy things out for you here in terms of issues, and there are still a few that I haven't mentioned, I can assure you that this book never feels to heavy at all – it is so well-balanced between good moments and intense moments and romance moments. It is just a well-crafted book.
I wish that Julia had been able to deal with her past before she met Crank so they could have been happier from the beginning. I wish that Crank didn't have so much pent-up anger from past issues with his family. I wish that some of the things that happened between some of the people in this book didn't happen – but they did, and this book is about people mending relationships and learning to love again. It is a truly wonderful story and I highly recommend it to fans of New Adult contemporary romance, particularly those that do not mind their stories with some issues.
**************************************************************
A Song for Julia will appeal to fans of:


New Adult Contemporary Romance
with Issues
Romance: No triangle. Slowly-Developing.
Stories about Musicians/Music
Stories with Military subplot

*Some mature content! Young readers, use caution!*

A Song for Julia by Charles Sheehan-Miles
is currently available for purchase.
**************************************************************
Have you added A SONG FOR JULIA to your to-read list?