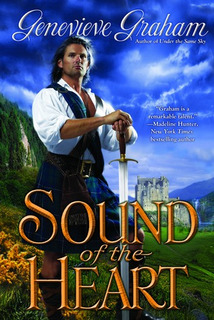 Sound of the Heart by Genevieve Graham
Published by Berkeley Trade
Publish Date: May 1, 2012
336 Pages
Source: Author/Publisher

Dougal MacDonnell, a fierce warrior from the Highlands of Scotland, is able to hear the thoughts of other men and dream how the future will unfold. Devastated by the loss of his family during the Battle of Culloden in 1746, he fosters a deep hatred for the English. But when Glenna, the love of his life and a Scottish outlaw, is captured and shipped overseas, Dougal is forced to join an English army made of vanquished Scots. Now fighting on the side of his sworn enemies, he embarks on a journey that will take him across the seas to the colonies. There he will risk everything for the chance to find his true love. –(summary from Goodreads)

Sound of the Heart by Genevieve Graham


My Thoughts: It wasn't that long ago that I read and fell in love with Under the Same Sky by Genevieve Graham. I loved the incredible settings, the beautiful writing, and the unique twist on historical fiction. I really loved Maggie and Andrew…I have to admit that I fell kind of hard for the couple and their story. Of course, I jumped and did back-flips when the opportunity presented itself for me to read Sound of the Heart because not only did I want to find out more about the MacDonnell brothers and their amazing plaids and kilts, but I really enjoyed this author's writing. But…I have to also be honest and admit to the world that I was a little bit scared too: I honestly didn't think any other MacDonnell brother could live up the standards Andrew had set in the first book.
Boy, was I wrong!

Genevieve Graham had me hanging on absolutely every word of Dougal's story.
Four words: I DEVOURED THIS BOOK.

Now a few more words: There's a twist that is so awesome I didn't know whether to laugh or squeal or cover my face with my hands! WELL PLAYED, GENEVIEVE GRAHAM! Nicely done.

These characters are so wonderful. Dougal is a lover, a fighter, and an all-around good guy. When he is held in captivity by the English army, he spends his time defending the smaller and weaker prisoners. He's a real man's man, in plaid. When he falls in love, he falls hard, and he loves with everything he has. Glenna is the woman he loves. Small, smart, and fierce to the core, I loved everything about her. Her story is interesting – as is the way she meets Dougal – but reading about the way she loved Dougal was awesome. The secondary cast was robust and varied with good guys and bad guys, and they were all so well-written.

Sound of the Heart spans two continents just like the previous novel, but this story is unique to Dougal and Glenna. The settings are just as lush and descriptive as in the previous novel. Just as before, Genevieve Graham paints a picture so vivid I could watch the book unfold in my head as I was reading. The American History-lover in me was completely nerding out to all of the realistic 1700's scenes and events, and I equally loved Scottish settings as well, including the scenes set in prisons, pubs, and boats.

While I can sit here and clap my hands and do fist pumps for days about all the happy things in Sound of the Heart, there are some things in the book that tugged at my heart big time. It broke my heart that Dougal was held as a prisoner by the English army and treated so poorly. It broke my heart that he had to spend so much time defending those weaker than he was. He was dirty and hungry and weak, and he lost so many people that he loved. Glenna's story pulled at my heart as well, and she had a super rough time after she was captured and brought to America as an indentured servant. Her conditions were bad enough then, but when she is sold to a bar owner, things got pretty ugly.

I loved that Genevieve Graham kept these things real. These were the issues of those days, you guys. And writing historical fiction, even historical romance, means throwing that historical stuff in there. This author did not shy away from any of the issues or horrors of the era, and I think she's awesome for that.

Sound of the Heart is another Genevieve Graham book that I adored. I should not have worried about having enough MacDonnell-love to go around, because Graham wrote this story in such a way that my love for them both expands and swells my heart. This story is fantastic and wonderful, and it was such a thrill to read it. Also, a sidenote for those who are wondering: you do not have to have read Under the Same Sky first to read this book! They can be read in either order.

Sound of the Heart will appeal to fans of:
Historical Fiction/Historical Romance
with Paranormal/Magic
Slowly-Developing Romance with No Love Triangle
Multiple POV
Rich Setting: Scottish Highlands, America in the 1700's
Sound of the Heart by Genevieve Graham
is currently available for purchase.
**I received a review copy from the author/publisher in exchange for an honest opinion and review. I received no compensation for my thoughts. Thank you SO MUCH Genevieve and Berkley Trade!