Click HERE to win a copy of Incarnate &
follow
the Incarnate Theater Treasure Hunt!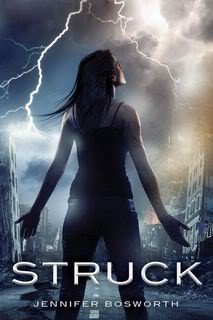 Struck by Jennifer Bosworth

Published by
Farrar, Straus and Giroux BYR
Publish Date: May 8, 2012
373 Pages
Source: Borrowed


Mia Price is a lightning addict. She's survived countless strikes, but her craving to connect to the energy in storms endangers her life and the lives of those around her.

Los Angeles, where lightning rarely strikes, is one of the few places Mia feels safe from her addiction. But when an earthquake devastates the city, her haven is transformed into a minefield of chaos and danger. The beaches become massive tent cities. Downtown is a crumbling wasteland, where a traveling party moves to a different empty building each night, the revelers drawn to the destruction by a force they cannot deny. Two warring cults rise to power, and both see Mia as the key to their opposing doomsday prophecies. They believe she has a connection to the freak electrical storm that caused the quake, and to the far more devastating storm that is yet to come.

Mia wants to trust the enigmatic and alluring Jeremy when he promises to protect her, but she fears he isn't who he claims to be. In the end, the passion and power that brought them together could be their downfall. When the final disaster strikes, Mia must risk unleashing the full horror of her strength to save the people she loves, or lose everything. -(summary from Goodreads.com)


Struck by Jennifer Bosworth


My Thoughts: "My name is Mia Price, and I am a lightning addict." p. 2, ARC


My initial reaction when I finished this book was WHOA. I sat down on my bed to start Struck and stayed right there until I finished it. Interested initially in the cover, of course, I quickly found that the concept of the story was just something that I had never read before. Jennifer Bosworth gets points for an original, interesting, odd, and fascinating story.


Let me tell you what I thought about Struck:


1. The Characters.
Mia Price. An insanely interesting girl. Struck by lightning countless times and has the scars to prove it. Can sense when storms are coming and is drawn to them in a weird way, like she feels them pulling at her. A loner, Mia spend her time taking care of her family – her brother and her mother.
Jeremy. Mia's crush/friend/romantic interest. She notices him lurking around in the beginning and is instantly attracted to him, although she doesn't really know why. Their relationship develops over the course of the book and progresses to a bit of a romance at the end. Jeremy's character is full of mystery and he never stopped surprising me the entire way through the book. A great many of my WHOA moments are scenes involving this guy!
Secondary cast. Great characterization among the secondary cast and the extras. There is Parker, Mia's brother, who struggles with where his allegiances should lie when the world supposedly ends. There is Mia's Mom who struggles with the mental after-effects of being trapped in the rubble of a collapsed building for an extended amount of time after the first big storm – Mom is unable to cope with reality and therefore can't really function on her own; she relies on Mia and Parker to take care of her. There is Katrina, a Seeker – they believe they will save LA/the world from the Followers and the false teachings of the Prophet. I felt a connection with each of these characters and loved what they added to the story.
It would be awful of me not to mention The Prophet, who is basically a radical religious man cult leader who dresses in white and surrounds himself with his followers children, who also dress in white and act really strange. He claims to know when the world will end and that if you follow him, you'll find the salvation offered through God. He broadcasts himself on TV three times per day, everyday, preaching his good news to the world. Now folks…in real life, we've heard stories on the news about people like this before. The Prophet was just like those people we have seen on TV. Brilliantly written and completely creepy. This guy was an amazing villain.
2. The Scene. Post-apocalyptic Los Angeles, after a huge earthquake has destroyed the city…which caused riots and looting…which caused militiamen to come out in hordes. Also somehow connected to this storm: droughts and fires in the midwestern US, killing millions of acres of farmland, creating a food shortage everywhere. Off-season hurricanes have swept the Gulf of Mexico-region of the US, killing thousands of people and crippling the fishing industry. There have been raging tornadoes in random states. Because the US is currently fighting wars on multiple fronts, there is not enough of a military presence within the US to assist with these disasters because they are all deployed overseas. As if that weren't enough, famine and pandemic conditions across the world have humanitarian organizations occupied, so the US cannot rely on them.
Oh, yeah, the mayor of LA was killed in the first earthquake along with many others, so the city's organizational structure and emergency plans have failed. As there is no structure to the city, regulation of everything is left up to makeshift neighborhood militia units that have formed. AND…there is an outbreak of Earthquake Fever…which is a nasty little problem people were left with after toxins in the earth were released from underground. It overworks the immune system and causes the body to attack itself, causing crusty sores to break out across the body. Medications for everything, and I mean everything, are being sold only on the black market for unaffordable prices. The whole place has fallen apart.
Basically, the US is in way over its head and there's another storm on the horizon
. OH HOW I LOVE ABSOLUTELY AMAZING AND REMARKABLE WORLD-BUILDING!
3. The Cults. Struck is heavy on religious themes, which is something that will be a problem for some readers. Word of this is making its way around the blogosphere and readers are starting to hear about it and wonder…personally, I am a Believer – firm in my faith – and I was not bothered by the use of religious themes/cults in this book at all. I thought it was written well without being preachy or judgmental, and I never felt convicted in my faith while reading. That being said…
There are two groups that are seeking out Mia to join them: The Followers and The Seekers. Both feel like Mia is necessary to their cause, and both groups will go to fantastic lengths to convince her to join them. Both groups are strange, odd, and creepy. Both have cult-like behavior, at least in my opinion. These groups are C-R-A-Z-Y crazy.
4. Post-apocalyptic/paranormal/science-fiction/fantasy. Yes to all of these! There is basically a little bit of almost everything in here, and it works. I love it when there is a mash-up of genres and it takes us somewhere new and exciting. Friends, if this one isn't exciting, I don't even know what that word means…
5. The Structure. When the story opens, there has already been a devastating storm to destroy the city. But the story progresses in a countdown of-sorts until the bigger storm that has already been predicted by The Prophet. Y'all, as the days are counted down, and as Mia begins to feel the storm coming, the pages turned faster. I think the story actually felt electric. I HAD to find out what was going to happen. I literally could not put the book down. Very interesting story structure and very smartly done, because it certainly hooked me in!
6. The Cover. Very very cool.
I'm not really sure what to make of the very slight romance aspect of Struck. I mean, it is clear that there are romantic feelings between Mia and Jeremy

(not a spoiler)

but the romance never really felt explored to any degree of major depth. That is certainly okay, but I think that calling this book any type of YA romance would be to take away from the bigger and more explosive parts of the story. The upside is that there is no love triangle, so yay for that, right?!
If I haven't convinced you guys that I really liked
Struck
, I don't know what else will. I found it a thrilling story and wildly fascinating. My heart pounded from about halfway through until the ending. I think I was even a little bit tired after I finished reading it…
I had no clue what to expect in terms of the ending and WOW – it was just crazy. You guys, this book wraps up so nicely with a pretty bow, all there for you like a standalone should. I mean, it COULD be taken further if the author felt like she wanted to

(in my opinion)

but as far as I know there are no plans for that. Standalone lovers, this one is for you!
I think this book will appeal to pretty much everyone except those who are opposed to reading books with religious themes or undertones. While the religious themes make it a bit more mature in subject, it is definitely age appropriate in terms of everything else. There are certainly no inappropriate scenes for the younger readers to the best of my recollection.
Struck will appeal to fans of:
Post-apocalyptic genre
Amazing world-building
Strong characterization
(including awesome secondary characters!)
Action-driven stories
No love triangle
Standalones!
Struck by Jennifer Bosworth will be released on May 8, 2012.
*I borrowed this book as part of Around The World Book Tours in exchange for my honest thoughts and opinions. I received no compensation for my review.