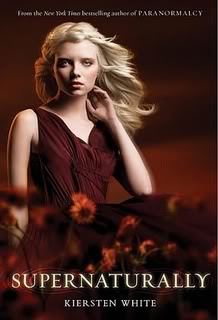 Supernaturally by Kiersten White
Published by HarperTeen
Publish Date: July 26, 2011
336 Pages
My Source: ARC/Borrowed
Supernaturally by Kiersten White
Evie finally has the normal life she's always longed for. But she's shocked to discover that being ordinary can be . . . kind of boring. Just when Evie starts to long for her days at the International Paranormal Containment Agency, she's given a chance to work for them again. Desperate for a break from all the normalcy, she agrees.
But as one disastrous mission leads to another, Evie starts to wonder if she made the right choice. And when Evie's faerie ex-boyfriend Reth appears with devastating revelations about her past, she discovers that there's a battle brewing between the faerie courts that could throw the whole supernatural world into chaos. The prize in question? Evie herself.
So much for normal. -(summary from Goodreads.com)
My Thoughts
: I read
Supernaturally
a couple of days after breezing through
Paranormalcy
(read my thoughts
here
), and I enjoyed this book as much as the first one.
Evie isn't working for the IPCA anymore. In fact, she finally has a normal life…well, as much normal as a paranormal girl can have. Of course, this does not last long and Evie is once again thrust again into the world of faeries, werewolves, and vampires as she battles the bad guys like the butt-kicking champ that she is.
This story is so entertaining. Just like Paranormalcy, it is a quick and light read. And just like before, the author did a splendid job of marrying paranormal and YA romance. Kiersten White has a knack for writing a great story and making it funny. I found myself reading with a smile on my face, and even chuckling out loud at times.
We know from reading Paranormalcy that White's characters are incredibly charming…even the secondary characters. But the new characters in this story are awesome. There's this guy, Jack, and….well, I can't give too much away, but he gripped and ripped my heart from the beginning of the book until the end.
One of my favorite things about this book is the way the author gave some back story about some of my favorite characters. I found out more about Arianna, Evie's vampire roommate. Learning how she became a vampire made me feel more connected to her in this book whereas I did not really like her as much in the first book. We also find out more about Reth and his motivations and intentions for pretty much all of the mysterious, vague things he does. I loved the mystery surrounding him in the first book, but I love him even more now that I know a little more about him.
I don't think I would change anything about this book. Evie's use of the word "bleep" in place of swear words got on my nerves aga
in
for a few minutes
(as it did in Paranormalcy) until I remembered that all people have mannerisms that get on our nerves and if we really like/love those people, we learn to overlook those little pet peeves. I really like Evie, so I learned to ignore her use of the word "bleep."
I just had a great time reading this book and am thrilled that I had a chance to participate in a book tour supporting it. I recommend it to anyone who is looking for a fun, light read–just make sure to read Paranormalcy first.
*I borrowed this book as part of Around The World Book Tours in exchange for my honest thoughts and opinions. I received no compensation for my review.