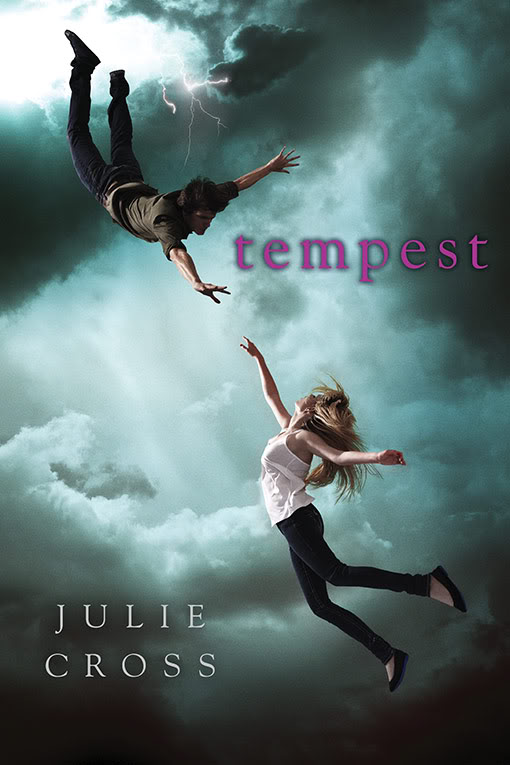 Tempest (Tempest #1) by Julie Cross


Published by St. Martin's Griffin
Publish Date: January 17, 2012
352 Pages

Source: ARC from Publisher/Netgalley
The year is 2009. Nineteen-year-old Jackson Meyer is a normal guy… he's in college, has a girlfriend… and he can travel back through time. But it's not like the movies – nothing changes in the present after his jumps, there's no space-time continuum issues or broken flux capacitors – it's just harmless fun.

That is… until the day strangers burst in on Jackson and his girlfriend, Holly, and during a struggle with Jackson, Holly is fatally shot. In his panic, Jackson jumps back two years to 2007, but this is not like his previous time jumps. Now he's stuck in 2007 and can't get back to the future.

Desperate to somehow return to 2009 to save Holly but unable to return to his rightful year, Jackson settles into 2007 and learns what he can about his abilities.

But it's not long before the people who shot Holly in 2009 come looking for Jackson in the past, and these "Enemies of Time" will stop at nothing to recruit this powerful young time-traveler. Recruit… or kill him.Piecing together the clues about his father, the Enemies of Time, and himself, Jackson must decide how far he's willing to go to save Holly… and possibly the entire world. -(summary from Goodreads.com)
Tempest by Julie Cross
My Thoughts
:
I love science fiction. I love time travel. I really love a good romance thrown into any story. And I am crazy about what Julie Cross has done with Tempest.
Let's break it on down, shall we?
1. The Characters. The main characters are fun and relatively well-developed. The secondary cast is less developed, but wildly enjoyable. Hooray for a male protagonist!
Jackson. The time-traveler/jumper. After an attempted kidnapping in 2009, his girlfriend is left fatally wounded. Jackson then jumps to 2007 and gets sort of stuck there. His goal is to get back to 2009 and try to save Holly.
Holly. The girlfriend. Holly is shot in 2009 but Jackson makes sure to find her when he gets stuck in 2007, which is technically before he met her. He befriends her and gets to know her during this previous time, and falls more in love with her than ever.
Adam. The best friend/science geek. Adam is the brains behind the jumping, spending almost every waking minute trying to figure out how it happens, scientifically-speaking. He encourages forces Jackson to journal every single detail of the jumps, which ultimately pays off handsomely throughout the book in several important instances. Adam is a funny character, providing comedic relief when the pacing is fast and tension is high, or when the emotion sometimes is overwhelming.
Jackson's twin sister, Courtney, gets special mention as she died in 2005 from a brain tumor. Courtney's life and death shapes much of Jackson's life and actions, and this is heartbreaking to read but a great inclusion into the story. Jackson's dad, Kevin, is mysterious man for most of the book…we spend much of the time wondering if he is in the mafia or the CIA or something crazy like that. Once we figure out his story, he's SO easy to like.
2. The Jumping. Jackson can travel through time, but only backward. Unlike many time-travel tales, he can't move forward or change the past. Also interesting is the fact that the people that Jackson interacts with during his jumps do not remember their interaction with him. Such a unique take on a fun area of science-fiction!
3. The Structure. Male college-aged protagonist! YAY! The story alternates settings in terms of time, which could potentially be tricky for some readers. However, I think Julie Cross did a great job with this in terms of her writing. Included are Jackson's journal entries which help with the changes in time setting AND the actual book pages look different for the different time settings. I never had any trouble with the jumping back and forth

(and there is quite a bit of it)

so I commend the author on the flow of her story. Great pacing as well.
4. Mysteries/Conspiracies/Secrets. This book is full of these things, which are part of the reason that Jackson jumps so much. He is trying to figure out why his father is so mysterious…he is trying to figure out who was trying to kidnap him and what they wanted…and he is trying to figure out exactly how and why he is able to travel through time…This is another reason the pacing is so quick and it seems like every time I turned the page, some new detail would emerge about one of these mysteries or theories. So fun!
5. Emotion. Normally I shy away from an emotional book

(I'm looking at you, YA contemporary!)

but this non-contemp had its fair share of near-sniffles from me. There are issues with Jackson's family – big ones – and several of them, none of which are happy stories. There is additionally the issue of Holly being shot. Mostly, however, Courtney's character and all of her scenes made me a little teary. The emotion was good, though. It added to the story rather than disrupted it, and all of the emotion gave more depth to the male college-aged protagonist, which are typically less emotional than females anyway.
6.
Romance
. Y'all, I
LOVED
the romance part of the book, which was
huge
. It was as huge
(to me)
as the time-traveling. Jackson loved Holly in the beginning of the book, 2009…but he kept his jumping a secret from her. She knew he had secrets and felt a little left out of his life – and this was a
wedge
in their relationship. As a result, we could actually see –
in some of the scenes
– that Holly wasn't completely happy and truthfully, they probably wouldn't have stayed together if they were a real-life couple. But when Jackson gets stuck back in 2007 after Holly is shot, he is devastated. He decides to find her (because he hadn't technically met her yet) and be as close to her as he could be. He gets a job at the gym where she works, and things progress from there.
We watch their 2007 relationship progress, and we watch Jackson develop more real and deeper emotional feelings for this girl that he already loved
. It was awesome. When he finally made it back to 2009, Jackson was able to draw from his new-found, deeper love and treat Holly with more respect and love…and it was just lovely!
ALSO…I have to admit that I actually enjoyed the way the author handled the physical nature of the relationship. In the reading, we know that the 2009 couple engaged in some acts of intimacy that the 2007 did not…Jackson – despite remaining nineteen-years-old in both time settings – respected Holly's much younger age and maturity level, and he was very careful not to put her in situations where she would be compromised or pressured in that way. Since the book is written from Jackson's POV, we are able to read his struggle and her his inner dialogue with this entire process. Beliefs about the sex-before-marriage thing aside, the author did a great job of writing this aspect of the relationship into the story, and I loved that she included Jackson's perspective. It was not, in my opinion, over the top or inappropriate.
7. The Cover. I love it so much. It's beautiful and I think it depicts a desperation that I was able to feel in the story. Well done.
Friends, despite mixed reviews of Tempest, I really think this is one worth giving a shot. There's a ton of stuff packed in this story…literally a little something in there for everyone. The ending broke me a little bit…I won't lie…but thankfully this is a series and not a standalone, so I can make predictions and wait not-so-patiently for the next book to be released.
I could see this book play out well as a movie in my head, so reading that it has been optioned by Summit Entertainment makes me really excited. This book seems like it would be really exciting to watch on the big screen if it is done by the right people. I can't imagine how Julie Cross must've felt when she found that her debut novel had garnered interest by the movie industry!
I would say that this book is intended for the
older YA
and
adult YA-loving
audiences. There are a few scenes and some language that I would consider a little too graphic for the younger YA readers.
Tempest will appeal to fans of:
Male Point-of-View
Time Travel/Science Fiction
Slowly developing YA romance
Conspiracy theories/mysteries/thrillers
Strong Familial Ties College-Aged Characters (

aka

New Adult)
Tempest by Julie Cross
is currently available for purchase.
**I received a review copy from the publisher in exchange for an honest opinion and review. I received no compensation for my thoughts. Thank you St. Martin's Press!