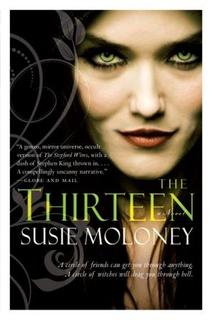 The Thirteen by Susie Moloney
Published by HarperCollins
Publish Date: March 27, 2012
336 Pages
Source: HarperCollins/TLC Book Tours
Haven Woods is suburban heaven, a great place to raise a family. It's close to the city, quiet, with terrific schools and its own hospital right up the road. Property values are climbing, and the crime rate is practically nonexistent.
Paula Wittmore hasn't been back to Haven Woods since she left as a disgraced teenager. Now she's returning to care for her suddenly ailing mother, and she's bringing her daughter and a pile of emotional baggage. She's also bringing, unknowingly, the last chance for her mother's closest frenemies… twelve women bound together by a powerful secret that requires the sacrifice of a thirteenth.
-(summary from the back of ARC)


The Thirteen by Susie Moloney


My Thoughts: The cover of my edition of this book mentions that this book is like a version of The Stepford Wives with a dash of Stephen King thrown in. I had no idea what to expect when I started reading it because I have never seen The Stepford Wives nor have I read any Stephen King. What I do know is that The Thirteen is a little bit creepy and a little bit odd and even a little bit humorous at times, which is a weird combination – but somehow I think it worked.


Let's Chat about The Thirteen:
1. The Deal. The deal with "thirteen" is quite simple really: He says
You must keep your number. Do you understand? You will keep your thirteen about you and you will stay close and true to me… – page 173, ARC
If Izzy and her friends can keep thirteen women in their group, they will have everything they've ever wanted: money, looks, fame, beautiful children – anything. Sounds creepy, right? I'm not sure what's creepier: what He says or the lengths to which the women will go to keep their thirteen.


2. The Characters. Because there are supposed to be thirteen of them, there are a lot of names to remember throughout the story, but as long as you can keep these names straight, you'll be okay:
Paula Wittmore. Sent away to private school at the age of 16 by her mother. She didn't really understand why at the time; still doesn't understand why twelve-ish years later. (Her mother was trying to protect her from The Thirteen.) Paula's little issue was more of a blessing than a curse, really, and gave a perfect excuse for her departure. ~ Now, Paula's back in Haven Woods to see her ailing mother with twelve-year-old daughter Rowan in tow (who interestingly plays a bigger role in things than Paula could ever realize).
Sanderson Keyes. Old friend from Paula's school days. Just recently moved back into Haven Woods. He's thrilled to see Paula back – she's awfully pretty – and the two strike up a friendly relationship that turns into maybe-a-little-bit-more. Sandy ends up playing a big role in the book, much bigger than I initially thought, and I liked him quite a bit.
Izzy Riley. Ringleader of The Thirteen. Izzy sold herself years ago because she was a 'smart woman' and she wanted the promise of everything she ever wanted. A sudden decrease in the group number has Izzy working overtime trying to fill the empty spots. When Paula comes back into town with Rowan, Izzy's attention turns nearly 100% to recruiting them for her cause to pacify Him. ~ Izzy is possibly the creepiest of them all, really, and gracious! that woman can be mean and spiteful. But…oddly, at times she can also be funny, which is why I felt a little conflicted when I was reading her character – I couldn't tell if I hated her or if I liked her. No matter how uncomfortable Izzy made me feel at any given time in the book, she was really well-written.
Marla Riley-Moore. Izzy's daughter, part of The Thirteen; also Paula's best friend when they were growing up. The two were inseparable. After Paula left, Marla was recruited to join. When Paula comes back to town, Marla feels real friendship again for the first time since Paula left. These women in the group aren't her real friends. Now Marla is torn – On one hand, she knows that the group needs to be rounded out and Paula is the answer to this problem. On the other hand, Marla doesn't really want to do this to her only real friend. ~ Marla is a one tough cookie for much of the book, but she's also a wild card in that you never really know what she's gonna do. I liked Marla…but much like her mother, she completely creeped me out.
The rest of the women that make up the group are all very different and have given themselves over to the dark side for various reasons. Reading about each one of them struck different chords within me – sometimes I giggled a bit, sometimes I almost understood the lengths one would go to for their families, etc. There were one or two that I pitied. And their personalities are just great. They remind me of the Desperate Housewives characters in that they're different and yet they're still basically the same.
3. The Structure. The most interesting thing about the structure of this book is the use of italics with a few run-on phrases or sentences to show the thoughts of the speaker. At times, this was situated directly in the middle of a conversation or sentence. I can see how some people may be confused by this or even annoyed, but me – I loved it! I thought it was brilliant. I always love any extra chances to get into the heads of the characters, and this structure afforded me that opportunity with several of the characters in The Thirteen.
4. Genre. Supernatural Horror. Some might say Paranormal. There is definitely some Suspense in there because I think all ten of my fingernails are gone after finishing this book…
5. The Cover. Eeeek! The look in that woman's eyes represents this book very well.
Okay, so with The Thirteen – as I mentioned earlier – I was creeped-out the entire time I was reading it. I do not typically read witch books and find stuff like spells, chants, and the other 'stuff' that was going on just downright scary. Still, I couldn't put it down. It was thrilling and suspenseful and I needed to know what was gonna happen with Paula and rest of the women. After the quick ending, there
are some questions that weren't explored fully for me, but overall the story was entertaining.
If you are a fan of a spooky, sinister reads that makes you shudder here and there or even bite your nails at certain parts – then this book is likely for you. Personally, rather than get overly freaked out by the scary weirdness that was going on, I chose to focus on the characters. I loved them from the first ones we briefly meet to the ones all the way at the end of the book. They're all people like I know and love – with hopes and dreams and wishes for their future – except they all have made a direct deal with the Devil himself and do evil witch-y things.
The Thirteen will appeal to fans of:
Witches
Supernatural Horror Stories
Dark Humor
Mystery & Suspense
Character-Drive Stories & Action-Drive Stories
The Thirteen by Susie Moloney
is currently available for purchase.
**I received a review copy from the publisher in exchange for an honest opinion and review. I received no compensation for my thoughts. Thank you HarperCollins and TLC Book Tours!