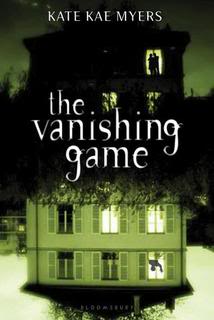 The Vanishing Game by Kate Kae Myers
Published by Bloomsbury USA Children's
Publish Date: February 14, 2012
368 Pages
Source: Borrowed
Jocelyn's twin brother Jack was the only family she had growing up in a world of foster homes-and now he's dead, and she has nothing. Then she gets a cryptic letter from "Jason December"-the code name
her brother used to use when they were children at Seale House, a terrifying foster home that they believed had dark powers. Only one other person knows about Jason December: Noah, Jocelyn's childhood crush and their only real friend among the troubled children at Seale House.
But when Jocelyn returns to Seale House and the city where she last saw Noah, she gets more than she bargained for. Turns out the house's powers weren't just a figment of a childish imagination. And someone is following Jocelyn. Is Jack still alive? And if he is, what kind of trouble is he in? The answer is revealed in a shocking twist that turns this story on its head and will send readers straight back to page 1 to read the book in a whole new light.
(Goodreads)
The Vanishing Game by Kate Kae Myers


My Thoughts: I recently read The Vanishing Game in one sitting and admittedly was a little creeped out. It was a suspenseful mystery story aimed at a younger audience, but I enjoyed it nonetheless. There was a twist at the end that totally threw me for a loop and it has taken me a few days to work through my my thoughts.


1. The Characters.
Jocelyn. Twin to Jack, bounced in and out of foster care since leaving her mother's care.
Jack. Jocelyn's twin, killed in a car accident which devastated Jocelyn.
Noah. The twins' best friend while they were residents at Seale House, a foster care home.
Seale House. I'm making the foster care home a character because it truly seems to be alive. It is downright creepy at times but always interesting. I never knew what this house was going to do. Kinda awesome and definitely dark.
At times, Jocelyn seems to be a smart character and I suppose she really is. I mean, she is the one with the faith to kick-start the whole search for her recently-deceased twin brother, so she gets some points for that. But I like Noah the most. Noah seems to have risen above his circumstances and has made a life for himself; he was doing just fine until Jocelyn showed up at his door talking crazy stuff about her dead brother maybe/possibly being alive. Even so, he gave her a chance and before too long he had established a faith in her reasons based both on her gut feelings and concrete evidence. Noah is mysterious and calm, thinking before acting impulsively. With Noah, I almost felt like there was more to him than I knew while I was reading, which pumped up his mystery. You guys know how I love a mysterious character, right?
2. Mystery. This is a book that is completely outside of my normal genre. I think I would actually call it something like a thriller/ mystery/ suspense with some paranormal thrown in. It definitely has some of all of those things on the inside. In terms of its mystery aspect, I felt like I was given a ton of clues – one right behind the other – and some of them were even left for me to decipher for myself, which was a little fun. I felt like I had to make some of my own decisions with this book, which was just outside of my zone. It was different and unexpected, but thrilling nonetheless.
3. Adventure. The way this book was written – the release of clue

after

clue

after

clue – led Jocelyn and Noah on a scavenger hunt to find…something. Interestingly, they weren't really sure what they'd find at the end of the hunt. Would Jack be alive? Did he leave something somewhere for them? But it was a fun adventure and I think that fans of adventurous-type stories will love this aspect of the writing. This part of the story structure was very well-written and smartly done.
4. The Setting. The setting took place at times inside Seale House, which was dark and creepy and awesome for a setting. Loved it. The rest of the setting was in the northern US and parts of Canada, which admittedly I have not read too much about. It was fun to read new places and visualize the descriptions given during the clues in the scavenger hunt, and I can imagine readers living in the Watertown and Canadian areas mentioned will find this a real treat.
5. Plot-Driven. This is a very plot-driven book (vs. character-driven) in my opinion, so fans of action sequences: rejoice! Basically, there was never a dull moment. There were gunshots, bombs, fights, bites, choking, and other things of that nature. There were also some freaky paranormal occurrences mostly – but not always – revolving around the Seale House. I love action and found this highly entertaining.
6. The Ending. Friends, I was a bit confused the entire time I was reading this book. But I kept on, and the ending PAID OFF. I normally am pretty good at figuring things out early, but I didn't this time and WOW.
The Vanishing Game was one of those books that I had to sit on for a few days and ponder. In fact, I still think I'm pondering it. It is really well-written and smart. Fans of the mystery and suspense genre will undoubtedly eat it up, especially if you like to read books for a younger audience.
I think older middle grade and young adult readers will handle this book just fine despite its dark tone and the factor of creepiness. The adventure inside is perfect for these readers as well. The twist at the end is astounding and left me wanting to talk to someone about the book like, right now. I recommend The Vanishing Game to readers looking for something truly fun to read.
It was creepy and dark and psychological, and that is always fun.
*I borrowed a copy of this book in exchange for my honest thoughts and opinions. I received no compensation for my review.