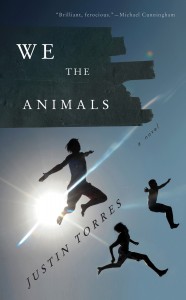 We The Animals by Justin Torres
Publishe
d by
Houghton Mifflin Harcourt

Publish Date: September 1, 2011
128 Pages
My Source: Library
We The Animals by Justin Torres
Three brothers tear their way through childhood— smashing tomatoes all over each other, building kites from trash, hiding out when their parents do battle, tiptoeing around the house as their mother sleeps off her graveyard shift. Paps and Ma are from Brooklyn—he's Puerto Rican, she's white—and their love is a serious, dangerous thing that makes and unmakes a family many times.
Life in this family is fierce and absorbing, full of chaos and heartbreak and the euphoria of belonging completely to one another. From the intense familial unity felt by a child to the profound alienation he endures as he begins to see the world, this beautiful novel reinvents the coming-of-age story in a way that is sly and punch-in-the-stomach powerful.
Written in magical language with unforgettable images, this is a stunning exploration of the viscerally charged landscape of growing up, how deeply we are formed by our earliest bonds, and how we are ultimately propelled at escape velocity toward our futures. -(summary from Goodreads.com)
My Thoughts: It is so hard to find the words to say about a book like this. At only 128 pages, We The Animals is actually a big, big book. I picked it up from the shelf of the library eagerly, knowing only that it was another respected blogger's pick for "Best of 2011." That was enough for me, so I brought it home. My first reaction when I started reading–within a few pages, actually–was that Justin Torres has a talent for writing. His writing is so beautiful. But We The Animals is so much more than beautiful writing.


This is the coming-of-age story of three young brothers: Manny, Joel, and the narrator (who remains unnamed throughout the novella). These boys love and protect each other – after all, they are brothers. But they live in a home that is tumultuous at best. There is violence and hunger and confusion and neglect. There are things done in the home that the boys should not have to see. But through it all, they stick together, because they are brothers. The boys grow up and experience life–the good and the bad–and each boy eventually takes on his own personality and place within the family. Soon the narrator begins to drift away from the rest of the family and discover who he is, separate from his brothers, with his own identity. The last part of the book focuses mostly on the development of this brother as an individual and reveals some truths and secrets about this family and how they come to deal (or not deal) with that.


The story was dark and sad and poignant, but it was also funny and very true-to-life. For me, it was tough to read because it brought out some stuff from my past (as the contemporary genre can often do). This all was in the beginning of the book and once I was able to slowly work through it, I felt a deep connection to the narrator and cared so much for him as a person. I felt like this boy is a person that I could know in real life, and that is what made the first part of this book so tragic and yet so exhilarating for me. By the time the end of the book came and went – and it comes and goes so quickly – I felt so deeply for the narrator that I struggled with my feelings and my words. And I won't lie…I still do.


There are so many social issues tucked into this book, it would be hard for someone not to be affected in some way if you read it with an open and nonjudgmental mind. This story has things in it that are real life for a lot of people, and for this reason, this short little book can bring beauty, pain, and healing to so many. Also, and equally importantly, this book can cause raging and screaming feelings, too…I have them but I'm not yet able to swim through them and figure them out.


The story has elements too: it is a short, quick read. It is not linear, but rather a collection of short story bundles made nicely into a novella. It it not action-driven, and it is not (in my opinion) heavily character-driven. Instead, there are just the collection of stories. It is worth mentioning that most of them have a theme of some type of conflict, although some of them are humorous. Most of all, the writing is lyrical and beautiful.


I think what I'm trying to tell everyone is this: I read this book and I loved it. I am deeply affected by it, and it is in all positive ways. It was a job for me to get through, but one that I don't take lightly and I am so grateful for that process. I learned so much from the book, and I'm still learning from it! How is that even possible? I'm not sure…the book is so short and I read it several weeks ago. It's just a beautifully written, true-to-life story written by a talented writer. I hope some of you will give it a chance and read it with an open mind.


I am still in awe of this story after finishing it so long ago. It is such a gripping story about love–so many different kinds of love–and poverty and brotherhood and justice. I love and am so grateful for the dialogue this has created internally and in my house about some of stuff in this book. I sincerely hope some of you will read it and love it as much as I do. This was a solid recommend from Adam as one of his favorites of the year.