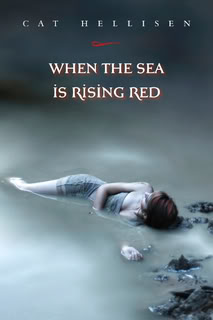 When The Sea Is Rising Red
by Cat Hellisen
Published by
Farrar, Straus and Giroux

Publish Date: February 28, 2012
288 Pages
My Source: Borrowed
When The Sea Is Rising Red
by Cat Hellisen
After seventeen-year-old Felicita's dearest friend Ilven kills herself to escape an arranged marriage, Felicita chooses freedom over privilege. She fakes her own death and leaves her sheltered life as one of Pelimburg's magical elite behind. Living in the slums, scrubbing dishes for a living, she falls for charismatic Dash while also becoming fascinated with vampire Jannik. Then something shocking washes up on the beach: Ilven's death has called out of the sea a dangerous wild magic. Felicita must decide whether her loyalties lie with the family she abandoned . . . or with those who would twist this dark power to destroy Pelimburg's caste system, and the whole city along with it. -(summary from Goodreads.com)
My Thoughts: I started reading Cat Hellisen's When The Sea Is Rising Red and knew right away that I was going to love it. It was dark and a little creepy, yet imaginative and beautiful. Cat Hellisen was so luxuriously descriptive that I felt like I was right alongside Felicita in every scene.


So let's get to it. Why should this go on your Wish List?


1. The Main Characters. They're absolutely incredible. I felt emotionally connected to each of them.
Felicita. Born rich. Moves to the slums after faking her death.

(Don't judge her; she has her reasons!)

I LOVE this very bold move, Felicita's reasons behind this,

and

her life once she gets to the slums. I love her willingness to work

and

to get her hands dirty despite never having worked for anything before. Felicita is an amazing main character-she's brave, she's independent, she's a hard worker. She's also a thinker

and

has to make a few pretty big decisions that kept me turning the pages faster and faster.
Jannik. 'The Bat'

(aka vampire)

. A wildly interesting character, and maybe my favorite of the bunch. I ADORE everything about him-his look, his attitude, his social status, as well as his status within his own family. He's mysterious

and

dark, and in my mind I imagined that he was super handsome. I loved the integration of 'the bats' into the Pelimburg society even though they weren't always widely accepted.

Jannik is a vampire that seems to be written differently from other vampires that are out there in YA literature right now, and this is refreshing.

Dash. Charming

and

charismatic, Dash is the leader of the group that Felicita joins in the slums. He is a flawed character with a tortured soul, but this gives him so much depth. Dash is written beautifully. Despite his problems, he is kind and I loved him just as much as the others. He keeps secrets, however, and eventually everyone becomes a pawn in his schemes, whether they want to or not.
2. The Secondary Characters. The supporting cast is just as amazing as the main cast, and they all had special, unique, and wonderful things about them. Some of them had special powers; some of them were especially kind; some of them were cruel and mean-spirited. But all of them blended together to make this novel magical and really marvelous.


3. The Setting. Oh my gracious, this has to be one of my favorite settings in such a long time! The setting was an absolute feast for my senses on almost every page. Pelimburg is so full of magic that the air is hanging with it, and this was evident to me when I was reading because I felt like I was literally inhaling tingly magic. Pelimburg has a very wide range of social status represented, from the very wealthy to the very poor. I could visualize the finery in the decor of the homes and clothing of the wealthy; I could almost see and smell the filth and grime on the homes, clothes, and faces of the poor in the slums. I could practically hear the ocean, smell and taste the salt-air, and feel the mist while I was reading. Reading this book was such an amazing sensory experience.


4. Magic. I love a book that is rich with magic and-as I mentioned earlier-this book is full of it. (One of my favorite things about the magic is the way Felicita could actually feel the magic radiating off of Jannik. I can't wait until you read more about that!)


5. Romance. There is a little bit of romance in this book, but it is not overwhelming at all. The three main characters are interconnected in what could be called a love triangle, and what probably will be called a love triangle by some people, but I'm not going to call it that. The interaction between the three is sometimes confusing and frustrating, but always interesting. Despite this, everything is wrapped up neatly and resolved completely by the end of the story.


6. The Names. I have a need to point out that I really love the names of the people and places in this story. Besides the three mentioned above-and the town of Pelimburg-there is Ilven, Esta, and Lala (to name a few). So unique and lovely, something so simple as these names made a great story a little more rich.


7. The End. The last part of the book was the peak of the story, which was really big and fantastic and explosive and bigger than life…followed by a brief transition to the ending with excellent resolution of some key long-length conflicts. I felt like even though the ending wasn't what I expected, all of the questions were answered and everything worked out well. It was just a great story that was brilliantly written. Great debut.


Between the magic, the supernatural beings, and the social castes, the author kept the story fueled and kept the pages turning. I do not often like to play the comparison game with books (please forgive me Ms Hellisen!), but I HAVE to say that this story is reminiscent to me of Libba Bray's Gemma Doyle Trilogy (which is a truly great thing). I LOVED that Felicita reminded me of Gemma in some ways and I loved some of the other similarities as well. I feel that fans of Bray's work would certainly love When The Sea Is Rising Red, without a doubt.


When The Sea is Rising Red is set in a complex world, but still played vividly like a movie in my imagination as I read. Readers who love an intricate setting-in both time and place-will most likely enjoy the world Cat Hellisen has created. If you are a fan of magic and the supernatural, you are also likely to enjoy this one-please, add it to your wish list. And if you are anything like me-a sucker for a well-developed, wonderfully fleshed-out group of characters-you won't go wrong with this book.


When The Sea is Rising Red is a beautifully dark and thrilling debut. I pondered it and was puzzled over it a few times, but mostly I spent my time fully immersed in it and I loved it from cover to cover.
*I borrowed this book as part of Around The World Book Tours in exchange for my honest thoughts and opinions. I received no compensation for my review.