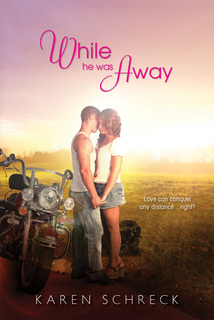 While He Was Away by Karen Schreck
Published by Sourcebooks Fire
Publish Date: May 1, 2012
249 Pages
Source: NetGalley/Sourcebooks

"This is just something I have to do, okay?" I hear David say. "The right thing."
He cradles my face in his hands. He kisses me hard. Then he lets go of me. His eyes dart from me to whatever's next.
All she wants is for him to stay. She's been doing pretty well, pretending he doesn't have to go. But one day, after one last night to remember, she wakes up and there's no denying it anymore. He's gone.
When Penna Weaver's boyfriend goes off to Iraq, she's left facing life without him. As summer sets in, Penna tries to distract herself with work and her art, but the not knowing is slowly driving her crazy. Especially when David stops writing.
She knows in her heart he will come home. But will he be the same boy she fell in love with? –(summary from Goodreads)

While He Was Away


by Karen Schreck

My Thoughts: I went into this book thinking that it was a book about cheating, but I was absolutely wrong! There is way more in this book than cheating – in fact, it isn't even a cheating book. Also, I was initially very attracted to it because 1) I love the new contemps being written with the military theme to them and 2) I love the cover, of course.

1. The Characters.
David. Boyfriend to Penna, leaving for Iraq. We only get to know David briefly and he doesn't really share that much of himself. While it is clear that he is crazy for this girl, which is wildly romantic, he still feels a strong calling for duty, and ultimately he goes to serve his time in Iraq. True to real life, this devastates the lives of everyone in David's life, who are left in his absence. They hang on every email, every letter, every phonecall – just waiting to hear how he's doing, is he okay, is he eating, when is he coming home. I liked David, but I was not extremely invested in his character and found myself wishing he was more present in the book.
Penna. Grieving girlfriend, left behind while David is in Iraq. Penna mourns his departure, acting as if she is in a tailspin, unsure what to do at any given time of the day. She becomes sullen and depressed and obsessed, and finally her mother forces her up and out of bed in order to start a job. Once Penna begins work, she's eventually able to shift her focus a little bit, but her mind never really leaves David for more than a minute or two at the time. She makes a few friends, but still she thinks of David. She gets home every day – immediately she checks to see if she has emails waiting. Penna alternated between breaking my heart for her situation (which I cannot even begin to imagine as I have no experience for it) and frustrating me a bit because she took her feelings out on everyone around her.
Linda. Penna's mother and owner of the restaurant in which Penna eventually begins working. Linda has a poor attitude about…something, almost everything. I found her to be a bit of a sourpuss and not very understanding of things that means so much to her daughter. She never acts very "motherly." As we get further into the story, Linda's outlook on life begins to make sense a little bit with regard to her childhood and earlier family life, but still, I had a hard time not wanting to shake her a little bit. But…were it not indirectly for Linda, Penna wouldn't have met her awesome friends.
Caitlin, Jules, & Ravi. These three are the ones who really made Penna's life a little enjoyable and bearable without David in it. Caitlin is a coworker, so the two spend tons of time together. After a rocky beginning, Caitlin encourages Penna to come hang out with her and another friend, Jules, and things take off from there. Jules is in a similar situation to Penna as her boyfriend is also deployed. These two girls take Penna fun places and keep her from sulking her life away in her bedroom waiting, just waiting, for an email that may or may not come from David on any given day. There's also Ravi, David's friend – and it is nice that Penna is able to find someone to connect with that is also grieving the departure of David. Both Penna and Ravi miss David tons but have such different memories of him that they have plenty to talk about and, although very different, they find a common ground. I found that the scenes with these friends were some of my favorites in the book.

2. The Other Story. Penna has a grandmother that she has never met, Justine. Feeling the absence of David in her life and also curious about this extra family member, Penna decides to seek out Justine and try and build that relationship – she has the full encouragement of David in this endeavor, but she does NOT have the support of her mother. There are underlying issues there, and this completely separate but parallel story line was a fascinating thing to read and complemented the David-is-off-at-war-and-Penna-is-sad story line really well. There are some really neat surprises tucked away in there.

3. Art. This is another story that I have read lately that features art: in this case, graffiti and drawing. I'm finding that I tend to like the stories that feature graffiti because I sort of like it in real life. Penna is a super-talented artist and has been given the opportunity and freedom to do some artwork at a city park-area. She is allowed to update and manipulate it as she sees fit, and throughout the story, there are scenes that take place in this area and there are changes made to the artwork. The subject Penna chooses to paint is interesting and I think that I should like to see it if it were a real-life piece of artwork.

****************************************************
While He Was Away is a very quick read, or at least it was for me. I tend to read while I am running on the treadmill, and I was able to read this while I ran a few miles. There were things about it that I really liked and there were things about it that I wish were explored a little more fully (only because I wanted to know more!). In the end, however, I found it to be a good story that explores a topic that I just don't have much experience with, and I completely appreciated that.
I liked the romance between Penna and David – I found it tangible and believeable – but I wish it took up a little bit more space in the book. I like these romances and I want to read them! I realize that this book was about much more than romance, so I should admit that that is my own little quirk. I also wish David had been a little easier to connect to, but I think that sometimes these military-types are a bit quiet, reserved, and hard-to-read in real life (correct me if I'm wrong on that – my real life experience is such, and the military contemps I've read since then have been the same – but feel free to correct me if I'm misrepresenting).
I loved the exploration of Penna's "other" family and her persistence in finding what and who she was looking for despite her mother's repeated attempts to squash these efforts. While I'm not condoning disobeying our parents, I believe that sometimes we have to do what we feel is right, and I think that is what Penna was doing. What she ended up finding and gaining was so very interesting and so great to read. Not only that, it was just such a different pace from the David-is-deployed story. I think readers will appreciate this part of the book very much; some may even like it a little more than the love and deployment parts.
And the art…there are a lot of contemporary lovers out there that are fans of the arts in their books in some form or another. There was plenty of art in this one and it was really neat. Not only was it just sitting there in the book because Penna was an artist, but there was actually meaning to it.
****************************************************
I think that while While He Was Away gave subtle appearances that it was about cheating, it is really nothing like that at all. It is about Penna's struggle to come to terms with life without depending on her boyfriend (which is something she needed to learn to do anyway) and also her journey to find the missing pieces of her family. There is joy and pain and sorrow and hope all mixed up in this book. And also art! I recommend it for fans of YA contemporary that like a little bit of romance, but also don't mind some deeper issues like the emerging issue of military deployment, depression, and finding one's own when you really have no choice but to snap out of your funk. Penna's growth from the beginning of the book to the end of the book makes the story worth the read and worth tackling the tough issues that lie on the inside.

While He Was Away will appeal to fans of:
YA Contemporary
Romance
New-ish Contemporary Subgenre: Military Deployment
A Parallel Plot Line
Stories Containing Art: Graffiti

While He Was Away by Karen Schreck
is currently available for purchase.
**I received a review copy from the publisher in exchange for an honest opinion and review. I received no compensation for my thoughts. Thank you Sourcebooks Fire & NetGalley!


****************************************************
Is While He Was Away on your wish-list?
Have you read it yet?
If you have, what did you think?
Look for my
Interview with Author Karen Schreck
& a
Giveaway
of
While He Was Away
in the following blog post!