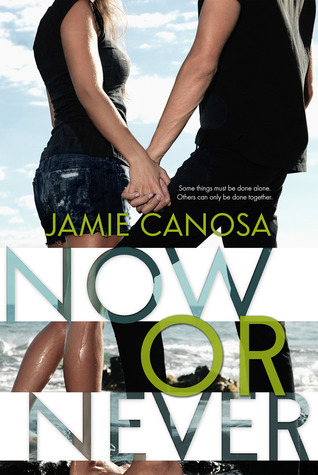 Now or Never by Jamie Canosa
Series: Fight or Flight #2
Publish Date: October 21, 2013
255 Pages
Source: Author for Review – Thank you!
Find It: Goodreads / Amazon


To move on,
Leave the past behind,
And build a new life with Jay.

That's all Em wanted. After everything they'd been through together, they were both overdue their 'happily ever after'. Too bad the world doesn't work that way. Memories last longer than dreams and Em's fears continue to plague her both day and night, interfering with that new life she so desperately craves.

To start over,
Secure a future,
And give Em the life she deserves.

That was Jay's plan, but the past isn't done with them, yet. While Em still struggles to overcome the ghosts of her past, Jay is forced to come face to face with his. When the skeletons in his closet step back into the light, Jay must decide what he will do—and what he will sacrifice—to protect Em from them.

Against all odds, Em and Jay are on the verge of having everything they've ever wanted. They've fought for it before, but is their love strong enough to endure any more heartache? The time has come for each of them to choose for themselves whether or not they will allow the past to continue to corrupt their future. And, together, they must decide, will it be . . . NOW OR NEVER? (from Goodreads)





My Thoughts: When I first read the first book in this series, Fight or Flight, I was absolutely blown away by Jay and Em's story. I was captivated. I wanted to push it on everyone as an example of really wonderful YA/NA contemporary with issues that was EXCELLENT. Then came Sink or Swim, the following title (or the #1.5, you could say), and I felt exactly the same way. Needless to say, I've been sitting on pins and needles waiting for Now or Never, which is the continuation of Em and Jay's story beyond Fight or Flight and YOU GUYS I STILL LOVE THEM AND WAS NOT DISAPPOINTED.


And I still want everyone to pick up these books and begin reading them. They are so fantastic.



*************************************************************
The first thing you need to know is this
:
As the book opens, we see that
Emerson and Jay can't get beyond their past – sort of.
They're plagued with nightmares and memories.
As the book opens, Jay is in the midst of a nightmare. In his nightmare, he is back on the streets – in their old squat – and Em is being kidnapped, taken from him. Jay cannot protect her (one of his biggest fears) and he just watches her being taken away. While this is happening – still in the dream – his father appears and reminds him that this is his fault, his inability to protect Em, just like he was unable to protect his mother…just like her death was his fault. He continues to talk down to Jay until Em gently awakens him and reminds him that it was all a dream, she is there, everything is okay.
Back up a second: While Jay is dreaming, Em awakens safely in their "new" home. No longer on the streets, she feels a relative sense of safety although the memories of the recent past are still haunting her as well. Em has nightmares, too, and she's also suffering from some additional issues from her past. As she realizes that Jay is having another of his nightmares, her heart breaks – he protected her for so long while on the streets, she longs to be able to protect him from whatever it is that is inside of his head and it pains her to watch and hear him struggle so.
Just because Jay and Em are now free from the dangers of the streets does not mean they are free from their memories…
The second thing you need to know is this:
Jay and Em work hard to make their new life work.
Since neither of them have finished high school, they basically had to take whatever jobs they could get – the jobs they found happen to be at a gritty bar/restaurant not too far from their house. They both work there, but often they work differing hours. This is okay, though, because they're on their own and they're making it…sort of. Jay doesn't tell Em how hard they're struggling financially. They pool their money and they work all of the shifts that they can, but life is still really tough when you're young and trying to make it without a high school diploma or education beyond that. Still, they're young, they're in love, and they're safe now. Despite the stresses of this new life, it's NOTHING compared to the life they used to have, and they are grateful for the comforts of their home – a shower, a roof over their heads, food, a bed…basically everything. Before they had pretty much nothing.
At work, they have a few friends. Em has found a genuine, true friend in co-worker Ash – Ash knows the secret of where Em and Jay came from and doesn't judge them for it. She keeps their secret and listens when Em needs to talk. She is great and Em feels like for he first time, she knows what it is like to experience true friendship. Jay isn't quite as trusting at this point, but he appreciates that Em has Ash because he wants good things for her. He doesn't quite appreciate Mason, however. Mason is another co-worker – and it seems like he and Em have a friendly banter about them that seems to grate on Jay's nerves.
It could be that Jay is jealous – Jay works so hard and is usually so busy that he isn't even able to step away from the bar to say a word or two to Em during their shifts (whereas the wait staff are able to say a few words to one another in the kitchen and in passing) OR it could just be his protective nature. Either way, Jay keeps a watchful eye on this Mason dude…
(Remember, Jay has a protectful nature about him and is one of the good guys.)
The third thing you need to know is this:
Jay's past comes back to haunt him in a BIG way.
In Fight or Flight, we read a great deal about Em's past, but we were only given glimpses into Jay's past. Now or Never gives us much more in the way of what Jay has had to deal with in the past, and the past literally shows back up on his doorstep. Not only does it stop Jay right in his steps and catch his breath, but Jay's past has a way of controlling him and manipulating him that he doesn't want Em involved in. So there are some issues there that Jay thought he was rid of that have come back. Jay has to find a way to ONCE AGAIN rid himself of these nasty beasts that threaten his sanity and his well-being – doing this means he has to keep Em absolutely 100% safe from his dreaded and awful past. Doing this may mean that Jay has to make some very tough decisions about "Jay + Em" which could either work out for the better or the worst. The question is…which? Em has been hurt before and Jay is her safe place. So will she trust Jay – actually listen to him – and trust him to know what is best for her? Or will she just get angry and push him away because she is hurt once again? Will Em stop loving this guy that has saved her life?
These questions and the dramatic events that surround them kept me ON THE EDGE OF MY SEAT because I love Jay and Em so much at this point and I sincerely only want what is best for them.
*************************************************************
I absolutely love this series – if you couldn't tell by following this blog. The stories – all three of them – have been SO COMPELLING to me, and they've been so fantastic and so well-written. AND they've kept me glued to my Kindle, doing the white-knuckled click-faster, CLICK-FASTER! thing that I do when I'm really wrapped up in a story. You guys, I really love that – getting wrapped up on a story so deeply. I care so much about Jay and Em (and about Allie and Dean from Sink or Swim) and I want nothing but great things for them all.
I knew right away from the first book that Jay had that protective instinct about him, and this has followed him into this second book. He is still quite the protector – his first thought is always about Em and her well-being. When trouble shows up on his doorstep, Em is there to see it – so she is vaguely aware that something is going on – but she isn't aware to what degree Jay is being harassed and manipulated. And Jay being the protector that he is, he intends to keep it that way. Just like with the bills that keep coming and the debt that stresses him so – he doesn't really want her to know these issues. While I absolutely love this instinct about Jay, there are times when it also becomes a little of a weakness for him – a flaw, perhaps – and I love that too. He loves her so much that he is willing to risk so much for her, and he suffers for it. Not the smartest move, but HEY in love, we all don't make the smartest decisions, do we?
Jay is a remarkable character – completely caring and understanding of the issues that Em still is facing (and she has plenty). He never pushes her beyond what she can handle and he encourages her at every opportunity. He appreciates all of the help that she provides him in the caring-for of their home (which is really great, given their young age) and I just think that given their completely unusual and not-normal start coupled with the fact that they are young and a bit naive, they do as well as can be expected. Jay does as well as can be expected. He feels guilt often about not being a better provider and he beats himself up for some things from his past, but I think that he can work beyond this with help. Jay is a great character.
And Em…bless her. It is unusual FOR ME to connect so deeply with female characters (as I am usually such a fan of male POV's and male characters) but right away in Fight or Flight, Em won my heart. It was her pure heart, her fierce desire to make it in the world, and her willingness to do anything to get to that point of making it. In this second book, Em still possesses those amazing qualities but she some added features that I love: her feelings of safety, her love and appreciation for Jay, and her willingness to do anything to help him out make her stand out to me as great. It's true that there are some things that happen in this book (to Jay) that Em doesn't really understand but she never stops loving that boy and continues to care for him and want the best for him because her love is pure and true, even when she is unsure of what is going on, when she is kind of flailing for answers.
Em is a hard worker – she has to be – and it breaks my heart a little bit when her friend Ash has to teach her how to have a good time. I don't mean "have a good time" like go out and act crazy – I mean doing things like go shopping and having a manicure, but this vulnerability and this sweetness is part of what I love about Em. And again, this appreciation for her first real, actual friend is another of the things that I love about her. Em also doesn't really know what to do about Mason – the guy coworker that clearly has a crush on her but still respects the boundary between Em and her boyfriend. This is interesting to read as the events unfold in the book. There was more than one instance in which I held my breath for a second as it relates to this and other events, but all in all, I'm proud of Em (and of Jay).
Mason and Ash, as friends to the main characters, are wonderful secondary characters that I fell in love with myself. I wouldn't mind books about these two, if I'm being completely honest – but I'm not sure where the author is going with the series.
I realize this review is getting long-winded and that's just because I love these books so much. I love that this scenario – this entire story arc, including the novella involving Allie and Dean – is plausible and is likely happening out there right now. I love the awareness to these issues that I now have while at the same time being entertained in a way that doesn't involve shock value by the author or inappropriate themes. This is just a really well-written YA/NA Contemporary series, you guys, and I want to push it on everyone that enjoys contemporary. Plus, HELLO LOOK AT THESE COVERS. So lovely.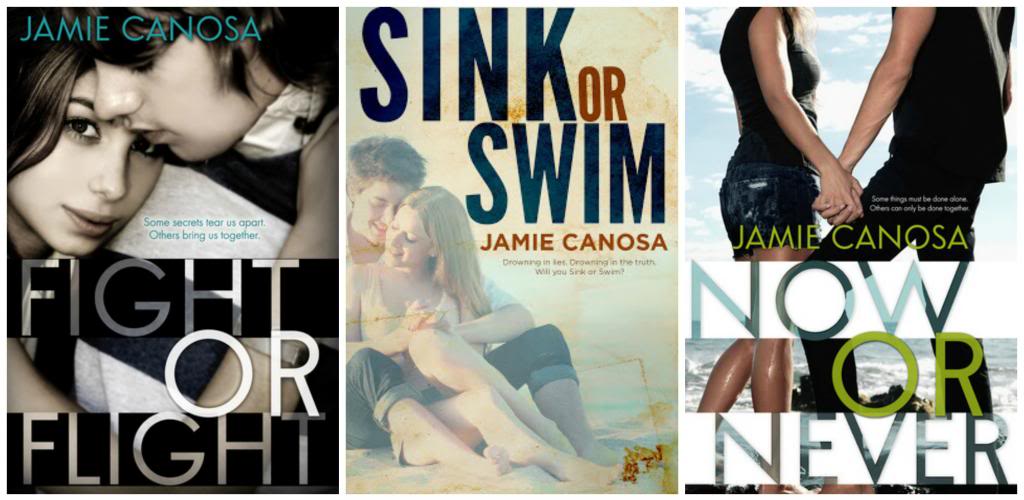 (You can read my thoughts on
Fight or Flight
HERE
.)
(You can read my thoughts on Sink or Swim HERE.)
I recommend Now or Never to fans of YA/NA Contemporary with Romance and Issues. Heck, I recommend the entire series. This book is one that is NOT a companion and DOES need to be read after Fight or Flight. Please read them in order! Despite the age of the characters (Em is seventeen), I do personally consider this to qualify as a New Adult read given the extraordinary circumstances these two are in, and HERE IS A RECOMMENDATION FOR THOSE THAT ARE LOOKING FOR GREAT NEW ADULT. I love this book. I love this series. These will be re-reads for me!
*************************************************************
AN EXCERPT!
Author Jamie Canosa has provided
an excerpt from the story!
This excerpt is from Jay's point-of-view and takes place when he walks into work and finds Em and Mason enjoying some friendly banter.
Son of a bitch. He was at it again. Jay strolled into Bart's to find Mason Locklier's arm draped over Em's shoulders and the two of them laughing about something behind the ticket counter. That asshole was seriously testing Jay's restraint and if he laid one more hand on his girl, Jay was going to lose it.
"How's it going?" He leaned casually against the counter as Em and Mason turned to face him.
Em's eyes lit up and Mason's arm dropped away. That's right, asshat. Hands off.
**************************************************************
Now or Never will appeal to fans of:
Romance: Already established. No triangle.
Alternating POV's
Issues: Past history of abuse, possible PTSD
Now or Never by Jamie Canosa
is currently available for purchase.
*************************************************************
Jamie Canosa is a full time author of YA literature, which she absolutely loves. When she's not writing or spending time with her family, she can usually be found with her nose in a book. She currently resides in Ravena, NY with her wonderful husband and three crazy kids . . . plus the dog, the bird and the rabbit.
*************************************************************
And now for the Giveaway!
is offering
a signed print copy and an ebook copy of
This means this contest is for
US and International entries
, friends!
Good Luck!