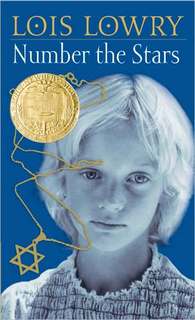 Number The Stars
by Lois Lowry
My Thoughts
: I chose to read
Number The Stars
as part of the
2011 Award Winning Reads Challenge
because I've recently read
The Giver
trilogy lately and I loved all three books. Lois Lowry is an excellent writer and I figured that if I loved one of her Newbery winners, I probably would love another one as well.
Number The Stars
is the winner of the 1990 Newbery Award Medal.
This is the story of how the Johansen family comes to hide Ellen Rosen for a short time during the Nazi occupation of Denmark during WWII in the 1940's, and how the Johansen family help the Rosen family escape to freedom in Sweden. It is written from the perspective of Annemarie Johansen, who Ellen's best friend.
Lois Lowry has taken a very scary, very real, very awful time in world history and written into a story that is told by 10-year-old Annemarie Johansen. Annemarie is just like any other child. She loves to play with her best friend Ellen, and life is good…until the Nazis come to town. Then things start getting rationed, and times become harder. Things are just, well, confusing for a child of that age.
Annemarie knows that Ellen is Jewish; she has been allowed into their apartment to witness the lighting of the candles and things such as that. But neither child fully understands the significance of what being Jewish means at this time in history. Their parents do a great job making life as normal as possible, until the Jewish citizens are gathered and "relocated."
Before they can be found by the Nazi soldiers, Ellen is brought into the apartment and assumes the role of Lise Johansen (Annemarie's older sister who died three years earlier). They are told that they have to "pretend" and that everything will be okay. Ellen's parents are assisted to another safe house by the Danish Resistance, and everything changes.
Annemarie suddenly begins to question just how brave she really is, and whether or not she can actually protect someone else at the risk of her own life. She also internally begins to question her parents' reasoning for lying all the time. All of this is taking place as internal dialogue that Annemarie has with herself, but it gives wonderful insight as to what it was like for young people during this time. Not only for the children during this time, but for the non-Jewish children – the children of the people helping the Jewish.
Eventually Ellen is reunited with her family and they, along with a few others, are hidden and smuggled into Sweden by Annemarie's uncle. Witnessing this operation and being a part of it helps Annemarie to realize that she is indeed a brave girl, and that she would in fact risk her own life to protect the people that she loves dearly.
Here I go with the mother-thing again: because my girls are eight years old, I could easily put myself in the situation of Annemarie's mother or Ellen's mother in this story. Even though the main characters were young, the author allowed the love and compassion and the feral need to protect that the parents/adults feel in this book to be obvious to the reader. I love that about this book and Ms. Lowry as a writer.
This story is written for a very young audience. Because the main characters are very young girls living during a very scary, very real time…I think this story has the potential to affect young people in great ways. I am happy that it is recognized as an award-winner and hopefully it is required reading for lots of students. I am continually amazed at how effective Lois Lowry is at taking big themes and ideas – really important things – that people need to be aware of and putting them inside of compelling stories. I think this book is great and hope that lots of people will keep reading it for a very long time.