I'm excited to be kicking off the
Of Neptune by Anna Banks Blog Tour!
Published by Feiwel & Friends
Publish Date: May 13, 2014
336 Pages
Emma and Galen's kingdom and their love is threatened by long-lost Syrena in the brilliant conclusion to Anna Banks bestselling trilogy.
Emma, half human and half Syrena, and her Syrena love, Galen, need time together alone. Away from the kingdoms of Poseidon and Triton. Emma's grandfather, the Poseidon king, suggests the two visit a small town called Neptune.
Neptune is home to both Syrena and Half-Breeds alike. But Emma and Galen didn't sign up to be peacemakers between the ocean and the land-dwelling, freshwater Syrena. They didn't bargain for meeting a charming Half-Breed named Reed, who can barely disguise his feelings for Emma. And they especially didn't expect to find themselves in the middle of a power struggle that threatens not only their love but their ocean kingdoms.
In this stunning conclusion to her bestselling Syrena Legacy, Anna Banks thrills fans with more action and romance than ever.
(from Goodreads)
***************************************************************
You guys, I absolutely adore Anna Banks for the humor she throws into her stories. The Syrena Legacy has been such a fun series for me because I love the stories but they are fun stories, which is always something that makes them even better. From interacting with Ms. Banks in the past, it is clear that making humorous, fun characters comes easy to her because she is a great big ball of fun herself! I love it. AND AND AND I'm so ecstatic to have her grace my blog today with this fun recipe for one of my favorite characters in this series, Galen.
***************************************************
Thank you so much for being here today, Anna!
More information about Anna Banks, Of Neptune, and the Blog Tour!
Add Of Neptune to your to-read list on Goodreads.
Click HERE to see how you can catch Author Anna Banks on the
***************************************************
We've all heard that the quickest way to a guy's heart is through his stomach. Now that Rachel's not here to cook for Galen anymore, I asked my sister Teri if she could create something new for him to cheer him up—and she agreed! She even made a special Syrena sauce to go with it!
Here's the thing: We have no idea what to call it. That's where you come in. Create a name for Galen's new favorite meal! Leave it in the comment section, and the best one wins a prize! Go go go!
Aaaaand, a bonus swag pack for whoever makes the dish and tweets it to me!
Ingredients:
1lb. uncooked, thawed shrimp (size 21-25) peeled, deveined, tails left on (optional)
Syrena Sauce (recipe included) to marinate the shrimp and roast the squash
1 spaghetti squash
1 medium roasted red pepper
Italian parsley
½ cup pine nuts
¼ to ½ tsp. cayenne pepper
zest of one lemon
juice of 1/2 lemon
garlic
olive oil
grape seed or vegetable oil (for grilling the shrimp)
sea salt
black pepper
Syrena Sauce:
1/2 small jar of basil pesto (or you can make your own)
2 sheets of seaweed, roughly chopped
2 tsp. fish sauce
2 anchovies, roughly chopped
2 tsp. of oil from anchovies
How To Make Syrena Sauce:
Make the Syrena Sauce first; you will need it to marinate the shrimp and roast the squash.
Place all ingredients for the Syrena Sauce in a small food processor or blender. Process until it is the consistency of a thin paste. If it is too thick, you can put a very small amount of lemon juice and/or oil to thin it out. Put ¼ of the sauce into a separate bowl to use only for coating the raw shrimp. Set aside the remaining 3/4 of the sauce for coating the squash.
Main Dish Instructions:
Rinse the raw shrimp under cold water and pat dry with a clean towel. Brush the shrimp with Syrena Sauce, lightly coating each part of the shrimp. Place in a plastic zip top bag and refrigerate immediately. Marinate the shrimp for about 30 minutes before you plan to grill them.
Preheat oven to 325 degrees.
Place the spaghetti squash in your microwave, whole, for approximately 1-2 minutes to soften it before you try to cut it. Cut the squash in half lengthwise. Use a spoon or small ice cream scoop to scrape out the seeds. Discard what you scrape out, or you can save the seeds and roast them for a snack. Place both halves, cut side down, on a baking sheet lined with foil or parchment paper. Take a sharp knife and put a few small slits on the outside of the squash to vent while roasting. Turn the squash back over on the baking sheet, cut side up.
Sprinkle the inside and rim of the squash with black pepper only. You will not need to add salt; the Syrena Sauce will take care of that! Using a spoon or pastry brush, lightly coat the cut side of the squash with Syrena Sauce, covering the rim as well. Roast at 325 degrees for 45-50 minutes.
While the squash is roasting, drain the artichokes and rinse slightly. Cut each artichoke heart in half lengthwise. Lay on a baking rack to dry out a little and pat with a clean towel. Once they are dried, place them in a bowl and lightly coat them with olive oil and black pepper; no salt needed here either. Mix gently; the artichokes are delicate and will fall apart easily. Place the artichokes, cut side down, on a baking sheet lined with foil or parchment paper. Roast for 30-35 minutes, and keep a close eye on them. They will burn easily.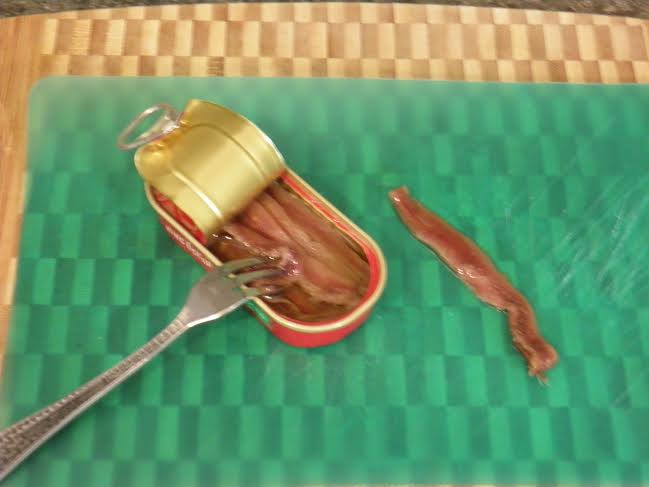 When the squash is finished roasting, cool it slightly on a baking rack. As the squash is cooling, put the pine nuts into a small non-stick pan on the stove and turn on the lowest heat setting to toast. Shake them a few times while they are toasting so they don't burn. Don't walk away from these; they won't take long at all. Set aside.
To grill the shrimp, start with heating your grill to a medium-high heat. I used a cast iron grill pan on my stove top, but you can use your outdoor grill as well. Lightly brush the grill pan with grape seed oil or another high smoke-point oil. Place the shrimp on the grill one piece at a time, leaving plenty of room in between pieces. If you dump them onto the grill or put too many on at once, you will end up with tough, chewy shrimp and a steamy mess! The grilling will go VERY quickly, so do not walk away! Grill the shrimp for 1 – 3 minutes on each side. You will know when they are ready to turn because they will begin to turn a very, very faint pink color and will not stick to the grill pan when you try to turn them over.
When cooked on both sides, place the grilled shrimp on a clean, separate plate from the raw shrimp. Using a small spoon, sprinkle just a couple of drops of the fresh lemon juice on each
piece of shrimp.
By this time, your spaghetti should be cooled enough to handle. Use a fork or spoon to scrape the inside of the squash, gently, down to the outside skin. If roasted properly, what you scrape out should greatly resemble spaghetti.
Place the "spaghetti" in a large bowl and add several pieces of the shrimp, the roasted red peppers (diced), artichokes, the cayenne pepper, half of the pine nuts, lemon zest, lemon juice, and some (not all) of the parsley. Gently mix with a fork until all the ingredients are incorporated.
Divide the mixture on to two serving plates and add the remainder of the grilled shrimp. Put
one final sprinkle of lemon zest, lemon juice, the remainder of the pine nuts and fresh chopped parsley and serve immediately. (As a plating alternative, you could also use the roasted
spaghetti squash halves as your serving dishes).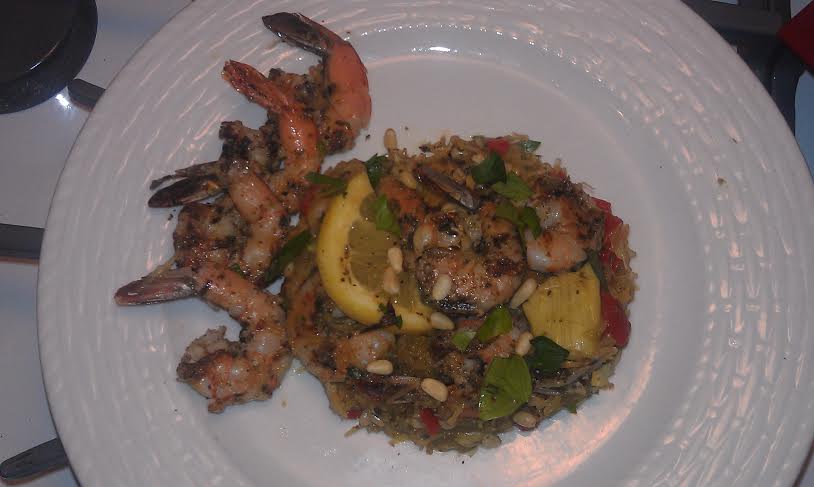 ***************************************************
GIVEAWAY
!
Author Anna Banks & MacMillan Publishing
are offering one
set
of
The Syrena Legacy
to
ONE WINNER
!
(that's all three books, you guys)
(US/Canada Only) * (ends May 18)