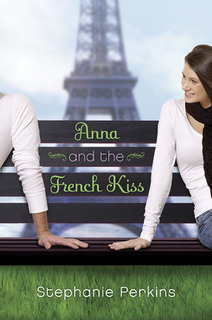 Anna and the French Kiss
by Stephanie Perkins
Published by Speak/Penguin
Publish Date: December 2, 2010
372 Pages
Source: My Shelf!

Anna can't wait for her senior year in Atlanta, where she has a good job, a loyal best friend, and a crush on the verge of becoming more. So she's not too thrilled when her father unexpectedly ships her off to boarding school in Paris – until she meets Etienne St. Clair, the perfect boy. The only problem? He's taken, and Anna might be, too, if anything comes of her crush back home. Will a year of romantic near-misses end in the French kiss Anna awaits? –(summary from Goodreads)
Anna and the French Kiss
by Stephanie Perkins
My Thoughts: YOU GUYS. This book has been reviewed a bazillion times. I'm not gonna do another one. Just know that I read it in one sitting on a pretty Sunday afternoon and thought it was wonderful like everyone said I would.

THIS HERE IS MY FAVORITE REVIEW OF
ANNA AND THE FRENCH KISS.
It's a video review. It's only 3 minutes.
It may contain love jumps, large tattoos, and panda bears.


Seriously, don't read this. Watch the video. It's much better.




Then say hello to that guy.
Things I love about Anna and the French Kiss:
Say YES to WES.
1. Wes Anderson.
Bridge calls as I'm watching Rushmore from the comfort of my mini-bed. It's the film that launched Wes Anderson. Wes is amazing, a true auteur involved in every aspect of production, with a trademark style recognizable in any frame – wistful and quirky, deadpan and dark. Rushmore is one of my favorites. – p. 53
Okay, first of all, I'm crazy about Wes Anderson. I love every single one of Anderson's movies. Favorites: Fantastic Mr. Fox, The Darjeeling Limited, and The Royal Tenenbaums. Wes makes me love Texas and everything about movies.
What in the world is in that bag?
What you got in that bag?


I'm also crazy about Jason Schwartzman. Wes puts Jason in lots of his movies. I also love Jason's band Coconut Records as well as his old band Phantom Planet. Also, his hair is so nice and shiny and silky – I just want to touch it. Jason Schwartman, you make beautiful music that I dance to like a madwoman.
******************************
2. Danny Boyle.
Genius at work.

We spend the day walking around again. We catch part of a Danny Boyle film festival and take another stroll beside the Seine. – p. 183
Yes, this is another moviemaker. But if you say the words Danny + Boyle, my ears perk up and I will find you in a crowded room. I'm loyal to the people and things I love, and this includes movie-makers that make me happy. Danny Boyle has created some of my favorites: 28 Days Later, Slumdog Millionaire, and oh-how-I-love-the-movie Sunshine. (Bonus points for including Cillian Murphy* and James Franco in your movies, Danny Boyle!)
I'm guessing Stephanie Perkins and I have some favorite movies in common.

******************************
3. Meg White.
Soon you'll be the next Meg White or Sheila E., and Kevin Quiggley will brag about how he knew you back when. -p. 53
What an interesting girl, this Meg White. She marries one of the best musicians ever, he takes her last name, they divorce, and they still play together – all the while telling the world they are brother and sister to keep our focus on the music and not their relationship. Yes, it's true. Meet Meg from The White Stripes.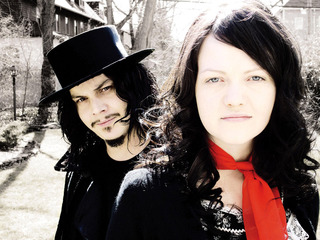 MEG! HOW COULD YOU
DO THIS TO ME, MEG?
I like Meg White. I really do. I won't lie when I say I was devastated that her shyness and anxiety halted/retired The White Stripes last year because they're one of my all-time favorite bands. EVER. (The Raconteurs came next, so I won't complain too much.) Meg has a unique way of playing the drums, and I can absolutely respect not only the fact that girl drummers are kick-ass (see: Skillet) but also that Meg was able to keep up with the master that is Jack White.

******************************
4. Michel Gondry.
We agree to meet later tonight. What was I thinking? I'd much rather stay in and hold a Michel Gondry marathon. I'm ooky with nerves, and it takes ages to find something to wear. – p. 272
I know Perkins was talking about Michel Gondry the moviemaker, but I've already got two moviemakers on my list. So I'm gonna talk about Gondry the music video director. Gondry has directed a ton of music videos by great bands. Guess which band has worked with Gondry several times? The White Stripes! That's right. Things sometimes come full circle if we let them, friends.
I'm guessing Stephanie Perkins and I also have some music in common.
******************************
5. Batman pajamas.
Belatedly, I remember that not only is my hair crazy and my face smeared with zit cream, but I'm also wearing matching flannel Batman pajamas. – p. 203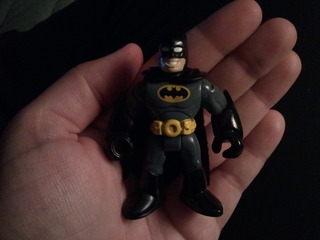 Say hello to my little friend.
Guess who carries a tiny Batman with her at all times? Yours truly. Is it because I'm very immature? Oh, absolutely. Is it because I'm wildly awesome? Yep, that too!
I'm a little bit jealous because I don't have any Batman pajamas. I do, however, have Batman and Wonder Woman drink coasters. Take that, Anna.
Whoa. Do you mean to tell me Stephanie Perkins and I also have a superhero in common? Things are getting kinda crazy.
*Cillian Murphy plays Scarecrow in Batman Begins. Full circle yet again, kind of.
******************************
At this point, I will actually
talk about two things from the book.
I'll be a mature person for a second.
6. Open mouth, insert foot. Anna does this. Asheley does too.
"You're fixing everything I set down." He nods at my hands, which are readjusting the elephant. "It wasn't polite of me to come in and start touching your things.
"Oh, it's okay," I say quickly, letting go of the figurine. "You can touch anything of mine you want."
He freezes. A funny look runs across his face before I realize what I've said. I didn't mean it like that. – p.65
No explanation needed. I do this almost daily.
7. Anna wonders things about life. Asheley does this too.
Why are people so afraid to leave a relationship, even if they know it's a bad one? – p. 272
Tons of thoughts and questions in here for Anna to think on and ponder. For Asheley to do the same! This question is a tough one, for sure. Why must life and love be so hard sometimes?

******************************
I did like this book a lot. It was as cute as it could be, just as cute as everyone says. Cute. Is it my favorite contemp? No, but I can see where it might be the favorite of some. Will I keep reading the others in this series? I've debated it back and forth, and I actually did end up buying Lola and the Boy Next Door. I'll get to it eventually. Maybe soon, who knows.
Have you read
Anna and the French Kiss?
Did you like it? Or not? Tell me!
***********************************************************
GIVEAWAY!
I'm giving away a PAPERBACK copy
of ANNA AND THE FRENCH KISS!
(International)