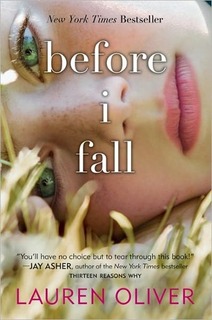 Before I Fall by Lauren Oliver
Published by HarperCollins
Publish Date: March 2, 2010
470 Pages

What if you had only one day to live? What would you do? Who would you kiss? And how far would you go to save your own life?
Samantha Kingston has it all: the world's most crush-worthy boyfriend, three amazing best friends, and first pick of everything at Thomas Jefferson High–from the best table in the cafeteria to the choicest parking spot. Friday, February 12, should be just another day in her charmed life.
Instead, it turns out to be her last.
Then she gets a second chance. Seven chances, in fact. Reliving her last day during one miraculous week, she will untangle the mystery surrounding her death–and discover the true value of everything she is in danger of losing. –(summary from Goodreads)

Before I Fall by Lauren Oliver

My Thoughts: This is a classic example of Asheley getting burned by judging a book by its cover. This is a pretty cover. I didn't care for this book very much. Very simple. Sometimes it happens this way. I accept this.
I read this book super-slowly. I took my time. I thought FOR SURE that as much as I detested this main character – and as much as everyone else liked this book – surely she'd turn herself around. After I finished the book, I thought on it long and hard. I even thought about it while I ran, which is a pretty big deal because that is MY TIME. Still, I can only come up with the conclusion that I just didn't click with this one.
The summary told me Sam Kingston had only one day to live, but when I looked at the size of the book – I was pretty skeptical of that ONE DAY taking up almost 500 pages. Turns out, she lives that one day over and over and over. Kind of like Bill Murray in Groundhog Day. It takes Sam a couple of days, but she eventually figures out that if she changes things, things change. Kind of like Ashton Kutcher in The Butterfly Effect.

THIS – the genius of the actual story – is what kept me reading. It wasn't Sam Kingston. AT ALL. Nope. (You can visualize me shaking my head no as I type the word "nope" because that's what actually happened.)

To be fair, I will add that I liked the way Lauren Oliver writes, so that is a "Good" too. She has an effortless way to her words and it is nice. It's easy to read. There is a flow and an elegance that needed to be there for me to balance out the disdain I felt for the majority of the characters in this story. I think that somehow this author is able to be inside the head of this group of young people, at this point in their lives, and it comes across in the words that they say.

*I had to Google the Ashton Kutcher movie. I didn't remember the title. Ha!
The Bad & The Ugly
:

1. I did not like Sam Kingston. I did not like her friends either.
So why is this a big deal? Lots of other readers didn't like Sam either.
Sam Kingston is a mean girl. Like, a REAL mean girl. She is one of the worst kind. She consciously makes the choice to be this way because she thinks it is cool. Because it makes her popular. Because she runs with a small crowd of people that are the exact same way and she is scared – petrified – of losing her popularity status.
Sam Kingston is also a follower. She doesn't have the guts to stand out among others and stand up to the bullies – so she just becomes one of them. She sees exactly when her actions/the actions of her friends hurt people, and she does absolutely nothing about it. (She considers it a few times, but doesn't act on it.) She even goes as far as to keep on being mean, watching the torment and agony of the the less-popular and younger people. As she walks away, we get a small glimmer of an afterthought from Sam, but it quickly fades. Because of this, to me: Sam herself is a bully. I cannot stand bullies.
Lots of stories these days are about mean girls and bullies and I don't go all nutso about it in my blog posts. I don't call them out as bad characters. So why am I picking on Sam Kingston? Because she gets the chance to redeem herself. SHE GETS THE CHANCE TO REDEEM HERSELF! How many of us would give just about anything to GO BACK IN TIME and redo a certain event in which we've said something we shouldn't, acted inappropriately, been mean to someone, whatever? I shake my head at Sam Kingston. And her awful friends, who are worse than she is. I'm gonna stop there before I get all preachy.
Basically, my feelings for Sam never changed for the positive, and that is unfortunate. I still don't like her.
2. I cannot get behind the promiscuity in this book.

I could not see that it had anything to do with the story.
In an effort not to be spoilerish, I won't say too much about this. But it got old to me very quickly.

I'm not talking about an undertone of sex. And yet I'm also not talking about the actual having-of-sex. So what, then?

These four girls and a couple of guys talked about having sex the entire way through the book. They talked about it. So much talking. Just like immature high school people. Why is this? Because on the ONE DAY Sam keeps re-living, they talked about it A TON. So as a reader, I kept having to read about it a ton. This is probably not a big deal to most people – I'll give you that. But like I mentioned earlier, Sam is a weak girl. And her reasoning for everything was, well, weak. Including her reasoning for talking about sex, potentially having sex, everything.

Just, NO.

I'm not talking about deciding in general what you want to do or how you feel about this subject and sticking to your guns about it – like Katsa in Graceling or other characters (so no hate mail/comments, please). I'm talking about Sam's reasons, which she actually openly admits to, which made me do things like face-palm and head-desk and sigh openly. Y'all, I can't even.
3. The Ending. WHAT.
I do not know what to say about this.
*****************************************************
Perhaps I went into
Before I Fall by Lauren Oliver
with expectations that were too high? There were certainly good things about this book. The format and structure were brilliant and I enjoyed the idea that if I kept reading, maybe the main character would find a way to redeem herself to me in the end. The author certainly has a way of speaking to us, as readers, and I loved reading the words on the page, even if the characters were not speaking to me at all in word or in action. There is something shiny and bright in this story, a nugget of super-coolness – it just wasn't Sam Kingston.
The problem with this, for me, is that there was so much of Sam Kingston in this story. Of course there was! It was her one day that we had to read over and over and over. It was her dialogue and inner thoughts that we kept having to read over and over and over. She was the one that kept making the same decisions, or what I would call mistakes at times. She was the one that kept making me cringe with her words and actions. It was her friends, her in-crowd, and her behavior that I loathed so deeply to my core. It was her weakness in everything that I just couldn't get behind.
I think that this was the reason that this book was such a downer for me and such a great book to everyone else. I have not read the thoughts of anyone else, but it is clear that I am in the vast minority as far as enjoying this one. I had such high hopes for my first Lauren Oliver experience, but sadly this one just fell short (I blame Sam Kingston, not Lauren Oliver).
Will I continue to read this author? Heck yes. I am really excited about reading the Delirium books, but I'm not planning on reading any of them until they're all out. I've heard their cliffhanger status is pretty major with them and I. Do. Not. Like. Cliffhangers. I'm very excited about the rest of her books too. There is a reason she is so widely loved and so widely regarded, and just because I couldn't get behind this character – well, it doesn't dampen my excitement to continue reading her work. I just wish I would've had a different experience with Before I Fall. I really wanted to like this one more than I did. I tried. I did everything I could: I read it slowly, I thought about it for a long time after I read it. But in the end, I stand behind the way I feel.
If Lauren Oliver set out to write Sam Kingston the way I have portrayed her – mean and weak – which she maybe/possibly did, then she did an amazing and brilliant job of it, because I totally buy into it. I'm not sure if she meant for Sam to have redeemed herself in the end? I'm unsure if Sam actually DID redeem herself in the eyes of other readers? To me, she did not. I'm curious about what everyone else thinks, without spoiling anything.
I recommend this book to fans of standalones, Lauren Oliver, and YA-contemporaries-that-aren't-quite-contemporary.
Before I Fall will appeal to fans of:

YA Contemporary-ish/Fantasy
The movie Groundhog Day

Romance: slow developing, no triangle
Standalones
Before I Fall
by Lauren Oliver
is currently available for purchase.
*************************************************************

Have you read BEFORE I FALL?
What did you think?
I think I'm in the minority on this one.