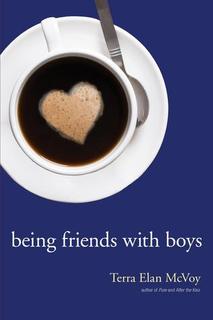 Being Friends With Boys
by Terra Elan McVoy
Published by Simon Pulse
Publish Date: May 1, 2012
368 Pages
Source: Library

Charlotte and Oliver have been friends forever. She knows that he, Abe, and Trip consider her to be one of the guys, and she likes it that way. She likes being the friend who keeps them all together. Likes offering a girl's perspective on their love lives. Likes being the behind-the-scenes wordsmith who writes all the lyrics for the boys' band. Char has a house full of stepsisters and a past full of backstabbing (female) ex-best friends, so for her, being friends with boys is refreshingly drama-free…until it isn't any more.
When a new boy enters the scene and makes Char feel like, well, a total girl…and two of her other friends have a falling out that may or may not be related to one of them deciding he possibly wants to be more than friends with Char…being friends with all these boys suddenly becomes a lot more complicated. –(summary from Goodreads)

Being Friends With Boys by Terra Elan McVoy

My Thoughts: OH BOY THIS BOOK. Being Friends With Boys is just one example of girls being friends with boys and surviving it. It's written from the perspective of a group of high school students, which means that I'm absolutely not the target audience, but I still find that it is significant in my life today. Because, well, I am friends with a boy or two.

The first thing you need to know is this
:

Charlotte has a LOT of friends that are boys.
They're in a band.
Okay, well you guys – that isn't me. I do not have a bazillion guy friends. In fact, I wouldn't call myself a person that has a bazillion friends, period. I have a few friends that are super-awesome and I love them with all that I am. But this chick has a ton. She's tried to have girl friends, but for various reasons, Charlotte can just relate better to guys. How often can we all find this to be true? EXACTLY.

Charlotte has this interesting little part in this band – made up of her best guy friends – and one day the band decides to mysteriously/kind-of split up. It kind of turns Charlotte's world upside down. Who should she side with? And why the hell should she have to side anyway? They're all her friends. Pretty soon Charlotte is a little overwhelmed by some of the feelings she didn't even realize existed from some of these guys.
The second thing you need to know is this:
When the band splits up, there are sides.
For a second, you're flailing around and you don't know what's going on.
Then you figure it out.
So there are all of these guy bandmates – and they are all different and quirky and lovable, they really are. They are great. I liked them all. There is this one, though, that emerges as THAT ONE. One guy has to be different and have ALL THE FEELINGS and stuff and of course that means he acts ALL WEIRD when there are other friends around that are boys. Why?!
Why does this happen?
So THAT ONE happens to be the one that has mysteriously left the band, and good riddance for all his weird behavior, in my opinion. He's acting odd to Charlotte and not giving clear reasons why. Mr. ex-bandmate, haven't you ever heard of TALKING about how you feel? No! Because you're a guy. And because you're a guy, all of us gals tend to give you a pass…but alright, okay. Moving on.
The rest of the bandmates chug along, with Charlotte in tow. Things are going pretty good, and other guy friend is still as charming and wonderful as ever. He really is. He doesn't act ALL WEIRD and oddball and jealous-y, he just keeps being the FRIEND that he is. Is this even possible? YES. Yes it is. When Charlotte doesn't understand why Mr. ex-bandmate left or is acting weird, the awesome friend just keeps on being the friend. Because he is awesome. Friend = awesome. Mr ex-bandmate = strange.*
*There are reasons, there are. Of course.

The third thing you need to know is this
:
I chose sides.
I picked the FRIEND.
I'm sorry, you guys. I am a firm believer that guys and girls can be just friends if they choose to be.
I know that there are some out there that don't believe that. But this story is a believable one that stands by my theory and made me jump for joy. Charlotte is kind of amazing and perhaps also may be my hero – a high school hero to my adult self.
Charlotte had a healthy, great, awesome relationship with the guy friends in her life. True, she was in high school and I am not. She was young and may or may not have known yet what love and real commitment is. But this gal had already it figured out. She had friends that were guys, and she knew how to handle a delicate situation like that. Conversely, the guys in her life – her guy friends – knew the same. She had no time for jealousy or stupidity and I completely respect her for that.

*******************************************************

Being Friends With Boys is a fun, quirky, quick read that left me feeling all sorts of happy on the inside. I devoured it like I was eating the very best peach cobbler ever in the middle of the summertime. This book was written for me and validated a ton of things I feel as an adult, even though it was written with characters that are in high school, because even at this age of my life I have friends that are *gasp* BOYS.

Charlotte has a fun girl with a fun personality. She's tried doing the BFF with girls-thing and it hasn't worked out well for her, and I totally understand why. Girls can be so mean, you guys. So when she gravitates to the guys, I get that. She has a lot in common with Oliver, Trip, and the rest of the guys from her band, so it makes a ton of sense that she would spend a lot of time with them. It also makes a lot of sense that eventually she may be interested in a random boy and other boys would become territorial. It also makes sense that there could be feelings for Charlotte within the group of friends. All of this is handled in this story and done in a way that is, well, the way life is. Charlotte manages everyone and everything so well. I LOVED IT.

The best part of this book was the fact that I could see some of myself in Charlotte, and some of my friends in these guy characters. I borrowed this book from the library, but I really need to buy it and re-read it. I did something that I NEVER do and I actually dog-eared some pages. UGH, I know. But I have to go back and write some stuff down so I can revisit those passages later if I ever have the opportunity to discuss this book with someone.

Being Friends With Boys is a fun book to pick up if you love those YA Contemporaries that leave you feeling oh-so-very happy after a great story and also if you like books with music in them. I have never read any of Terra Elan McVoy's work before but I would most certainly pick up other books by her after reading this one because I enjoyed it immensely. I can't believe it took a high school fictional character to back me up in a statement I've been trying to make forever but it did and Charlotte did and I feel like I want to hold my hands up and scream WHAT!? to the world.

Being Friends With Boys will appeal to fans of:

YA Contemporary with Romance
Books with Music

Great characterization, male and female
Being Friends With Boys
by Terra Elan McVoy
is currently available for purchase.
*************************************************************
Have you read BEING FRIENDS WITH BOYS?

Can guys and gals really be just friends?