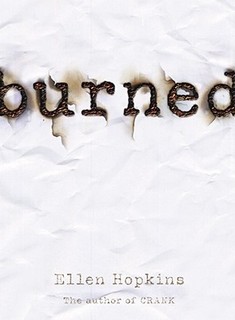 Burned by Ellen Hopkins
Series: Burned #1
Published by Margaret K. Elderberry Books/ Simon & Schuster
Publish Date: March 28, 2006
532 Pages
Source: Library

It all started with a dream. Nothing exceptional, just a typical fantasy about a boy, the kind of dream that most teen girls experience. But Pattyn Von Stratten is not like most teen girls. Raised in a religious — yet abusive — family, a simple dream may not be exactly a sin, but it could be the first step toward hell and eternal damnation.

This dream is a first step for Pattyn. But is it to hell or to a better life? For the first time Pattyn starts asking questions. Questions seemingly without answers — about God, a woman's role, sex, love — mostly love. What is it? Where is it? Will she ever experience it? Is she deserving of it?

It's with a real boy that Pattyn gets into real trouble. After Pattyn's father catches her in a compromising position, events spiral out of control until Pattyn ends up suspended from school and sent to live with an aunt she doesn't know.

Pattyn is supposed to find salvation and redemption during her exile to the wilds of rural Nevada. Yet what she finds instead is love and acceptance. And for the first time she feels worthy of both — until she realizes her old demons will not let her go. Pattyn begins down a path that will lead her to a hell — a hell that may not be the one she learned about in sacrament meetings, but it is hell all the same. –(summary from Goodreads)


My Thoughts: Even though you all know me as the one that has been absolutely fearful of issue contemporary books for so long, that has never applied to the books of the amazing Ellen Hopkins. I've been a hardcore fan of hers since I read my first Hopkins book and I don't see that changing any time soon.
With the possibility of actually laying eyes on Ellen Hopkins looming in my very near future, I picked up Burned and decided to read it. I had heard it would be controversial. Good gracious, you guys. Burned was exactly what I expected it to be. Hardcore and then some. I ate it up and loved it. And I can't wait for Burned #2 to come out in Fall 2013.

The first thing you need to know is this
:

I freaking love Ellen Hopkins. Why?
Because she has the guts to write what she wants to.
We have this girl – Pattyn – who is raised in the strictest of the strict super-religious families. Her father is the worst of the worst and her mother basically takes everything her father dishes out. Meaning: her father is an abusive alcoholic and her mother turns an eye on the abuse and even takes some of it herself. They are a part of a strict church in their area of Nevada, and the church is aware of the problem. The church is aware of the problem, you guys. In this case, the church is aware of the problem – and they do nothing to help. By nothing, I mean they continue to instruct Pattyn on the proper way for a female to act, like only learning to drive if her future husband thinks she should know, only having money if her husband gives her some, and having as many babies as her husband can give her. Are y'all catching what I'm saying? It's not a pretty situation.*

So, as Pattyn gets older, she starts to notice boys. Some of the boys are nice-looking. And Pattyn starts to have THE FEELINGS. You know the ones I'm talking about. In this family/church community, these feelings are dirty, wrong, disgusting, sinful sinful sinful. Pattyn shouldn't be thinking about boys, much less talking to them or smiling at them, or meeting up with them in the fields way out beyond her house. Certainly not kissing them. Or doing anything else with them. Cause that would be wrong, wrong, wrong. Bad Pattyn!

Poor Pattyn is confused, really. Because none of the other kids act like this stuff is really all that wrong. Kissing? Really? Everyone does it! The books Pattyn is reading (snuck to her by her librarian, who believes she should be exposed to all types of literature and have a free mind) embrace and encourage love and romance. So what's the big deal? When Pattyn genuinely asks an innocent question to her youth leader, it sets big things in motion – eventually Pattyn ends up removed from her home and living with her Aunt J on a ranch many miles away (as if that's punishment) and left to fend for herself experience life outside the confines of such a strict environment. In other words, Pattyn can breathe for the first time, and maybe also live without fear. It's sort of wonderful.

Pattyn ends up loving it out there with her Aunt J. She feels accepted and loved for the first time in her life, and she may even find love too.

The second thing you need to know is this:
Hmm, Ellen Hopkins isn't going to let us off that easily.
She's gonna TELL US that story. She won't spare the details.
At the end, we may even be all clinchy and exhausted.
I don't really need to tell you all about Ellen Hopkins and how she writes and how she has been inspired and such.
Hopkins writes from a place of experience (like in Crank) and she holds nothing back.
She tackles stuff I wouldn't even imagine would be in a YA book. She's been challenged and banned like crazy, but people relate to her, and she just keeps on writing.
When you start to read Burned, you are immediately in Pattyn's head. You get her thoughts, her innocence, and the sincere curiosity of all things that accompany someone that is her age. Pattyn isn't wrong for being young and innocent and not knowing things. She isn't wrong for asking questions – but she is made to feel this way by people she should be able to trust. She struggles in her thoughts, in her actions, and this is made clear in her secret journal, which is shared with us. Pattyn has very valid feelings and is a super solid character. Unfortunately, her family members are all solid characters too, which make it hard to read at times. Well, maybe not as hard to read as angering. Hopkins made me have this wonderful righteous anger at several times throughout the book, and sometimes it feels so good to get stirred up like that. No other writer makes me feel quite the same way.
Why spend my time angry or upset when I'm reading a book? I hope for the best for Pattyn because Ellen Hopkins made me feel so connected to her and attached to her. And the story isn't angering the entire way through – only when certain characters are on the pages or are doing certain things. There is plenty of this novel that is redeeming, that is hopeful. It IS a roller coaster, though. Such is a Hopkins book or series. I love it.
The third thing you need to know is this
:
Verse Novel! YAY!!
(And Ellen Hopkins has the PRETTIEST verse. Seriously.)
Y'all know I love the verse. It clears away all of the extra words and says LET'S GET DOWN TO BUSINESS.
In Burned, there are no wasted words. There is certainly beautiful language, but every word is in its place, in its time. There is no fluffy language, no filler. No clouds or unicorns or whipped cream with cherries. There is a straight story with straight emotions and that is all. No un-needed details. No unnecessary dialogue or description. The words on the page are the words you need to know. Period.
To take it a step further, I've read verse (and loved it) that was fairly standard in form. But Ellen Hopkins takes it further by making it LOOK different on every page. Every page has a header – or title, maybe? – as if every single page is its own little teeny tiny poem. And every page has an arrangement. For a person that LOVES detailing, like me, this is awesome. Not necessary, just awesome.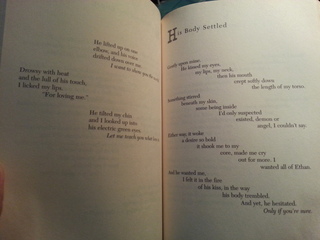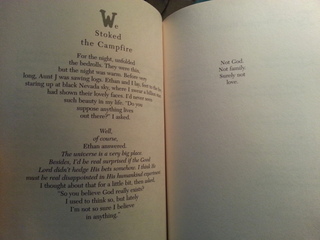 ********************************************************
Burned
by Ellen Hopkins is another of her verse novels that I absolutely loved. As expected, I had strong reactions to it, and my reactions were all over the place. I felt anger that ranged from righteous anger to a desire to fling my book across the room to a desire to punch her father, but I also felt happiness and hope mixed up in there. Ellen Hopkins always makes me feel all types of feelings that I expect to feel and sometimes emotions I don't quite expect to feel when I read her books, and this is just another of the things I love about her as an author. She challenges me as a reader.
*Burned is, I would assume, controversial. I haven't read any other thoughts on it yet (except for one blog post that was positive) but I can imagine that people will feel all over the place on this one. Anytime you have a religious community that is portrayed in a negative way, people can tend to become upset. In this book, the religious community portrayed by Hopkins is presumably fictional but based on a real group out in Nevada. There are indeed overly strict religious groups and families in this world and in this country; this is fact. This girl, this character, was treated poorly and unable to reach out to her church family and this is unfortunate. This is not an attack on a particular group, these are details that appear in this book and they are quite effective in making the story what it is. This was one of the tougher parts to read for me because I know plenty about strict religious "stuff" and don't like it at all. I do think it was done brilliantly, though. The marriage of the religious dynamic and the family dynamic (the church + the family and how the father used the church to justify his behaviors) was great in this story and I am jumpy-up-and-down to read the next book when it comes out later in 2013.
These characters are amazing. They are full and deep and remarkable. You can get a sense of who each of them are even with the sparse language and minimal words. This is a testament to how talented this author is, that she is able to choose her words well and set her story well and develop her characters on such few words and short lines. I know exactly all about Pattyn, Aunt J, Ethan, Pattyn's father (horrid man), her mother (doormat), and the younger sisters Pattyn left behind when she went to her aunt's ranch. Unfortunately, I can tell you all about the people of the church as well. The setting – also amazing. I could visualize it probably even better than if the book was regular prose.
If you are a fan of verse novels, or if you are a fan of Ellen Hopkins, this is an incredible book. It's a toss-up between Burned and Triangles for which is my favorite. I loved this one that much. This story just really got to me and took me on a ride, which I totally expected and loved. I was, as I mentioned above, all clinchy and exhausted when I was finished with it, and it was glorious.
I recommend Burned for fans of verse, Ellen Hopkins, YA contemporary with issues, or books with great settings. There IS plenty of alcoholism and abuse in it, though, so if these issues may be triggers for you, you might want to seek out other verse or Ellen Hopkins or issues books.
Burned will appeal to fans of:

VERSE NOVELS!
YA Contemporary with Issues
Books with Fantastic Settings

Romance: slow developing, no triangle
Fantastic Characterization
**Young Readers! Use your head!
Make sure you're mature enough for this one!**
Burned
by Ellen Hopkins
is currently available for purchase.
*************************************************************
Have you read BURNED or
other Ellen Hopkins books?
What did you think?

I've probably asked before, but what are some of your favorite
verse novels? I'm always looking for more!