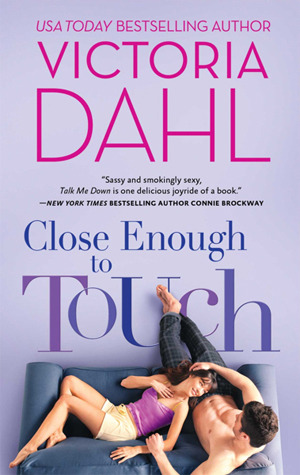 Close Enough To Touch by Victoria Dahl
Series: Jackson #1
Published by Harlequin
Publish Date: August 28, 2012
384 Pages
Source: Library
Find it on: Goodreads / Amazon / B&N


For makeup artist Grace Barrett, Hollywood isn't the land of golden opportunity. It's the land of difficult divas, cheating boyfriends and unemployment. So when her great-aunt offers her a free place to stay in Jackson Hole, Grace thinks she'll spend a little time in the sticks to figure out her life, and then move somewhere exciting to live out her dreams. But it turns out that there are a few more thrills in this small town than Grace was expecting….Cole Rawlins is a rugged Wyoming cowboy born and bred. Yet he can't help but be drawn to the fascinating big-city girl who moves in across from him. He wants to get close enough to Grace to see past her tough facade, but if he does, she might see the real Cole. The one with a Hollywood history gone bad. As they discover a sizzling attraction, it becomes harder for him to keep his demons at bay—and those fires from long ago may burn them both.

They'll need more than scorching-hot passion to make this opposites-attract affair work. But if they can learn to trust one another enough to reveal their secrets, they just might have a chance at forever. -(from Goodreads)



Close Enough To Touch
by Victoria Dahl


My Thoughts: I really didn't know what to expect when I picked up Close Enough To Touch by Victoria Dahl, but coming straight off of my first adult contemporary romance (from the Fool's Gold series by Susan Mallery), I had high hopes. No disappointment here! I loved this book.



The first thing you need to know is this
:
Grace Barrett is strong. Not only is she strong, but she's
a bit rough around the edges. And she has a secret.
Grace blows into Wyoming, a fiercely independent, purple-haired makeup artist with a chip on her shoulder. She doesn't want to be there any more than she fits in there. But Aunt Rayleen has offered her a free place to stay for a while, so that's where Grace will spend a few weeks. She has no plans to make any friends or plant any roots because as soon as she's able, she's outta this cowboy town and onto somewhere bigger and better.
Interestingly enough, the "free" place that Aunt Rayleen has for Grace to stay is at an apartment building filled with nothing but men – good-looking men. Cowboys. After Grace rolls her eyes and plops her bag on the floor of her new unfurnished apartment, she takes to hunting a job – and is actually surprised when she finds one.
The second thing you need to know is this
:
Cole Rawlins is the cowboy that lives across the hall.
I believe that's just about all I need to say about that.
Cole Rawlins is the handsome cowboy that just happens to live across the hall. He works at a ranch not too far from town – and he technically should live there – but he had to move off the ranch when he was injured and had to cut way back on his duties. Cole is a very good-looking man, and he is immediately attracted to something about Grace – but she is so standoffish that she's almost rude. Naturally this only makes Cole pursue her even more (so much fun to read!). It is super convenient for Grace that he has all sorts of furniture and a coffee-maker and stuff like than when she came to town with nothing but the bag she was carrying…that way, he can always cook her breakfast, make her coffee, offer her his couch. You know, be the perfect cowboy gentleman.
The issue of Cole's injury is kind of a big deal. He plans to buy the ranch on which he is working because his boss is like a father to him. He'd do anything to get his body back into shape after his accident, but it doesn't seem to want to cooperate. Between the stress of his injury, and the tension that oozes between he and Grace, Cole's time in Jackson Hole has just become much more interesting. (And man, it IS interesting to me, since I've never read a story with a cowboy in it before. Have mercy.)



The third thing you need to know is this:
Grace's new job completely
takes over Cole's job at the ranch.
This causes a lot of tension. (A
s if these two needed any more tension.)
Okay, there is A LOT that comes out and goes on between these two and some of the secondary characters when Grace's job places her on the ranch. See, Grace begins to work on a movie set – the movie is being shot on the ranch where Cole works – but only for a short time! Grace doesn't see the big deal! But Cole loves that ranch with everything he has, and he is super protective over it, the land, the animals.
OH BUT JUST YOU WAIT! There is still more to it than that. It seems that this movie-making business threatens to bring up some of Cole's buried past AND some of Grace's buried past and WAIT WHAT?! I know. I felt the same way. But man, that drama is so good.
(It's all quite fun, really. It adds to all the oozy-swoony tension, which I'm apparently ALL ABOUT in these romances.)
**********************************************************
Close Enough To Touch by Victoria Dahl was a FUN, FUN, FUN book and I want to read more by this author immediately. Y'all understand what I'm saying? If you haven't experienced her work and you love swoons and steams and fun romance, check this gal out. I loved this book from the beginning until the end, and I really want more Grace and Cole! Don't you love it when you get hooked on a story and its characters, and then you feel like you know them and wonder what they're out there doing?
Grace Barrett shows up like a hurricane, straight from LA into this small town – she has baggage like crazy and that big chip on her shoulder that I've already talked about. She is running from her past, from something that you don't really find out about right away, but you can tell right away that this gal has an attitude. The thing about Grace is that while she seems like one of those strong and fierce types, she is actually quite vulnerable – and this is what I really love about her. She presents this facade of not needing anyone and being able to make it on her own, but deep down, she craves the human touch and interaction and friends just like the most of us. It takes Grace a while to actually open her eyes to her surroundings, to the town she's staying in – but when she does, she sees beauty. And kindness. And nosy neighbors. But most of all, she sees community and a sense of acceptance, and I think that is when she really begins to feel like she has a place in Wyoming.
It's just that her past keeps trying to catch up to her.
Cole Rawlins – oh, sigh. Cole Rawlins is that perfect gentlemen that the Dixie Chicks sing about in this song – the one that offers you help when you need it and even when you don't. He makes coffee and offers Grace a cup. He shows up unexpectedly when she's least expecting it. He wears blue jeans and has nice thighs and good gracious, there's even a Cowboy hat. This guy is for real. But there's something about Cole that Grace can't quite put her finger on – he is soooo electrifying, and the sparks between them are real. Grace enjoys spending time with Cole…until the feelings start to come out and she completely bails. The girl flat-out runs. Cole can't figure out why Grace won't let herself be comfortable around him – is it something he's said? something he's done? Or is this girl running from something that she wants to keep buried?
Either way, Cole doesn't want to let Grace slip away because he just might be falling for this girl. And despite her best efforts at covering it up, he thinks she feels the same way too.
You guys, this story is full of passion, swoony-times, and angst. Not from me, mind you, but these characters. They are stubborn and difficult, but it makes the story SO GOOD. I am having a full-on flailing-hands fit that I took the time to read this one and loved it.
Why have I waited this long to read a Cowboy story? WHY?
The setting is perfect, with Wyoming as the backdrop – seriously, who doesn't love that? WHO? And the secondary cast is so much fun. I don't know much else to say except that I loved this book, I loved these characters, and I will be reading more from Victoria Dahl pretty doggone soon. Oh, and I love this cover! So pretty!
I recommend
Close Enough To Touch
by Victoria Dahl for fans of adult contemporary romance with some swoony-times and a little bit of steam. The romance throws sparks right away, but is slow to develop and there is no triangle. And Cowboys.
**********************************************************
Close Enough To Touch will appeal to fans of:
Adult Contemporary Romance/ChickLit
Romance: Slowly Developing, No Triangle.
Great Setting: Wyoming
Close Enough To Touch
by Victoria Dahl
is currently available for purchase.
**************************************************************
Have you read any books by VICTORIA DAHL?
I received some wonderful adult contemp romance
recommendations a few days ago!
It's a new favorite genre!
But now I need cowboy recommendations!