Delirium by Lauren Oliver
Series: Delirium #1
Published by HarperTeen
Publish Date: February 1, 2011
441 Pages
Source: Audio – Library, Book – Library


They say that the cure for Love will make me happy and safe forever.

And I've always believed them.

Until now.

Now everything has changed.

Now, I'd rather be infected with love for the tiniest sliver of a second than live a hundred years smothered by a lie.
Lena looks forward to receiving the government-mandated cure that prevents the delirium of love and leads to a safe, predictable, and happy life, until ninety-five days before her eighteenth birthday and her treatment, when she falls in love. -(from Goodreads)


Delirium by Lauren Oliver


My Thoughts: One of the best bookish decisions I've ever made in my entire life is waiting until now to start the Delirium Trilogy.



The first thing you need to know is this
:
I waited for YEARS to start this trilogy because I don't like cliffhangers.
They stress me out SO MUCH and we all know
that I don't need any additional bookish stress.
The Delirium Trilogy has generated a fair amount of buzz and hype in the bookish community – particularly lately since it is completed – and YOU GUYS I am totally Team "DOWN WITH THE HYPE MACHINE." Down, down, down. There is not much more that will kill my excitement over a book than when it is over-publicized or over-marketed or talked about too much. While The Delirium Trilogy had plenty of hype around it, it thankfully didn't have as much as some books out there.
BUT…the hype machine isn't why I waited to start this series. My reason for waiting was everything I was hearing about these horrible cliffhanger endings. See, I pay attention to Goodreads status updates and to the tweets I see out there in the world. If you, my friends, put something in ALLCAPS and turn on the emotional melodrama, I will notice it. Over and over and over, I began to notice that these book endings were just PAINFUL to some of you readers and I TRUST YOU GUYS. So I asked around and my suspicion was confirmed. I decided I would WAIT…I would wait until this here trilogy was finished before I started it.
I won't lie to y'all. The waiting was a drag but I was determined.
But now Requiem is out. BOOM. Let's get this trilogy started.
The second thing you need to know is this
:
I broke my own rule and listened to the audiobook
for my first read with Delirium. And I'm not sorry.
I chose to do one of my favorite things and read via Audiobook + Print, which I usually reserve for re-reads. I chose to do this for two reasons: 1) I really, really, really was ready to read this book and I felt like I could fit it into my life better if I did it this way and 2) The voice actor is really excellent for this book (more on that later).
I will be perfectly honest with everyone here and admit something: this is actually not the first time I've tried to read Delirium. I actually opened the book once before and just could not make it past the first chapter. It failed to capture me. HOWEVER, the audiobook captured me right away in just the short sample that I listened to, so I knew that was the way to go for me.
It was a perfect decision because all of the emotions in this book – love, fear, grief, happiness, sadness, all of them – the audiobook only serves to intensify them. As a reader, I personally want to experience my books with as many of my senses as possible – particularly books like Delirium, books that I have been anticipating for so long.
I genuinely felt like the smartest person alive because because I both waited for the series to be finished before I started it and read it by audiobook.
The third thing you need to know is this:
I'm still early in the series, but I KIND OF LOVE ALEX.
1. I feel certain that no further explanation is necessary for those that have read this book.
2. Clearly I haven't received the procedure that will prevent the amor deliria nervosa infection.
3. Smart guys make me draw hearts on my notes.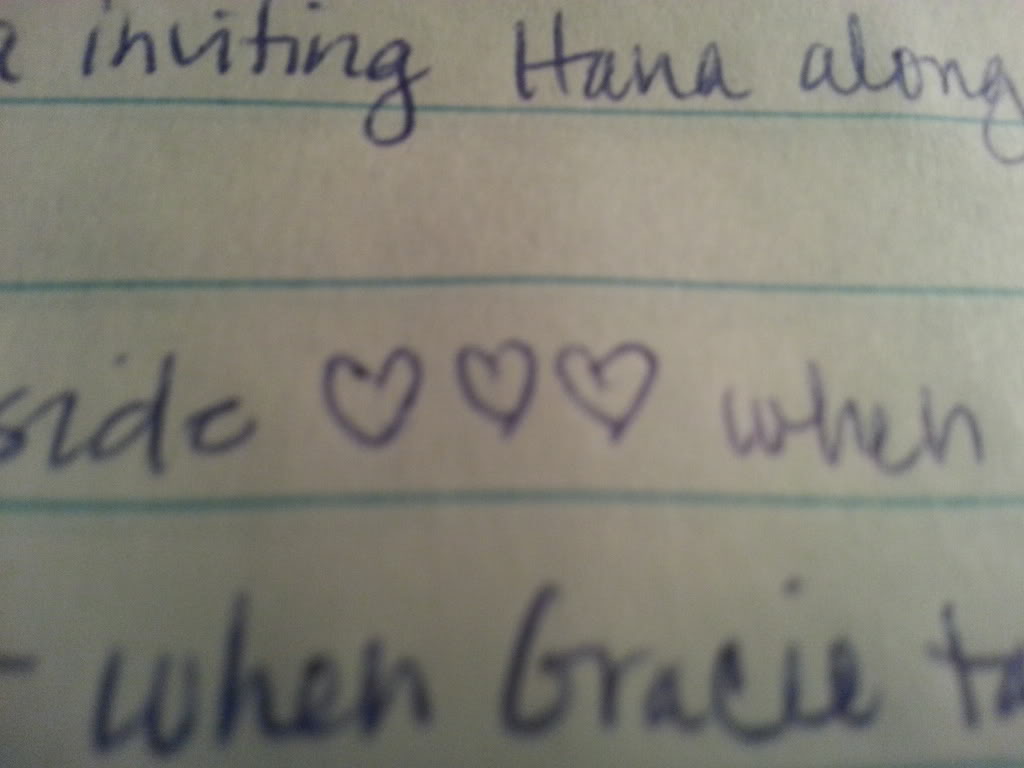 There are so many hearts on my notes for this book because Alex is so doggone
smart
.
There is also poetry but I'm not even going there.

**************************************************************
Delirium by Lauren Oliver was well worth the wait for me. It is not my favorite in this genre, but it was tons of fun, held tons of emotion, and gave me a fantastic male character to add to my growing list. The last time I read a book by this author (HERE), the book and I didn't get along very well. Since that time, I had been hoping that my next Lauren Oliver experience would deliver. I'm thrilled that Delirium has been a positive experience.
What I loved most about Delirium was the concept of the story, which is probably what a lot of people like. More and more lately, I am increasingly appreciative of an original or engaging idea, one that makes me want to keep turning the pages, one that makes me feel things. The idea that love is a disease – a disease from which the population should be cured – that is fascinating and scary and kind of awesome. I loved the way that Lena was absolutely scared to death of love – she was scared of anything that had to do with love, of even speaking the word. Even better is the idea that love is stronger than government-imposed cures, regulations, or fears – that this one boy can change one girl's entire life just by changing the definition of a word for her – it completely blew my mind.
Of course, there was the whole the-people-have-been-fed-lies-for-their-entire-lives thing, which shows up here and there in young adult fiction. But when it works, it works, so we'll just go with it.
I loved the setting and the world – I loved that the city was supposed to be like this 'regular' city, but it really wasn't. My mind wanted to make it all contemporary-like, but then there would be curfews and rules and regulations and Regulators, which would make it stand out as corrupt and all messed up. I loved it. But more than that, I loved the Wilds and the Crypts – I loved the places outside of the city that were obviously not normal. And as surely as my name is Asheley, if there is an ocean in a book, you know I will fall head over heels for it. That is a given, so high-fives for the ocean making an appearance.
In terms of characterization, Lena was a tough one for me. I felt like she was a little weak and stubborn and blinded to what was going on around her, which was the point, I KNOW. But I really wanted her to get over all of that at some point in the book. There was a time that I could see her began to open her eyes to the crazy world around her, to see it for what it really was – but Lena still retained some of her stubbornness until the very end, which made me wrinkle my nose up at her so, so many times (HELLO, LAST SCENE). I do have high hopes for Lena, though (despite her little speech-thing at the end of the book, which I did. not. like.). Truly, in my opinion, it was Alex that not only carried this book, but pulled Lena along with him.
Alex is a great character. Truly great. He is under so much pressure for the duration of the story, but Lena never really knows it – we do, but she doesn't. Also, that boy has a swagger for miles. It is undeniable and he is so very cool. He's always calm and he always has an answer, which tells me he is smart enough to be thinking ahead and anticipating his next move. I LOVE smart guys. A reading friend once told me that Alex is not a mysterious guy, and I can agree with this – Alex is not broody, not mysterious at all. He is exactly what he claims to be, he is the impression that he gives off. But the most interesting and awesome thing about Alex is this: I kept grabbing my pen to write down the word "confidence" by the word "Alex" on my notes, only to find that I had already written it down – what this means is that over and over and over in this book, it stuck out to me that Alex had confidence in himself and his decisions, and I absolutely loved this about him. LOVED it.
I have to admit that Delirium is an exciting story. It is not the best in terms of characterization, but it has one of the very best characters. It has a great setting and I like that there is enough left open at the end to start out the next book, which HAHAHAHA! I can do anytime I want because I waited until the trilogy is completed. Don't worry, friends, I will read Pandemonium soon I really need to find out what is going on with my pal Alex after that little stunt he pulled at the end. I'm sure it's only a KINK in this story – that's what I call these things – and I refuse to believe it anything other than that. I have my fingers crossed for good things for my pal Alex, and NOBODY SPOIL ANYTHING FOR ME, M'KAY?!
The audiobook format of Delirium by Lauren Oliver is published by Harper Audio and is 11 hours, 41 minutes, Unabridged. I want to jump up and down to get the attention of all passersby to alert them that Sarah Drew is the best narrator for this audiobook. Her voice is pleasing to my ear – not at all whiny or annoying. She read this story in exactly the way that I needed it, in a way that caught my attention – in a way that the print alone did not. I loved that she used the inflection and tone that was appropriate for each character, and over and over again I kept making mental notes (and notes on my paper) about how excellent Sarah Drew was for this book. She read like I imagined Lena would speak, would think, would cry out at stressful or emotional times. She read like I imagined Alex as well and, in fact, it seemed to be an easy transition for her to voice this male character. I am very excited to see that she has narrated the entire Delirium Trilogy because it makes me excited to listen to the rest of the books in audiobook format while following along in print. FYI: This audiobook works well as a first read or a re-read.
If you are one of the few that hasn't read this book yet, just go ahead and do it. The series is indeed finally finished and you have no reason NOT to. The ending is a cliffhanger-y ending in which there is a character in life-threatening danger, so be warned, but DON'T HESITATE to grab the next book in the series whenever you feel the urge. I recommend Delirium to fans of YA dystopians with romance and perhaps some elements of sci-fi thrown in there.
********************************************************
Delirium will appeal to fans of:


YA Sci-Fi/Dystopian with Romance
Romance: Slowly developing. No triangle.
Great settings
Great Audiobook Narrator

Delirium by Lauren Oliver
is currently available for purchase.
********************************************************
*NO SPOILERS for Pandemonium or Requiem!*
*This is a FIRST READ for me!!*