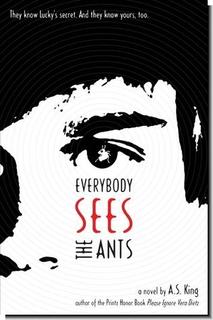 Everybody Sees The Ants
by A.S. King
Published by Little, Brown BYR
Publish Date: October 3, 2011
279 Pages
Source: Library
Lucky Linderman didn't ask for his life. He didn't ask his grandfather not to come home from the Vietnam War. He didn't ask for a father who never got over it. He didn't ask for a mother who keeps pretending their dysfunctional family is fine. And he didn't ask to be the target of Nader McMillan's relentless bullying, which has finally gone too far.

But Lucky has a secret–one that helps him wade through the daily mundane torture of his life. In his dreams, Lucky escapes to the war-ridden jungles of Laos–the prison his grandfather couldn't escape–where Lucky can be a real man, an adventurer, and a hero. It's dangerous and wild, and it's a place where his life just might be worth living. But how long can Lucky keep hiding in his dreams before reality forces its way inside? -(summary excerpt from Goodreads.com)


Everybody Sees The Ants by A.S. King


My Thoughts: I actually kind of shocked myself when I picked this book up at the library. I read it – a LONG time ago. And I still have it. And it's wildly overdue because I've reread parts of it over and over. I'm still trying to figure out my thoughts on it exactly.


The first thing you need to know is this:
No, I haven't read Please Ignore Vera Dietz yet.
I know you guys are going to ask that question. Y'all remember that I'm new to this contemporary thing, right? I totally have Vera on my mental TBR and totally intend to read it. I'm very serious. I just am SO NEW to this, I haven't gotten around to it yet. That being said…
The second thing you need to know is this:
I found this book so hard to read
.
I don't mean that in a bad way. I mean that in a "it-needs-to-be-read" way.
I'm sure that when everyone reads a book – at least some books – they all can take different little pieces from it. The large chunk of what I grabbed from Everybody Sees The Ants is the bullying that went on toward Lucky Linderman and how he felt powerless to stand up to it. Not only did he feel powerless to stand up to it, but he felt like he had nobody there to support him or help him stand up to the awful guy that was terrorizing him – his friends certainly didn't back him and he couldn't even count on his parents to help him out because they had some pretty intense issues of their own that they shouldn't have placed before the needs of their son.


I also really had a hard time reading this because of some of the other characters and their issues. There are several female characters in the book in supporting roles: specifically Lucky's mom, Lucky's aunt, and Lucky's friend Ginny. These characters are all flawed in their own ways and I could see a little too much of myself in them. And UGH I hate that. (This is one of the reasons that I have stayed largely away from contemporary books in the past – I don't like to see negative features of myself in book characters. No need to go any further with that. Just, UGH.)


The third thing you need to know is this:
I LOVE how developed EVERY character was in this book.
If you follow anything I review, I tend to talk a lot about character development – specifically development of the main character across the story and/or development of the secondary cast. While I cannot relate to a teenage boy on a personal level, I was able to connect with Lucky emotionally (he broke my heart and frustrated me so!) and I watched him struggle to develop from the beginning of the book to the end. He had a hard time, but he did it! Most of the YA books I read have female leads that may or may not develop in character, so it was nice to see this in a young male lead.
The secondary cast was brilliant in this book. Every single one of them had their own issues – BIG ISSUES – and they were so three-dimensional that I felt like I knew them in real life by the end of the book. I'm sure this is why I had a saw myself in some of the characters and had a hard time reading the book – because they were so REAL. There was never a point where the main focus of this book strayed – the story always centered around Lucky – but the other characters had such full lives around him.
The fourth thing you need to know is this:
I was not aware of bullying to this degree.
I was not FULLY aware of examples of guys bullying other guys.
I've always thought of bullying in terms of young kids being bullied by other young kids that are just a little bit older, maybe taking their lunch money or name-calling. Or maybe girls bullying other girls – girls can be so cruel, you guys. But the bullying that went on this book made me sick to my stomach and made me mad at myself that I have been so naive or thoughtless. And I felt so, so sad for this character – because he is representative of real life young guys who deal with this crap all the time. It is absolutely unacceptable that this goes on, and it is also unacceptable that I didn't really know about it. A.S. King is awesome for tackling this subject as a female writer – writing about a tough subject from a young male perspective – that a lot of us females aren't really given insight to. How awesome is she, you guys?
**********************************************
Everybody Sees The Ants is very relevant to life today, I think, considering all we hear in the media about bullying. We're bombarded by it at times, be it by the news or movie-specials or whatever. When I finished reading this book, I certainly wasn't smiling and happy. I didn't hug the book or want to re-read it again immediately. I had to think about it for a long time and am still thinking on it, actually. I'm still not entirely sure of my thoughts, I just know that I HAVE THEM. Everybody Sees The Ants speaks loudly and needs to be read.
I loved the writing. I loved the characterization. I loved the character development. I even loved the story, despite being hard for me to get through. I was a little bit confused by the parts of the story that dealt with Lucky's grandfather in Vietnam visiting him in his dreams, but I'm okay with that confusion. I think that what I took away from the book more than made up for it.
I highly recommend this book for fans of YA contemporary fiction if you haven't read it already – but I think I would recommend it to older YA readers and YA-loving adults because of some of the language. I think it is unforgettable and important.
Everybody Sees The Ants will appeal to fans of
:
Young Adult Contemporary Fiction
Books with Issues: Bullying
Character-Driven Stories
Everybody Sees The Ants by A.S. King
is currently available for purchase.