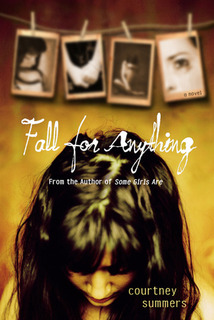 Fall For Anything by Courtney Summers
Published by St. Martin's Griffin
Publish Date: December 1, 2010
230 Pages
Source: Borrowed from Tara from Hobbitsies
(Read Tara's review of Fall For Anything HERE)
When Eddie Reeves's father commits suicide her life is consumed by the nagging question of why? Why when he was a legendary photographer and a brilliant teacher? Why when he seemed to find inspiration in everything he saw? And, most important, why when he had a daughter who loved him more than anyone else in the world? When she meets Culler Evans, a former student of her father's and a photographer himself, an instant and dangerous attraction begins. Culler seems to know more about her father than she does and could possibly hold the key to the mystery surrounding his death. But Eddie's vulnerability has weakened her and Culler Evans is getting too close. Her need for the truth keeps her hanging on…but are some questions better left unanswered? –(summary excerpt from Goodreads)

Fall For Anything by Courtney Summers


My Thoughts: It was only a few days ago that I saw and devoured This Is Not A Test by Courtney Summers and decided that if THAT style of writing was indicative of her trademark style, I was a fan. I liked it so much, I decided to pick up another book of hers that I borrowed from another blogger. While Fall For Anything looked to be an issues-contemp (eek!), I found myself immediately in love with Summers' style yet again and unable to put the book down. I read the book in practically record time because I apparently can't get enough of her beautiful style.

The first thing you need to know is this:
I tend to shy away from the hard issues-contemps,
but not QUITE as much as I used to.
I was not afraid because I trusted Courtney Summers.
Why wasn't I afraid of this issue-heavy contemporary, you ask? Because I read Summers' zombie book first OF COURSE. When I started reading This Is Not A Test, it was almost odd – because even though there were the undead running around and people barricading themselves inside buildings in an effort to save their own lives, there was something poetic and lovely about the language. It was minimal, sparse even, but every word counted. It made me feel almost like I was flying or soaring or dancing among the prettiest of flowers. All cheesiness aside, Summers' writing style was noticeable. And I really loved it.

It is no joke when I tell you that within two pages of Fall For Anything, I was right back in the Courtney Summers mindset, loving all the Courtney Summers-ness of the language. I trusted the words – even when they were tough – because they were hers, which is pretty huge. While I knew hard stuff was coming up, I knew that I would get through it because she would write it delicately and with ease, and I would read it the same way.

If you missed my thoughts on This Is Not A Test,
you can read them HERE.
I'm still loving that book super hard.
The second thing you need to know is this:
This story is heartbreaking. Almost every page broke my heart.
I think it COULD be healing for some people.
But I think it could be a trigger for others.
Oh, I wish this was a topic that didn't exist, so we never would have cause to write about it! But it does and here it is yet again. OH, THESE BOOKS. Deep breath…

We know right away from the book summary that this book deals suicide. Hard stuff, you guys. Eddie Reeves is left wondering WHY? which is a fairly common question when this happens to people. She has a shoddy support system made up of her mother and her mother's best friend, Beth. Eddie's mother is lost in her own grief and barely able to function, leaving Eddie to fend for herself, while Beth has moved into the house and taken over their lives, bringing structure that she insists they need and completely alienating Eddie in the process. The only positive and consistent support Eddie seems to have is her fantastic best friend Milo who helps her deal with things by just being there, being himself, and never demanding anything from her. He is her rock and does his best to take care of her. Even so, Eddie is lost in an "all day, every day, WHY?" trance.

I read this book and imagined Eddie's actions and thought to myself that this girl was broken. Her thoughts and actions
screamed
brokenness, and yet it was so interesting that she kept so much of herself and her life a secret, not meant to be shared with the world – until she met Culler Evans. Culler was unique among everyone else in the book in that he seemed to be on the same quest for WHY? as Eddie. Over this shared grief, they bonded.

Sometimes when people meet and bond over grief it is a good thing. Sometimes it can be destructive.
The third thing you need to know is this
:

After Eddie met Culler, I felt something in my gut.

At first, I wasn't sure what it was.
When you read a character like Eddie, you want things to work out for her.
I found myself almost naively trying to think things into existence – it was like I thought that if I could think it, I could change the course of this already-written book.
Culler sort-of appeared out of nowhere. I liked him okay but I was glad that Eddie was wary of him to begin with. Even though I liked him, I also felt cautious about him. When it seemed that the two had something in common – a shared grief, because they both lost someone they loved – I was on board with their friendship, albeit awkward. I also completely understood that both Culler and Eddie were looking for reasons WHY? Eddie's father would do this. That seemed natural.
But then, as these things go, they started spending more and more time together. And Eddie started preferring Culler's company to Milo, her best friend forever. In my opinion, things got a little bit dangerous and reckless decisions were made. With someone in the frame of mind of Eddie, lost in herself over losing her father, I can't say I am shocked or surprised by the twist in events.
********************************************************
There is a lot of depth to Fall For Anything. It's amazing, really, that such depth can be felt and achieved with such a short book and sparse language. Initially the focus is on Eddie, her grief, and what her father's actions have meant for her family and friends. As the story unfolds, it also grows into something that contains all of that plus a great deal of reckless behavior born from an at-all-cost desire to find out her father's reasons WHY? Despite all of this, and the heartbreaking tone of the book, I think the way everything ends is perfect.

The best things, to me, about this book are easily the writing style, which I've already gushed about, and the characterization. I can appreciate that Summers did not try to overpopulate the story, but instead she took the people on the inside and made them robust. Eddie, Milo, Culler, and the rest of the cast are written brilliantly and in a way that makes you feel like you kind-of/sort-of know them or people like them. Whether they're sad, pretentious. creepy, or just plain awesome, they all just leap off the page in a very full way.

I think people who like YA contemporaries with issues will love Fall For Anything. Also, people who find beauty in well-written words will appreciate this one and the work of Courtney Summers in general. I would warn people who have difficulty reading about issues with suicide, though, that you might want to start with a different Courtney Summers book if you are interested in reading some of her work. Fall For Anything is lovely, but it makes you feel things.
Fall For Anything will appeal to fans of:

YA Contemporary
Strong Friendships
Books with Issues: Suicide
Books Containing Art: Photography
Fall For Anything by Courtney Summers
is currently available for purchase.
*************************************************************

Have you read any Courtney Summers books yet?
Which of her books should I read next?