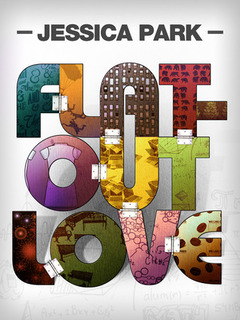 Flat-Out Love by Jessica Park
Series: Flat-Out Love #1
Publish Date: April 11, 2011
391 Pages
Source: Borrowed, then won a copy.



Something is seriously off in the Watkins home. And Julie Seagle, college freshman, small-town Ohio transplant, and the newest resident of this Boston house, is determined to get to the bottom of it.
When Julie's off-campus housing falls through, her mother's old college roommate, Erin Watkins, invites her to move in. The parents, Erin and Roger, are welcoming, but emotionally distant and academically driven to eccentric extremes. The middle child, Matt, is an MIT tech geek with a sweet side … and the social skills of a spool of USB cable. The youngest, Celeste, is a frighteningly bright but freakishly fastidious 13-year-old who hauls around a life-sized cardboard cutout of her oldest brother almost everywhere she goes.
And there's that oldest brother, Finn: funny, gorgeous, smart, sensitive, almost emotionally available. Geographically? Definitely unavailable. That's because Finn is traveling the world and surfacing only for random Facebook chats, e-mails, and status updates. Before long, through late-night exchanges of disembodied text, he begins to stir something tender and silly and maybe even a little bit sexy in Julie's suddenly lonesome soul.
To Julie, the emotionally scrambled members of the Watkins family add up to something that … well … doesn't quite add up. Not until she forces a buried secret to the surface, eliciting a dramatic confrontation that threatens to tear the fragile Watkins family apart, does she get her answer.–(summary excerpt from Goodreads)



Flat Out Love by Jessica Park



My Thoughts: I'd seen and heard about this book a little here and there before, and it came recommended to me a few times. So I thought I'd try it. That's all. Once I started reading it, I pretty much couldn't put it down. It's charming as heck and really just a great story. I want to read more books like this.



The first thing you need to know is this
:

I knew from the summary (above) that
"Something is seriously off in the Watkins home…" –
It just took me a while to figure out exactly what.
Julie Seagle has recently moved to the area and into the Watkins home to board for her semester at college. Right away, she meets and somewhat-connects with Matt Watkins, the quirky and super-smart/kinda-nerdy older brother-in-college, also living in the home. He's cute. When she meets younger sister Celeste, Julie starts picking up on some odd things right away: Things like how unbelievably and remarkably and overly academically gifted Celeste is for her young age. Also, Celeste is terribly under-stylish for the amount of money this family seems to have – Julie would've thought she'd have had a much trendier wardrobe. Celeste doesn't have any friends at all. Like, none. Oh, and Celeste carries around a life-size cardboard cut-out of her older brother Finn, affectionately named Flat Finn. When she asks Matt about Flat Finn, Matt warns Julie not to press the issue with the family, so Julie just joins in, treating Flat Finn like he's a real person – talking to him, sitting beside him at dinner, and loading him up in the car to run errands. So, yeah, something is definitely off in the Watkins home – because nobody seems to act like anything is unusual about this situation and nobody is talking about it. Julie is perplexed.
The second thing you need to know is this
:
While Julie takes it upon herself to make Celeste her project,
she meets older, absent brother Finn. Sparks fly.
Flat Finn is just a fill-in for older brother real
Finn
, who is traveling around the world – seeing things, doing things, experiencing things, and helping people in need. One day, Julie stumbles upon Finn's facebook page and sends a friend request. Finn accepts, and this begins a relationship that only grows over the course of the year. Although Finn and Julie have never met, they become quite close, talking pretty much daily. Julie starts to really look forward to her time spent online with Finn and realizes that she could be/maybe/probably is falling for him – and she thinks Finn feels the same way. She wants him to come home for a visit, but he oddly keeps evading her requests.
Doesn't he miss his family enough to warrant a visit home? And doesn't he want to meet/see her?

Meanwhile, Julie has worked wonders with Celeste. She's starting to dress a little differently. She's listening to "real" music with an iPod rather than just classical music. She's starting to talk to people at school and develop friendships. Her transformation is amazing, and Julie is having a great time with her younger friend. Matt, on the other hand, is still a little odd. He and Julie are friends – good friends – but he is so nerdy with his nerdy t-shirts and the way he's always doing homework and staying online…it's really hard to tell what's on that boy's mind.

Still, even though Julie has meshed into the family well, and they really love her – something still feels off.

The third thing you need to know is this
:

A thing happens
.
Of course something happens! Things fall apart. Eventually the pieces of the Watkins odd-puzzle start to add up, and Julie is a very smart girl. What happens is a bit of a tornado, blowing through the home and tearing things to pieces. The question is: can they all pull through and survive or is all of the year's progress for nothing? And good gracious, does the poor girl ever get to meet the ever-absent Finn?
***************************************************************

When I finished reading Flat-Out Love, I wanted it to be just a little bit longer. I needed just a little more, to know a little more about what happened after the thing that happened. This story captivated me from the first word and held me until the end.

The characters were wonderful, fully developed and easy to love. I felt invested in each of them. The story was fantastic and I wanted to know more, more, more. If the book had been longer, I wouldn't have minded a bit – I was lost in this story with its steady, perfect pacing and swoon-worthy moments. I also personally loved the Boston-area setting because it felt vivid and real to me despite my never having been to the area – I felt able to visualize the streets walked by Julie and the neighborhoods described by the author.

I thought early-on that there would be a plot twist of some sort, but I didn't really know what it would be. Honestly, I didn't care because the story was just so doggone good. Before the big reveal, I *did* figure it out, but it didn't change how I felt about the story at all. The only thing it did for me was make me a cheerleader for the characters, which sounds a little bit dorky but HEY I DON'T CARE. I loved this story.

The only things that I would change would be to know a little more after the thing that happened. I always want a little more when a big event happens in the latter part of the book because I always want to see how events such as this one change or shape the characters in the long run. (Really, this is a selfish request – I just want more of this story.)
*************************************************************
Flat-Out Love will appeal to fans of:
YA Contemporary Romance
(with only slight issues)
New Adult Genre
Great Setting
Plot Twist
Flat-Out Love by Jessica Park
is currently available for purchase.
*************************************************************
Have you read Flat-Out Love yet?
Did you love it?