Not too long ago, I had the privilege of reading and loving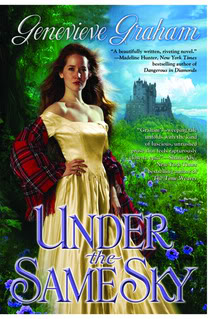 You guys, I loved that book.
It's a historical fiction/romance
that has a twist of paranormal
awesome characters
a slow-burn romance
no love triangle
beautiful language
& a rich setting consisting of the Scottish Highlands
and the Southern US, namely the Carolinas!
Well…lucky gal that I am,
I've now had the privilege to share my thoughts about
You can read My Thoughts on Under the Same Sky
on Richard's blog HERE as part of the
Southern Book Tour 2012.
(hint: it isn't exactly the same review as the one from my blog)
Since the Southern Book Tour is Southern-themed,
why she is a Canadian author yet she chose
to set this series in the Southern US!
(the Carolinas, you guys! my backyard!)
But wait again! There's still more!
For those of you that entered the Giveaway on THIS blog
for the SIGNED copy of Under the Same Sky but did not win,
Genevieve Graham has graciously offered one yet again!
So…head over to Richard's blog HERE, check out Genevieve's guest post,
leave her some nice thoughts, and enter her giveaway
for a SIGNED copy of Under the Same Sky.
Genevieve Graham is a lovely gal, you guys.
She's written a lovely book in Under the Same Sky.
Book Two, Sound of the Heart, hits shelves in just DAYS.
Not only am I THRILLED to be a part of Richard's Southern Book Tour
but I'm THRILLED to be talking about Under the Same Sky
because it is a scrumptious book with scrumptious characters
and a lovely, lovely Southern setting!
Do me a favor and go check out my post and Genevieve's post.
And enter the giveaway if you are a resident of the US/Canada!
Be sure to leave some warm comments.
ALSO, in case you've missed it:
Richard has giveaways up for books by
(I have it on good authority there will be more before the month is up.)
Y'all, check these giveaways out. They're good ones!