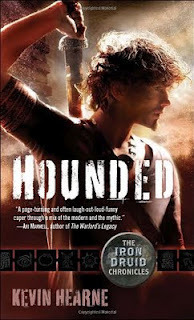 Hounded by Kevin Hearne
Series: The Iron Druid Chronicles #1
Published by Del Rey
Publish Date: May 3, 2011
289 Pages
Source: Publisher for Review

Atticus O'Sullivan, last of the Druids, lives peacefully in Arizona, running an occult bookshop and shape-shifting in his spare time to hunt with his Irish wolfhound. His neighbors and customers think that this handsome, tattooed Irish dude is about twenty-one years old—when in actuality, he's twenty-one centuries old. Not to mention: He draws his power from the earth, possesses a sharp wit, and wields an even sharper magical sword known as Fragarach, the Answerer.
Unfortunately, a very angry Celtic god wants that sword, and he's hounded Atticus for centuries. Now the determined deity has tracked him down, and Atticus will need all his power—plus the help of a seductive goddess of death, his vampire and werewolf team of attorneys, a sexy bartender possessed by a Hindu witch, and some good old-fashioned luck of the Irish—to kick some Celtic arse and deliver himself from evil. –(summary from Goodreads)


My Thoughts: Atticus O'Sullivan is my new favorite book character. Oberon, his Irish wolfhound, is my new favorite book pet.
I've wanted to read this series for such a long time. When I picked it up, I knew I'd like it but I had no idea how much I'd love it. Now, all I want to do is push it into the hands of pretty much everyone. It's THAT good. I could probably talk all day about Hounded, but I'll just pick a few things and stop while I'm ahead.
The first thing you need to know is this
:

I LOVE the concept of this story
.
Atticus O'Sullivan is living in present-day Arizona, hiding out as the last remaining practicing Druid among humans in a crowded University town. He owns a bookshop and also makes specialty teas for both humans and immortals. He's managed to live under-the-radar thanks to his careful sneakiness and his ability to create bindings that keep him safe and hidden away from all sorts of supernatural dangers. His feeling of stability and safety comes to a screeching halt when Atticus finds out that the Celtic God of Love, Aenghus Og, is currently en route to Arizona to reclaim an ancient and powerful sword – Fragarach, the Answerer – which Atticus managed to claim after a battle many centuries ago. He's been able to keep the sword tucked away from the rest of the supernatural world because of some spells and bindings placed on it to keep it untraceable and invisible. If Aenghus Og gets his hands on Fragarach, things could get really ugly – and fast.

Atticus is alerted to Aenghus Og's impending arrival by a couple of goddesses with whom he has good rapport. Suddenly Atticus is making preparations in a tailspin, checking to make sure that he will be safe should Aenghus Og make it past his own protective spells. When Aenghus Og sends some big, nasty supernatural dudes ahead of him, it becomes clear to Atticus that he'll have to call in for some help of his own. Lucky for him, he keeps some supernatural friends tucked away in his back pocket for times such as this.

The second thing you need to know is this
:

These may be some of the best characters I've ever read –
at the very least, the most fun
.
Atticus is, of course, the only Druid – we know that – but he keeps some awesome company. There is just about every kind of supernatural being imaginable in this book. There are fae, vampires, werewolves, witches, and all kinds of deities. Atticus himself is awesome in that he draws power from the earth and uses it for healing and to gain energy. I love mythology – all kinds – and fascinating lore; author Kevin Hearne did some amazing and thorough research to be able to throw so much of it into this book in a way that was so much fun.

Also – Atticus' pet Irish Wolfhound, Oberon, can converse with Atticus using his mind. He is hilarious and, besides Atticus, Oberon is easily my favorite character in the book. Oberon loves sausage and French poodles, and he has a love for historical figures. Atticus will often tell him stories of famous people from history past and then Oberon will become obsessed with becoming more like that person. He spent a lot of this book as "Oberon Khan" after hearing Atticus talk about his time spent around Genghis Khan long ago.

There is really no way to adequately describe the characterization awesomeness of this book, and most likely this rest of this series. I loved Atticus and Oberon, and I can't wait to learn more about them in the next books.
The third thing you need to know is this
:

I have ZERO negative things to say about this book
.
If Hounded is any indication of how the rest of this series will go, I almost want to shove all of the rest of my books aside and just spend a few days reading nothing but The Iron Druid Chronicles, which is unheard of for me. This is one series that I'd actually read back-to-back. I am salivating to begin the next book. (They sit beside my bed, you guys.)
I've already told you that I love the characters. I love the mythology and the lore of all of the supernatural entities involved. I love the storyline involving Fragarach, the Answerer, and how Atticus has to band together lots of his powerful friends to help him fight off the bad guys. I loved the action scenes – and there were lots of action/fighting scenes. I was always able to follow each movement, each fight, each scene clearly because the author described them so well. These scenes were not only action-packed (pardon the phrase) but there was plenty of humor and wit written in, and I appreciate that so much. I laughed out loud for so much of this book.
I love that the author mashed-up the present-day Southwestern US with immortal beings that lived centuries ago. There was great detail given to things like glamours and invisibility, which I love, and I loved the scenes where the "regular" people mixed with the supernatural people. There were no plot holes. The writing in Hounded is superb.
Bonus: I love when a cover actually matches a book. The tattoos and the sword and the necklace on the cover of this book are actually true to the story. That is such a big deal to me. (Such a lovely cover, no?)
*************************************************************
The bottom line is that Hounded is one of the best books in this genre I've read, ever. I cannot wait to read the rest of the series. I have the next three books waiting for me to read – they're sitting patiently to my right, staring at me. Atticus O'Sullivan is one of my new favorites, and so is Oberon, and if you love great male leading characters that are pretty butt-kicking, can fight well, live pretty much forever, and have a great sense of humor – I think you'll probably love Atticus as much as I do. I have no doubt at all you'll love Oberon.
One thing that I can say about Hounded that is a little bit different than other books in this genre is that it isn't filled with cheesy and inappropriate sex scenes. Don't get me wrong – Atticus keeps company with women, but this is implied more than anything. This book is more about the battle over the sword Fragarach and whether or not Atticus can live through an attack by Aenghus Og. Hounded is an action-packed book and there is little time in the span of this story for such petty things as romance when your life is on the line!
I recommend this book to EVERYBODY. That is all.
It is SO MUCH FUN. So much.
Hounded will appeal to fans of:

Urban Fantasy
Druids/ Mythology
(also vampires, werewolves, fae, etc.)
Swoon-Worthy Male Lead
Humor and Wit
Dogs that can communicate with their owners.
Swords
Hounded
by Kevin Hearne
is currently available for purchase.
*************************************************************
I want to read more Urban Fantasy.
Recommend some?

Also, is HOUNDED on your wish list?