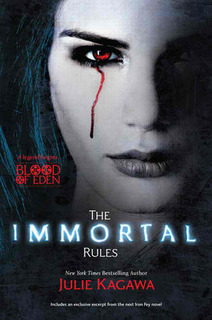 The Immortal Rules (Blood of Eden #1)
by Julie Kagawa
Published by Harlequin Teen
Publish Date: April 24, 2012
485 Pages
Source: NetGalley

In a future world, Vampires reign. Humans are blood cattle. And one girl will search for the key to save humanity.

Allison Sekemoto survives in the Fringe, the outermost circle of a vampire city. By day, she and her crew scavenge for food. By night, any one of them could be eaten.

Some days, all that drives Allie is her hatred of them. The vampires who keep humans as blood cattle. Until the night Allie herself is attacked—and given the ultimate choice. Die… or become one of the monsters.
Faced with her own mortality, Allie becomes what she despises most. To survive, she must learn the rules of being immortal, including the most important: go long enough without human blood, and you will go mad.
Then Allie is forced to flee into the unknown, outside her city walls. There she joins a ragged band of humans who are seeking a legend—a possible cure to the disease that killed off most of humankind and created the rabids, the mindless creatures who threaten humans and vampires alike.

But it isn't easy to pass for human. Especially not around Zeke, who might see past the monster inside her. And Allie soon must decide what—and who—is worth dying for. -(summary from Goodreads.com)

The Immortal Rules by Julie Kagawa
My Thoughts: I had this big perfect blog post ready for The Immortal Rules until everybody and their brother started posting on this book. It was in my usual format and everything! BUT I decided to change things up a bit and go to my other format….just because I know everyone might be tired of reading the same things about the same book. So…
The first thing or two you need to know is this:


I'm basically a Julie Kagawa fangirl

.




Julie Kagawa is on my instant-read list.
I know that I'm not the only person that read and loved The Iron Fey series. But I DID read and love them…I devoured them with enough intensity to say that I'm a fangirl. And I loved them enough – after four books and falling in love with the Nevernever – to say that Julie is on my instant-read list for authors. What that means is this: if she writes it, I will read it. That is all. Julie wrote The Immortal Rules; I picked it up. It's a very simple operation, folks.

The second thing you need to know is this:


I've never stopped loving vampires!
I was not burned by a certain set of vampire books from years past and I absolutely love a good paranormal book. It's true that I have my favorites but I love a good vampire story, especially a series, and I'm not ashamed of it!

The third thing you need to know is this:


I knew I'd love this book and I was absolutely right!

I've already made it known that Julie Kagawa is instant-read for me. I had a pretty strong feeling that I'd love The Immortal Rules and I was right. It started out with action and there was action all the way through. The characters were solid, both the main cast and the secondary cast, which is typical for this author. The world-building was stellar, which is also something I've come to expect from Ms. Kagawa. In truth, the book was long, but I never felt bogged down by the length because I was so fully immersed in this story that I forgot everything around me while I was reading and was just THERE. Right there, IN THE MIDDLE OF IT.
**********************************************

I could sit here, you guys, and do my regular "review" thing. I could do my breakdown and list out: the characters, the backstory, the world-building, the romance, etc etc etc. But after this week you can honestly see and read all of that stuff over and over EVERYWHERE. What I want to do is tell you about my experience with The Immortal Rules: I ATE IT UP. Devoured it. Happily and with a smile. This is not surprising, though, as I am a huge fan of this author and, yes, vampires.

Friends, what we have with The Immortal Rules is a strong, solid start to what I predict will be an awesome series. It has pretty much all of the things I love and expect from Julie Kagawa and other books that call themselves awesome. We have an amazing Katana-carrying, butt-kicking, consistently-developing strong main female character that is not only likable and loyal but also Asian (shout-out to Julie Kagawa for this!). We have an awesome secondary cast of likable good guys and nasty, mean (and also likable-in-a-villain-way) bad guys. We have world-building to die for (OF COURSE) and we have a story that is engaging and paced well. There is a romance but it is slowly developing and without a love triangle. There is also no cliffhanger – instead we have a nicely wrapped-up ending that leaves a few questions unanswered as part of the story arc for certain characters AND a perfect starting point for the next installment in the series.

I could go on for days, but I won't. I WILL say that I am thrilled that Julie Kagawa is writing more for me to DEVOUR and that I will be recommending this HIGHLY to pretty much anyone who will read it. It was that good to me, y'all. It was THAT GOOD.

The Immortal Rules will appeal to fans of:
Vampires
Paranormal/Post-Apocalyptic Genre
Character-Driven Stories AND Action-Driven Stories
Great Characters, including Secondary Cast
Slow-Developing Romance with No Love Triangle
Butt-Kicking Female Main Characters
Julie Kagawa, because she is awesome.
The Immortal Rules
by Julie Kagawa
is currently available for purchase.
**I received a review copy from the publisher via NetGalley in exchange for an honest opinion and review. I received no compensation for my thoughts. Thank you Harlequin Teen and NetGalley!
**********************************************
Do you plan to read
THE IMMORTAL RULES?
Have you already read it?
(Have you sworn off vampires?)
Tell me! I want to know!