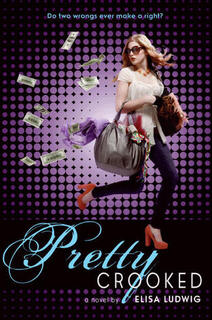 Pretty Crooked by Elisa Ludwig
Series: Pretty Crooked #1
Published by HarperTeen
Publish Date: March 13, 2012
368 Pages
Source: ARC from publisher

Willa's secret plan seems all too simple: take from the rich kids at Valley Prep and give to the poor ones.

Yet Willa's turn as Robin Hood at her ultra-exclusive high school is anything but. Bilking her "friends"-known to everyone as the Glitterati-without them suspecting a thing, is far from easy. Learning how to pick pockets and break into lockers is as difficult as she'd thought it'd be. Delivering care packages to the scholarship girls, who are ostracized just for being from the "wrong" side of town, is way more fun than she'd expected.
The complication Willa didn't expect, though, is Aidan Murphy, Valley Prep's most notorious (and gorgeous) ace-degenerate. His mere existence is distracting Willa from what matters most to her-evening the social playing field between the have and have-nots. There's no time for crushes and flirting with boys, especially conceited and obnoxious trust-funders like Aidan.
But when the cops start investigating the string of burglaries at Valley Prep and the Glitterati begin to seek revenge, could he wind up being the person that Willa trusts most? –(summary from Goodreads)

Pretty Crooked by Elisa Ludwig


My Thoughts: Pretty Crooked was a story about theft. And popularity. And bullying. And a blog. And one or two cute boys. There was a lot of stuff going on in this story, but it was always fun and never too overbearing. When it was over, I enjoyed it but I think I have a few more questions than when I started because those blasted cliffhangers get me every time.
The first thing you need to know is this
:
This is a heist book: robbing from the rich, giving to the poor.
It's kind of a play on Robin Hood.
Now, I knew this when I started reading Pretty Crooked. But it took me a while to figure out where the Robin Hood part started. There is some story to be told first, and I almost grew impatient with that. Sometimes I can be an impatient gal – particularly where something awesome like Robin Hood is concerned. Once it starts, though, it's totally a Robin Hood story.
Willa is the Robin Hood character. She is the take-from-the-rich-to-give-to-the-poor kinda gal
. There is a ton of time spent before these moments laying groundwork for why she does this. I had plenty of time to decide if I felt okay about it or not, and you will too. Just know that it takes a little bit but when she starts, BAM! that girl takes robbing from the rich
very seriously
.
The second thing you need to know is this
:
This is a story of poor-girl-turns-rich
and now she is suddenly popular.
Willa's mom suddenly came into some money and gone are the days of living the rougher life – they've moved to Paradise Valley, Arizona. Willa now goes to Valley Prep, a very exclusive private school attended by the most rich and beautiful people she's ever seen. New to being rich, Willa really doesn't know how to pull it off at first. She's lucky to befriend Cherise, who sort of takes Willa under her wing. The problem with this is that Cherise is part of the ultra-exclusive Glitterati, which is the most popular/beautiful/snobberific/awful bunch of girls at school. It takes Willa a while to realize that while this glamorous life is certainly more fun and awesome than her previous life, it comes at a cost. That cost is hurtful to those around her.
For Willa, this is a struggle. Being poor and unpopular is all-too-familar to her, as she's lived that way for her entire life before Valley Prep. However, Willa doesn't want to say or do anything that could put her in the warpath of the Glitterati either. Why? Because of the ValleyBuzz.
The ValleyBuzz is a Gossip Girl-style anonymous blog in which people from Valley Prep can post anything they want anonymously about anyone from their school. They use it to degrade, make fun of, and horrify anyone who is less than them in any way: less beautiful, less wealthy, less smart, less popular. Doing anything to make the Glitterati angry is a sure-fire way to end up front-page news on ValleyBuzz, thereby battering and bruising your social life for the rest of your days at the school.
The third thing you need to know is this
:
This book is quick and funny and a light read
– not to be taken too seriously –
but there are serious undertones to the story.
The whole time I was reading Pretty Crooked quickly and snickering at the funny parts and at the funny cover, I kept thinking to myself CYBER-BULLYING! THEFT! JUVENILE DETENTION! CYBER-BULLYING! SELF-ESTEEM ISSUES! RICH KID GUILT/POOR KID BLUES! CYBER-BULLYING! and a dozen other topics that I probably learned about through after school specials or on ABC Family channel movies.
The things that the Glitterati does are wrong. They are mean and hurtful to a lot of people, and everyone knows it. Nobody wants to stand up to them because they are scared of them. In essence, the Glitterati are bullies. The ValleyBuzz is a website that does nothing but torment and bully innocent people. What Willa does to try and improve life for people is wrong. This story is fun – everyone loves a fun caper story, you guys – but there is a serious message that is being sent out here. Well, several serious messages. And I think it a good idea for readers to pick up on them.
*******************************************************************
Pretty Crooked was a fun story. It was a little different than the YA contemporary stories I've been reading lately. I enjoyed it; it was very quick-paced and funny at times. While easy and breezy to get through, I liked that there was something meaty underlying everything. There still seems to be some ends that are not wrapped up – a bit of mystery surrounding a couple of things – but I'm guessing these things will be resolved nicely or give a great starting point for Pretty Sly, which is projected to release in (I think?) March 2013.

Willa is a great character. She's a flawed girl, which is basically exactly right for someone at her age. Weren't we all flawed in high school? (Heck, aren't we all flawed now?) YES. But Willa wants so desperately to make things right for the people being wronged that she decides to take matters into her own hands, and things get a little out-of-control. I liked her, though. She has spunk and determination and she's brave. She just needs to learn to think before she acts.
I was a little thrown-off by the absence (or rather, under-development) of romance in this book. I think it might have been nice to see a little more. There are two possibilities of romantic interests for the next book, which leaves it wide open for a potential love triangle. At the end of the book, Willa has her sights on just one of these boys, but she threw some pretty strong hints out about the other. We just won't know for sure until the next book.
There's also this wide-open other story line that isn't developed fully…yet. I honestly don't really know much to say about it. At the end of Pretty Crooked – the very end – there are a couple of clues about it, but once again we have to wait until Pretty Sly comes out.
I think fans of heist/caper stories and YA mystery stories will enjoy Pretty Crooked. Be warned, though: it is not a standalone. There are several things left wide-open for exploration or perhaps jumping-off points in the next book. And the ending is definitely what I would call a cliffhanger. Still, it was a fun book to read and I think people will really like Willa and her stand on bullying, despite the fact that she lost sight of the bigger, better picture for a short time (which we all can do sometimes).
Pretty Crooked will appeal to fans of:

YA Contemporary
Stories Containing: Heists/Capers
This is a series!
Kinda-sorta a play on Robin Hood.
Pretty Crooked by Elisa Ludwig
is currently available for purchase.
**I received a review copy from the publisher in exchange for an honest opinion and review. I received no compensation for my thoughts. Thank you HarperTeen!

***********************************************************
GIVEAWAY!
I'm giving away my ARC of PRETTY CROOKED!
(International)