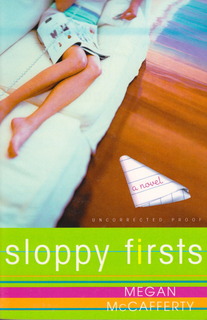 Sloppy Firsts by Megan McCafferty
Series: Jessica Darling #1
Published by Crown Publishing Group
Publish Date: August 28, 2001
298 Pages
Source: My Bookshelf
"My parents suck ass. Banning me from the phone and restricting my computer privileges are the most tyrannical parental gestures I can think of. Don't they realize that Hope's the only one who keeps me sane? . . . I don't see how things could get any worse."

When her best friend, Hope Weaver, moves away from Pineville, New Jersey, hyperobservant sixteen-year-old Jessica Darling is devastated. A fish out of water at school and a stranger at home, Jessica feels more lost than ever now that the only person with whom she could really communicate has gone. How is she supposed to deal with the boy- and shopping-crazy girls at school, her dad's obsession with her track meets, her mother salivating over big sister Bethany's lavish wedding, and her nonexistent love life? –(summary excerpt from Goodreads)

Sloppy Firsts by Megan McCafferty
My Thoughts: I finally did it! I caved! After hearing about Jessica Darling and Marcus Flutie for-practically-ever now, I picked the book up and read it. In one sitting. Yep, I surely did!

If I'm not mistakened, I first heard about Jessica and Marcus when I saw Ginger (@GReadsBooks) tweet about it with some other readers/bloggers. Everybody was all Marcus this! Marcus that! Ohhhh Marrrrrcussss…Later, I was so thrilled to find the book at my local Goodwill for 75 cents that I think I tweeted a picture of it to Ginger, all excited. Then it promptly went on the bookshelf. Why? Because Asheley doesn't really read YA Contemps.

Fast Forward: I'm reading along and get to a blog post from Heidi (@BunburyinStacks) where she finally broke down and read it and – y'all – she liked it. This means a lot to me because as a new-to-contemp reader, I put lots of stock and faith in Heidi and her reading choices. Her review was compelling – so much so that I actually stopped commenting long enough to go grab the book off of my shelf and then resumed my comment. I totally planned to read Sloppy Firsts THAT NIGHT. And I did!

The first thing you need to know is this
:
I'm new and growing-into YA Contemporary.
And I'm doing a banging job.
I started a Contemporary Challenge this year where I challenged myself to read a total of 12 YA Contemps in 2012. Well, I've passed that already. So YAY for that, right? Also, there is a contemporary event right here on this blog starting in just a few days!

Asheley + YA Contemporary = not quite LOVE yet, but definitely LIKE.

I read Sloppy Firsts because the right person finally convinced me and it was the right time. I sat down to read it in one sitting. I didn't really mean to, honest. And I started reading it way too late. And I laughed a lot. It was a good time, it really was. Mostly…

The second thing you need to know is this
:
I'm still not used to YA Contemporary.
I was cruising through Sloppy Firsts at a good pace. I understand why everyone likes/loves Jessica Darling. I mean, she is darling. I get it. But I have a few issues with her too. We probably all do. And I was confused by this.

See, in my mind there are the "issue contemps" and there are the "swoony contemps" – I definitely thought this was a swoony contemp going into it. Really, though, this was kind of a mixture of both. I'll get to that in a bit.

YA Contemporary and I still have some things we need to learn about each other. We're early in our relationship. It's cool, though. We're taking things slowly, like a slow-burn romance.

The third thing you need to know is this
:
I started this book wondering
WHY ON EARTH IS EVERYONE SO IN LOVE
WITH MARCUS FLUTIE? WHY???
I thought there was something wrong with me. And then I thought there was something wrong with all of YOU. Surely the Marcus I was getting to know cannot, absolutely cannot, be the one you all are head-over-heels, 'gotta-have-my-Marcus-Flutie-fix' in love with? Are y'all for real?

I know, I know…I judged the poor boy. I won't say much else. Except that Marcus and I are coming to terms with each other and that this is a good thing.

***********************************************
Sloppy Firsts by Megan McCafferty had me laughing out loud. So many times! It was hilarious, over and over. Jessica Darling is ME. And YOU. And a little bit of everyone else you know. BUT…she's also horribly insecure and clingy and needs WAY more confidence than she has. Her family sucks, big time. And she has a borderline obsession with her best friend Hope that had to move away. More than anything, I really felt sorry for Jessica as I laughed at her because she was so doggone funny.
Oh, Marcus Flutie. Where do I start with the stereotypical junkie? We all had a guy like Marcus Flutie in our school, didn't we? Or at least I did. The thing about him that I liked the most was that he was so smart – but I was a little annoyed that he didn't act like he cared. When he finally began to care and I finally began to invest myself in him a little bit, then Jessica kind of went nutty.
Jessica Darling: Are you freaking serious?
THAT ENDING! WHY???
Y'all, I think what I'm trying to say here is that this is a good book. I will absolutely be reading book two, Second Helpings, which I have currently checked out from my library and sitting beside me on the bed. But with Sloppy Firsts, I just held my breath, and held my breath, and hoped and held my breath….and in the end – DUDE! Very frustrating indeed. I am so very thankful that this series is already out so I can just breeze through it. Otherwise, I just don't know what I would do…
Sloppy Firsts is a book that is definitely for more mature YA readers as well as the adult YA-loving crowd as there are plenty of themes, outright words, and conversations that are a bit inappropriate for younger readers, in my opinion. The language is frank and the implied scenarios and – yes – even fantasies are…well, they're there. Still, as I said, I will be continuing with this series if for no other reason to lessen my frustration at the doggone ending.
Sloppy Firsts will appeal to fans of:
Young Adult Contemporary Fiction
Romance
Humor, Lots of it!
Books with Issues: All kinds of issues.
Older YA Readers & Adult YA-Loving Readers
Sloppy Firsts by Megan McCafferty
is currently available for purchase.
**Also, I would like to add that I am absolutely thinking of re-reading this as an audiobook listen. I like funny audiobooks. I really do!
***********************************************
Have you read Sloppy Firsts yet?
Did you like it?
If you haven't read it, is it in your to-read pile?