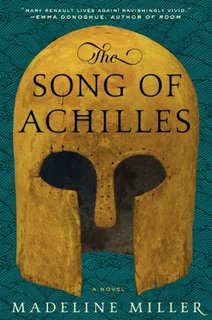 The Song of Achilles by Madeline Miller
Published by HarperCollins/Ecco
Publish Date: August 28, 2012
(first published March 6, 2011)
416 Pages
Source: Publisher for Review

Achilles, "the best of all the Greeks," son of the cruel sea goddess Thetis and the legendary king Peleus, is strong, swift, and beautiful– irresistible to all who meet him. Patroclus is an awkward young prince, exiled from his homeland after an act of shocking violence. Brought together by chance, they forge an inseparable bond, despite risking the gods' wrath.
They are trained by the centaur Chiron in the arts of war and medicine, but when word comes that Helen of Sparta has been kidnapped, all the heroes of Greece are called upon to lay siege to Troy in her name. Seduced by the promise of a glorious destiny, Achilles joins their cause, and torn between love and fear for his friend, Patroclus follows. Little do they know that the cruel Fates will test them both as never before and demand a terrible sacrifice. –(summary from Goodreads)

The Song of Achilles by Madeline Miller

My Thoughts: I absolutely adore anything mythological or mythology-based so it seemed like a good idea to dive right into The Song of Achilles by Madeline Miller. I'd seen great things about it on other blogs plus it is an award-winning book so that was basically all the reason I needed when the pitch was given. I didn't realize how much I would fall in love with this story and how much it would move me. Yes, move me.
The first thing you need to know is this
:
Hello, Mythology!
Like you've heard me say a bazillion times, I love mythology. All things mythology! I took a lot of mythology classes in high school and college, and I read a lot of mythology-based books of my choosing now.
The Song of Achilles is a nice story of the Trojan War and the life of Achilles, but it is told from the perspective of a man named Patroclus.
Tons of us have heard of the Trojan War before, and certainly of Achilles,
but are you familar with the man Patroclus?
Patroclus was a young prince that was exiled from his father's home after he killed another boy. Patroclus was sent to live with King Peleus, father of Achilles, to be fostered there. While there, he lived among other foster boys and learned things such as how to fight as a warrior, how to be a musician, etc. It wasn't long before Achilles and Patroclus form a close friendship and Patroclus is named Achilles' Therapon, or brother-in-arms – sworn to the prince by blood oaths. Patroclus would act as Achilles honor guard in war and his close advisor in times of peace. This was an esteemed title and it was surprising for Patroclus to be chosen for such a position.
But why? While Achilles was known as "the best of all of the Greeks" – son of a sea goddess and a mortal human – Patroclus was a regular, unimportant human. He was not impressive to look at, not an impressive warrior, and not impressive at anything else. He was plain. Achilles was stunning in all ways and complete opposite of Patroclus. Still, he saw something in Patroclus that others did not and their friendship grew; the two became inseparable. It is because of this close and intimate relationship that we are able to get such a remarkable and up-close glimpse into Achilles' life.


The second thing you need to know is this
:
How about a different perspective on Achilles?
I have always loved reading about the warrior Achilles and his amazing feats in battle. Madeline Miller has given us something to think about, something to consider, something to enjoy with a different side of Achilles in this story. Achilles the warrior was indeed fearsome and made grown men weep and run away as cowards. But in The Song of Achilles, he didn't necessarily always want to fight and kill – sometimes he just wanted to chill out at home with his friend and the love of his life. He wasn't always looking out for cold blood. Achilles had actual vulnerabilities and weaknesses like everyone else. I loved reading this about him because it is so different than anything than I have ever read before.
The third thing you need to know is this
:
This story is for the action-drive plot-lover
AND the character-driven plot-lover.
What I mean is that there is something for everyone in this book. There is plenty of wartime and action and battle-scenes for the action-driven lovers out there. There are spears and shields and arrows, and there is some blood shed on the battlefield. But the time spend on each character – meaning primary and secondary – is perfect.
There is a large cast in this story – lots of kings and some deities and some humans and even a centaur. Every single character was three-dimensional and fleshed-out and perfectly proportioned to the story, even to the point that they all almost seemed central to the story even when they were not. There were quite a few well-known names within the realm of classical mythology, but even if you are not very familiar to the classics it is quite okay because not only is it made clear within the story but Ms. Miller has included the information you need at the end of the book to help should you need it.
I love action-driven plots. I love good battle scenes and holding my breath and turning the pages fast. Believe me when I tell you that there was plenty of that in the appropriate war-parts of this book. But I am a sucker for well-developed characters, the characters that make me feel like I know them personally. I want to feel their feelings and grieve for them, cry with them, laugh with them, and rejoice in their successes – and I did in this book. I cannot stress to my character-driven-loving friends how fantastic these parts of the book are. You'll just have to trust me. This author has made the classical mythology come to life without turning it into a contemporary fictional story and I stand and applaud her.
**************************************************************
I completely understand why Madeline Miller won the 2012 Orange Prize for Fiction with The Song of Achilles. This book takes a beloved classical mythology tale and re-tells it in an excellent way. I began the book by devouring it, but quickly realized that it would be one that I wanted to read slowly so I could savor all of its parts. I loved it; I loved it so much. There were times I smiled and times that I was so overcome with what I was reading that I had to put the book down for a few minutes and just think on it. This, to me, is when I know I have found a book that I will read and love again and again.

Told from the point of view of Patroclus, beginning when he is a very young boy in his own father's care, the story tells of his own exile and how he came to live in the courts of King Peleus and Prince Achilles. From there, the story details the close friendship between the two boys, which only grew to more over the years. Patroclus tells of their education by the centaur Chiron and their eventual call to fight in the Trojan War for Helen's honor after she was abducted. It is at this point that the story becomes particularly interesting and emotional and action-filled. It was at this point that I began to read slower and slower, to savor every second.

If you are a fan of classical mythology or mythology re-tellings or award-winning books, you must add The Song of Achilles to your to-read list. It is undoubtedly one of my favorites and one that I will read again. I am amazed at the craft of this writer, at her immense knowledge of mythology, and the fact that The Song of Achilles is her debut novel. This book is absolutely incredible.
The Song of Achilles will appeal to fans of:

Classical Mythology/Mythological Re-Tellings
War Stories: the Trojan War
*Absolutely incredible, stunning character development*
Action & Character Driven Plots
Romance: slowly-developing, no triangle
Award-Winning Books: 2012 Orange Prize for Fiction
The Song of Achilles by Madeline Miller
is currently available for purchase.
*************************************************************
Have you read this book yet?
Do you love reading about mythology?

Is it on your wishlist or to-read pile?