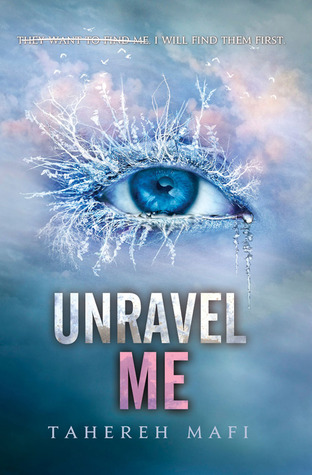 Unravel Me by Tahereh Mafi
Series: Shatter Me #2
Published by HarperCollins
Publish Date: February 5, 2012
465 Pages
Source: Borrowed from Lauren from
Love is not a triangle. Thanks, friend!
tick, tick, tick, tick, tick
it's almost
time for war.

Juliette has escaped to Omega Point. It is a place for people like her—people with gifts—and it is also the headquarters of the rebel resistance.

She's finally free from The Reestablishment, free from their plan to use her as a weapon, and free to love Adam. But Juliette will never be free from her lethal touch.

Or from Warner, who wants Juliette more than she ever thought possible. -(summary excerpt from Goodreads)

Unravel Me by Tahereh Mafi

My Thoughts: I read Shatter Me for the first time back in November 2011. I had a very high opinion of it and wrote a gushing review here on my blog. It's so interesting to go back and read that little blog post because I ended up predicting some things that actually turned out to be true, and I didn't realize it until just now. (My first review of Shatter Me can be found HERE.)

**
You may not want to read any further if you have not yet read
Shatter Me
–
Stop now! You've been
spoiler-warned
!
**

1.
The Set-Up
.
Juliette, Adam, and the others are at the Omega Point living among people that have powers like Juliette's. Juliette spends her days strengthening her skills and has come to realize that she has far greater power than anyone could have imagined.

Omega Point is the central point for the underground resistance movement that opposes The Reestablishment. They are preparing for a fight – there is civil unrest and it is palpable among the citizens. People are hungry and restless, and they're tired of being mistreated. It is widely known that The Reestablishment is on the lookout for Juliette since her escape, and they're willing to use or lose anyone or anything to get her back.
2.
Characters
.
Juliette, Adam, and Warner are back as main players – as well as Kenji, also from Shatter Me. Along with these primary characters, there is a large cast of secondaries, each with identifying skills, powers, or characteristics that make them special – you either love them or you hate them for a particular reason, it seems. They're all great additions to the story.

I feel like Juliette's character was a little bit weaker in this book than she was in Shatter Me. After the ending that she gave in the first book, I wanted her to keep up her butt-kicking awesomeness – if anything, I wanted her to improve on that. She didn't, really. At times, she was a little bit needy and whiny and extremely impulse, which could be terribly dangerous for everyone around her and actually
was
on more than one occasion. This weakness in her character could be considered understandable given her circumstances, but
really
Juliette – YOUR TOUCH IS POWER, right? Get over yourself a little bit! I do fully expect with the way this book ended (!!!) that Juliette will
rock our socks off
in the final book of the trilogy. I'm expecting big things from our heroine!

3.
The Romance. I
f you've read
Shatter Me
, you know
that Juliette and Adam had a nice little romance-thing going on. In this book, there is a huge love triangle. It's the love triangle of love triangles! I don't mind triangles when they're well-written, and to be honest – while this one tore my heart out and ripped it to ever-living shreds – it was written really well. I shake my fist at you, Tahereh Mafi. Doggone it.

4.
The End
. I. LOVED. IT. And I cannot wait to read the next book. It simply cannot come soon enough. I have extremely high hopes, which is terrifying and exhilarating all at the same time. The end of Unravel Me is in a super-great place to take off running at a fast pace with lots of action, and I expect some big answers to my really big questions. It's gonna be great, I just know it.
********************************************************
It's super hard for me to write about this book without giving plot information away because I feel so strongly about everything that happened in this book. Not that I feel negatively about it, but I just think this book is so great. Unravel Me made my heart swell, and it also broke my heart. It made me gasp! and it made me swoon. It made me nearly cry sometimes, and other times it made me close the pages in overwhelming shock, shoving it away from me as far as I could reach. I went hours and sometimes days without picking it up again after certain plot points were revealed or discussed because of the intensity of whatever that particular situation was or because of the OMG!! value of the new information. This book is amazing.
Starting the book, I thought I knew where my heart was – and by that, I mean that I believed that Adam was good and Warner was bad and that was all, period. But when I read the novella
Destroy Me
, from Warner's point-of-view (including his backstory), things began to muddy a little bit for me. Warner suddenly had reasons for being the evil dude that he had always been, and his reasons were – ugh – pretty understandable. Reading Unravel Me only served to confuse me more. Tahereh Mafi has an ability to write this villain so that I'm not so sure he's the villain anymore – there are only a select few writers that can get inside my mind like that – and while I respect the heck out of her for it, it frustrates me to no end. My black-and-white areas were very gray for a chunk of this book, and I wasn't sure which way was
Adam or Warner
up or down. (Like it or not, friends, this makes for an excellent villain and as much as it makes me squirm, I LOVE reading these stories.)
This second book was no disappointment to me. I have no idea where Tahereh Mafi is going to go from here. I've spent a ridiculous amount of time coming up with theories about where this series is headed (it's true, you guys wouldn't believe the number of emails and tweets I've sent out and the theories I have swimming around in my head). I've had THE BEST time discussing this book with my reading friends. Unravel Me challenged me as a reader. It was the source of a ton of excitement and fun for me. I am thrilled for the rest of the world to experience it and love it too.
I recommend Unravel Me for people that have read/loved Shatter Me and people that love YA sci-fi/dystopian stories that contain a fair amount of romance. I HIGHLY recommend you read Destroy Me before you read Unravel Me. Take this seriously, everybody! I'm very curious about what everyone else thinks of this one – not whether your a fan of Adam or Warner – but genuinely what the world thinks of this book. I think it is an amazing middle book for this series, and it has made this series solid among my favorites.
(You can read my thoughts on Destroy Me HERE.)
********************************************************
Unravel Me will appeal to fans of:


YA Sci-Fi/Dystopian
Tahereh Mafi/Shatter Me
Romance: Love triangle, bigtime!
And the romance is steamier than in Shatter Me.
Fantastic secondary characterization

Unravel Me by Tahereh Mafi
will be available for purchase on February 5, 2013.
************************************************
Have you read any of this series yet?
What do you think about it?

I HIGHLY recommend you purchase & download
Destroy Me before you read Unravel Me!