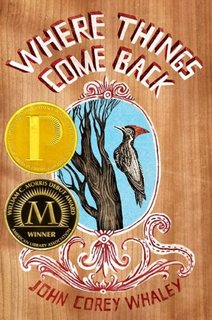 Where Things Come Back
by John Corey Whaley
Published by Atheneum BYR
Publish Date: May 3, 2011
228 Pages
Source: I bought this myself!

Just when seventeen-year-old Cullen Witter thinks he understands everything about his small and painfully dull Arkansas town, it all disappears. . . .
In the summer before Cullen's senior year, a nominally-depressed birdwatcher named John Barling thinks he spots a species of woodpecker thought to be extinct since the 1940s in Lily, Arkansas. His rediscovery of the so-called Lazarus Woodpecker sparks a flurry of press and woodpecker-mania. Soon all the kids are getting woodpecker haircuts and everyone's eating "Lazarus burgers." But as absurd as the town's carnival atmosphere has become, nothing is more startling than the realization that Cullen's sensitive, gifted fifteen-year-old brother Gabriel has suddenly and inexplicably disappeared.
While Cullen navigates his way through a summer of finding and losing love, holding his fragile family together, and muddling his way into adulthood, a young missionary in Africa, who has lost his faith, is searching for any semblance of meaning wherever he can find it. As distant as the two stories seem at the start, they are thoughtfully woven ever closer together and through masterful plotting, brought face to face in a surprising and harrowing climax.
Complex but truly extraordinary, tinged with melancholy and regret, comedy and absurdity, this novel finds wonder in the ordinary and emerges as ultimately hopeful. It's about a lot more than what Cullen calls, "that damn bird." It's about the dream of second chances. –(summary from Goodreads)

Where Things Come Back
by John Corey Whaley

My Thoughts: Like some of my other book-blogging friends, I first heard about Where Things Come Back by John Corey Whaley when I started seeing it pop up on Twitter in conversations here and there. And it didn't stop! And then people started talking about how much they loved it, how excellent it was, and how they would loan each other their copies if they would just read it, please read it NOW! (You guys, that's some big stuff to catch the eye of a reader – if there's a book going around with a little bit of buzz, we tend to want to know more about it.) So I looked it up and SURE ENOUGH! it was YA Contemporary. DANGIT! You see, I wasn't reading the Contemps at that time. Nosiree…But I loved the cover, I thought the title was catchy, and I had read that this particular author loved the music of Sufjan Stevens, which rotates heavily on my iPod. Sold! I was in! Sure, I'd read the book…eventually.

The first thing you need to know is this
:
I was excited to read this book
because it was an award winner!
Oddly enough, I was a fan of the book long before I read it and I was ecstatic when Where Things Come Back won the Printz Award and the William C. Morris Debut Award in 2012. YAY for you, Whaley! I was actually listening live to the awards – I was alone in my living room and threw my arms up in the air, so excited was I for this book. I remember that I wasn't alone – several of my blogging friends were listening with me and tweeting live too. (Y'all, I was nervous and it isn't even my book. That is truth.)

The second thing you need to know is this
:
I was scared to read this book
because I was scared that I would cry.
Ugh, it's true – I hate crying when I read books (even though I do it sometimes). I kept seeing the words "emotions" and "emotional" pop up when people were talking about this one and I was just…scared. It took me forever to decide to read it, but when I did – I couldn't put it down. I was captivated!

The third thing you need to know is this
:
This book was an absolute delight to read.
And I did not cry a single tear.
I read this book in March in Eastern North Carolina – perfect weather – while I was sitting on my front porch. I'm a Southern girl who sat on her Southern porch to read this book that has a Southern setting by a Southern author. I loved every second and I loved every single word.
*************************************************
Where Things Come Back is the perfect blend of youth and grief and setting and discontent and even a little bit of suspense. It is realistic and contemporary and coming-of-age. There are swear words and drugs, and there is sex and talk of religion. There are so many great characters and places in this book. There are alternating chapters with alternating stories that had me wondering what strange trip I was on, seriously. And I could not believe how well everything came together in the end, seriously.
Cullen Witter is an absolutely fantastic leading male character in a YA Contemporary! For those of you who love those great leading males, HERE YOU GO. Cullen's brother Gabriel is also a fantastic male character, although for different reasons. They both are so true to life, so believable, and so well-written. So very well-written.
While this book has a ton of great literary book-things about it – plot, language, setting, etc. – there are a ton of "other" things about it too. My personal favorite of all of the details is the song lyrics thrown here and there, because of course I love all of the bands that were chosen.* I also love the way Cullen feels about his town – about the actual living of the small-town life in his Southern town, and feeling like he'll probably never get out of there. I love how all of the characters interact, like people actually do interact in real life. I love how Cullen sulks and has a bad attitude sometimes, like young boys (and girls) really and truly do. I am madly in love with the cover and title page. And there are so many great quotes, so many – I have little green sticky notes all in my book and quotes all over my quote notebook, even sideways in the margins.

I'm not even gonna show you my notebook.
It's a mess!
I cannot recommend this book highly enough. When I decided to do YA Contemporary Month along with Evie and Bonnie, I knew with certainty that this book had to be my Day One.
Where Things Come Back will appeal to fans of:
YA Contemporary
Male Leading Character!
Brilliant Language with Great Dialogue
Character-Driven Plot
Awesome Setting
Award-Winning Books
Basically, everything in this book is fantastic.

Where Things Come Back by John Corey Whaley
is currently available for purchase.
For additional, more articulate reviews:
Ginger @ GReads!
Jacinda @ The Reading Housewives
Lisa @ Lisa is Busy Nerding
*I'm holding out for Freelance Whales to make an appearance in the next book. I'm lookin' at you, John Corey Whaley.
*************************************************
Is Where Things Come Back in your to-read pile?
Don't you LOVE it when a male leading character
is well-written, especially in YA Contemporary?