Outcast by Adrienne Kress
Published by Diversion Books
Publish Date: June 4, 2013
324 Pages
Find It: Goodreads / Amazon / B&N


After six years of "angels" coming out of the sky and taking people from her town, 16-year-old Riley Carver has just about had it living with the constant fear. When one decides to terrorize her in her own backyard, it's the final straw. She takes her mother's shotgun and shoots the thing. So it's dead. Or … not? In place of the creature she shot, is a guy. A really hot guy. A really hot alive and breathing guy. Oh, and he's totally naked.

Not sure what to do, she drags his unconscious body to the tool shed and ties him up. After all, he's an angel and they have tricks. When he regains consciousness she's all set to interrogate him about why the angels come to her town, and how to get back her best friend (and almost boyfriend) Chris, who was taken the year before. But it turns out the naked guy in her shed is just as confused about everything as she is.

He thinks it's 1956.

Set in the deep south, OUTCAST is a story of love, trust, and coming of age. It's also a story about the supernatural, a girl with a strange sense of humor who's got wicked aim, a greaser from the 50's, and an army of misfits coming together for one purpose: To kick some serious angel ass. -(summary from Goodreads)




*********************************************************************
I'm so excited to have Author Adrienne Kress on the blog today
talking about one of my all-time favorite bookish things:
Originally, I had this guest post in the same post with my review – all as one
very long post. BUT BUT BUT I loved this guest post SO MUCH that (on impulse at the last minute)
I had to take
some extra time to separate it out and make it into two posts.
You guys, as a reader, one of my very favorite things is a strong, kick-butt female.
I love it so much. They may have faults and weak points, but if they are kick-butt,
I will love them. Adrienne Kress writes these girls and I am a fan.
I am over-the-moon that she took the time to stop by my blog and write about
one of my very favorite bookish things ever today –
these kick-butt female characters.
Thank you for stopping by, Adrienne! OUTCAST is incredible. I love it!
The review will post in a little while, guys. For now,
I present Adrienne's post on: Kick Butt Girls!
*********************************************************************
I guess you could say I have a wee bit of a running theme in my work. I am rather fond of butt kicking girls. Sometimes that's a metaphor, sometimes that's literal. The point is, the girls in my books totally kick butt.
But this isn't because I have a goal of writing kick butt girls, that I purposefully set out to write such characters. It's because I myself enjoy action adventures and want to write them. And also because I'm female and thus want to write books that have women/girls as the main characters in these action adventures. Of all the points I've tried to make in my books, "girls can kick butt just like guys" actually isn't one of them. It's just a happy coincidence.
The points I do actively attempt to make are that girls can be excellent problem solvers, can be rational, and can have strong important relationships with other girls. Because these days, a "kick butt girl" isn't necessarily synonymous with "strong". Many times kick butt girls need a male character to guide them and to help them develop their abilities. They need to be rescued in the third act despite having mad skillz. They often have contempt for other women/girls. They often are flawless, or if they have a flaw it's that they are quick to anger and act out in a violent fashion.
Thus what is more important to me than the kick butting, is creating three dimensional characters. Individuals who have flaws, who have charm and a sense of humour, who have particular likes and dislikes, and who grow over the course of the book. I want female characters to be considered characters first, their gender second. These elements I definitely make a point of addressing in my work.
That being said, I also I do make some points about the actual act of kicking butt. I am friends with many people who do combat for a living, who are stunt performers for film and stage. And I know how hard they train and practice. Even now, at the top of their game, they never stop working to improve or, at a minimum, maintaining their current skill level. So I always like to show how my characters learn their butt kicking skills so that I can demonstrate that it takes time and effort to develop them. Yes, usually my characters are gifted at their abilities, sometimes they get a leg up thanks to other worldly influences, but they still take the time to train. You don't just wake up and suddenly have skills one day.
I also firmly believe that fighting in fiction has more to do with character development than just cool moves. All my kick butt girls over the years have had quite different abilities and motivations because they are all very different personality wise from each other. Further, each fight or action sequence isn't just for fun, it's an important moment in the plot that reveals yet more information about the people participating.
Ultimately it always comes back to character. Even when the goal is to write "an adventure with some cool action in it", without a character to root for, without real stakes and motivations, the action isn't exciting. We need to care about the outcome, not just the fight itself.
*********************************************************************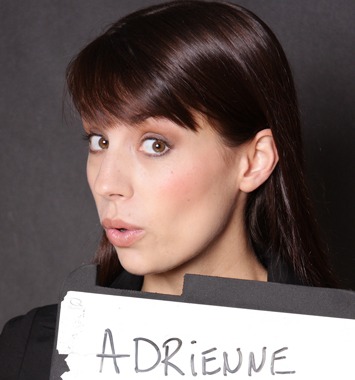 Adrienne Kress is a Toronto born actor and author who loves to play make-believe. She also loves hot chocolate. And cheese. Not necessarily together.
She is the author of Two children's novels: ALEX AND THE IRONIC GENTLEMAN and TIMOTHY AND THE DRAGON'S GATE (Scholastic). Her debut YA novel, THE FRIDAY SOCIETY, launched in the Fall 2012 from Dial, Penguin and her first ever quirky YA paranormal romance, OUTCAST, comes out June 4th, 2013 with Diversion Books.
*********************************************************************
(you can click on Diversion's site to buy Adrienne's book
for your ereader
for just $2.99!)
Check out the rest of the OUTCAST BLOG TOUR
by checking out the following blog sites!
*********************************************************************
And now for the Giveaway!
Author Adrienne Kress & Diversion Books
are offering an ebook copy of
OUTCAST
to one lucky winner
!
This contest is open to Internationally.
This contest ends Saturday June 15th.