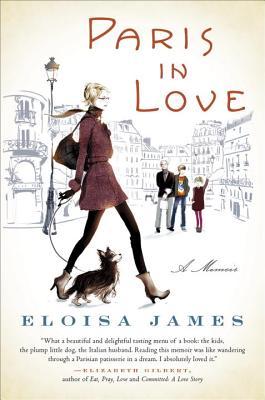 Paris In Love by Eloisa James
Published by Random House
Publish Date: April 3, 2012
272 Pages
Source: Book – Library, Audiobook – Library
Find it here: Goodreads / Amazon / B&N


In 2009, New York Times bestselling author Eloisa James took a leap that many people dream about: she sold her house, took a sabbatical from her job as a Shakespeare professor, and moved her family to Paris. Paris in Love: A Memoir chronicles her joyful year in one of the most beautiful cities in the world.

With no classes to teach, no committee meetings to attend, no lawn to mow or cars to park, Eloisa revels in the ordinary pleasures of life—discovering corner museums that tourists overlook, chronicling Frenchwomen's sartorial triumphs, walking from one end of Paris to another. She copes with her Italian husband's notions of quality time; her two hilarious children, ages eleven and fifteen, as they navigate schools—not to mention puberty—in a foreign language; and her mother-in-law Marina's raised eyebrow in the kitchen (even as Marina overfeeds Milo, the family dog).

Paris in Love
invites the reader into the life of a most enchanting family, framed b
y la ville de l'amour
.
(Goodreads)
Paris In Love by Eloisa James
My Thoughts: I've had my eye on this memoir for ages, almost checking it out from my library about a billion times. Since I've been feeling the urge to travel lately and I've also been reading more nonfiction in recent weeks, it seemed like the perfect time. The cover is super-cute, I want to visit Europe, and I'd love to see Paris through the eyes of someone else. SOLD! Right? Well, kind of, but not exactly.
First of all, Eloisa James is a published historical romance author. In reading the "before Paris" parts of the book, I learned that Ms. James is a cancer survivor with an Italian husband and two children. She and her husband decided to take a sabbatical from their jobs and their lives in America "to live someone else's life–specifically, that of a person who lived in Paris." (loc 141, Kindle) So they sold their belongings and off they went.
I admit that I have thought it would be glamorous and maybe even fun to just up-and-go to another part of the world with my family for a time, but I have also wondered how these dreams would affect my own family and whether or not they would enjoy that type of adventurous spontaneity as much as I think I would. For all of the charm of the cover and the idea of this story, this book doesn't really provide the basic linear structure to give me the information and overall experience that I was hoping for.
I was really expecting to experience Paris through the eyes of an American woman, an American wife, an American mother.
That doesn't mean it is a bad book. It just means it was different than I was expecting.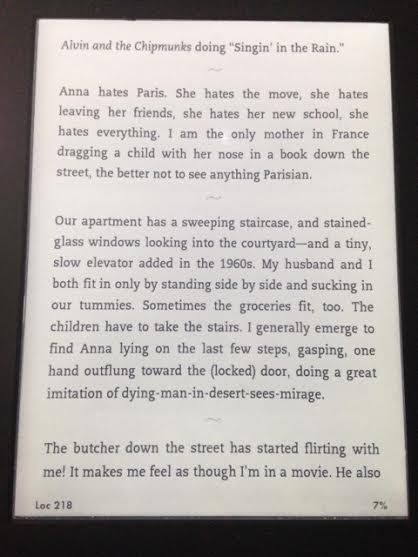 Example page from Paris In Love –
see the story structure? Each paragraph is a separate
thought. Easy to read but less cohesive than I wanted.
Each chapter begins with an essay-length story about a specific event or experience: something like a holiday experience while they lived in Paris, a vacation they took, a family trip to a very classy, high-end restaurant. After the essay, however, the rest of each chapter is filled with short paragraphs that are anecdotal and not really connected at all. I'm talking a few sentences and almost always one paragraph. There may be a description of what the sky looked like on a particular day, how well one of the children did on a test that was taken in school, a thought on Parisian fashion, or something like of this sort. These were charming and easy to listen to, but I have to admit that they didn't really provide any depth to this year-long Parisian experience. If I understand the author's introduction chapter correctly, these anecdotal paragraphs are taken from Facebook and Twitter posts that she made throughout her year in Paris; Facebook statuses seem to be what make up this memoir. This explains why they are a little on the disjointed side to me in terms of being chronologically linear and cohesive.


I know this may sound like I did not like this book — in fact, it is quite the contrary. I just want to be clear on what we have here. Paris In Love is a great book to have in your to-read pile for a feel-good read. I ended up reading it at a time when I didn't particularly need a feel-good read and was longing for a great travel memoir to help settle my wanderlust and ache for adventure. Ultimately, I liked this one but it is not going into my reread pile.


Paris In Love by Eloisa James was a cute book and compilation of the author's thoughts on her time spent in Paris. Very easy, very breezy. More than anything, I wish I was able to connect more with the city of Paris itself because the setting was one of the reasons I picked up this book in the first place. I enjoyed the brief anecdotal storytelling even though this story structure was a complete surprise. I think that this book would be a great one for readers that are looking to read more nonfiction or memoirs because of this structure and also the lovely language Ms. James uses, and I would recommend it also to those readers that enjoy all-things-France.
Audiobook Notes:
The audiobook format of Paris In Love: A Memoir
by
Eloisa James
is published by Random House Audio
and is 6 hours and 38 minutes, Unabridged. It is narrated by the author, Eloisa James,
which was a smart choice because of the French words and phrases and place-names that she scattered throughout her book. Ms. James is able to
pronounce
these words beautifully, which made listening to this book a very pleasant experience. Had I read this book in print format only, I would have had no clue how these words should be pronounced, and this tends to make for a disjointed reading experience for me. I recommend the audiobook format of Paris In Love to first-time readers and those rereading this book.
***********************************************************************
Paris In Love will appeal to fans of:
Paris In Love by Eloisa James
is currently available for purchase.
***********************************************************************
Do you like reading travel memoirs?


Do you have a favorite that you can recommend?