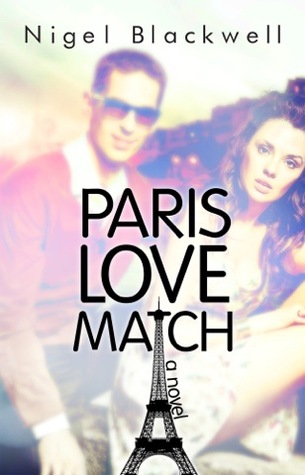 Paris Love Match by Nigel Blackwell
Publish Date: May 2, 2013
Published by Bandit Publishing
192 Pages
Source: Author for review – Thank you!
Find It: Goodreads / Amazon / B&N


Getting a taxi in Paris can be hell.
Piers Chapman expected a boring business trip to Paris.
What he didn't expect was to fight over a cab with a beautiful girl.
After a bad meeting, Sidney Roux just wanted to hail a cab, go home, and have a glass of wine.
She didn't expect to fight over a cab with some pompous British tourist.
Neither of them expected another man to jump in their cab.
Or to be involved in a gun fight.
Or a car chase through the streets of Paris.
Or for the man to die.
But they're thrust together when the mob demands they return what the dead man stole.
Will Piers and Sidney work together?
Will they find what he had stolen?
Will they stay alive?
And will they do the last thing they expected?
Will they fall in love? -(from Goodreads)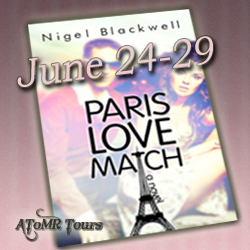 Paris Love Match by Nigel Blackwell


My Thoughts: Because I have recently been to New York City, I can say for sure that I was able to experience what it was like when someone actually stole my taxi. Yep, it's true. And this is what happened in the beginning of Paris Love Match – sort of.


See, Piers and Sidney are in a bit of a bickering match over exactly who has the right to the taxi they're both sitting in when WHOOP! someone jumps in and yells GO! to the driver. This person is dirty and stinky and has a gun – he's being shot at and is actually really mean. Eventually, the guy ends up getting shot and both Piers and Sidney end up being suspects. (I'm leaving out a bit of a chase by both police and some really bad guys – it's very exciting.)

Apparently this now-deceased guy (name = Auguste) was in possession of something that a ton of people wanted for various reasons – a famous painting. And those bad guys believe that for some reason, since Piers and Sidney just happened to be in the same taxi with Auguste, they now magically know where this painting is currently being kept. Previous to Auguste's departure from this earth, he had made a deal with the bad guys about the painting and now they're expecting somebody to pay up in Auguste's place. We've all seen these mafia-type movies before – we know how they work – and in this case, Piers and Sidney are in the wrong place at the wrong time and get completely caught up in it. This, my friends, is the story of Paris Love Match.


The thing about Piers and Sidney is this: before the taxi incident, they didn't know each other at all. In fact, Piers isn't even from Paris. He's in town on business. Sidney lives there currently, but she isn't from there either. These two are an unlikely duo, and they make for some really funny bantering back-and-forth (which I love) and some really funny scenes in the book….which is excellent because they spend an awful lot of time in these pages on the run so it's good to have their comedy to break up the chase-scenes.


Sidney is a career woman – she's focused and driven. She's also concerned a lot with fashion. So while everything is going on around her – while they're supposed to be watching their backs constantly and staying on the move – Sidney is sometimes extremely focused on the fact that she needs to shower and to change clothes and that she smells really bad. All of this is well and good because that's how Sidney is, but after a while I think it just worked to make Piers look even better…


…which wasn't very necessary because I liked Piers immediately. In town on business, like I mentioned, the guy seemed to be a bit of a fumbling tourist. He just wanted to get his job done and go back home. When his job was delayed, he realized he'd be in town longer so he'd sightsee a bit. Good grief, it must be a nightmare to get caught up in something like this when you're just trying to get your job done! But Piers handles it in stride. He keeps a level head even when he gets frustrated. He finds his way around this city that is strange to him. He deals with Sidney's sometimes ridiculous behavior. And in the end, the dude is the hero of the day. I think he's great.


There are some secondaries that are really fun and also funny. Some of the mob goons are really not mafia-types, they're just for-hires that work on cars for a living – I really liked them. There's an exiled dictator that is just…I don't know but he kind of made me laugh a little bit. And there's Piers' mum who seemed to call at all the wrong times and come to all of the wrong conclusions (as many mums do).


Ultimately, Paris Love Match is a really fun book. It's short and very lite on the romance but heavy on the adventure, which is a nice change from what's out there right now. I enjoyed it a lot considering that the majority of contemporary that I've read lately has either been heavy on the romance or heavy on the issues. Paris Love Match was just plain fun. OH! And for those of you that love a great Parisian setting or Brit-speak, this is one that you might want to add to your to-read list. You get both of these things in this book!


I recommend Paris Love Match for fans of Adult/New Adult Contemporary with light romance, plenty of adventure, and a great setting. It is a quick read and would be fun for those that love books set in Europe.


**Also, this is a pretty doggone fun short trailer. I kind of love it.**
*********************************************************************
Nigel Blackwell was born in rural Oxfordshire in England. He has a love of books, a PhD in
Physical Chemistry, and a black belt in pointing out the obvious. As a teenager he toured Europe
and loved seeing the wonders of the world and the people in it. Since then he has been fortunate
enough to travel across Europe, North America, the Middle East, and Japan, and hasn't been
anywhere that doesn't have the potential for a story.
He now lives in Texas with his wife and daughter, where they enjoy the sunshine and listen to
the coyotes howl at night.
*********************************************************************
And now for the Giveaway!
Author Nigel Blackwell
is offering
2 signed Paperback copies of PARIS LOVE MATCH
2 eBook copies of PARIS LOVE MATCH
to International residents
It's a great contest you guys! Something for everyone!