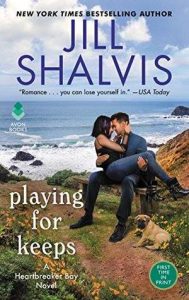 Playing For Keeps
by
Jill Shalvis
Series:
Heartbreaker Bay #7
Published by
Avon
on January 22, 2019
Pages:
384
Source:
the publisher
Buy from Amazon
|
Buy from Barnes & Noble
|
Buy from Book Depository
Goodreads
If you're planning on falling in love…
When it comes to the confident, charismatic Caleb Parker, Sadie Lane feels the spark—the kind that comes from rubbing each other the wrong way. She's yoga pants, he's a suit. She's a tattoo artist, he's a straight-laced mogul. But after they accidentally co-rescue an abandoned dog from a storm, Sadie sees a vulnerable side to the seemingly invincible hottie.

you'd better be sure…
Caleb doesn't do emotions. Growing up the underdog, he's learned the hard way to build up an impenetrable wall. Perfect for business. Disastrous for relationships. He's never worried about it before—not until he finally gets behind Sadie's armor and begins to fall.

… someone is there to catch you.
Both guarded and vulnerable, Sophie and Caleb are complete opposites. Or are they? Shocked at their undeniable connection, can they ever admit to wanting more? That all depends on what they're each willing to risk.
I received this book for free from the publisher in exchange for an honest review. This does not affect my opinion of the book or the content of my review.
Review:
Honestly everything that I read by Jill Shalvis just makes me happy. Her characters are the best.
Playing For Keeps is the latest installment in the Heartbreaker Bay Series, featuring Caleb and Sadie. Caleb is a wealthy venture capitalist and a friend of the rest of the featured characters that we've met so far in this series. Sadie is a not-at-all-wealthy tattoo artist with a dark past who also runs in the same friend-group as Caleb. These two have tiptoed around one another for the better part of a year, always noticing one another but never doing anything about it. Sadie has told herself over and over that she can't stand him because he always wears expensive clothes and has a ton of money, so he must be one of those people. She has really gone out of her way to judge him. Caleb has been smitten with Sadie since he first saw her.
I adore the way the two fall in love: Caleb happens upon an abused and abandoned dog in the public area outside of the place where Sadie is working. She walks outside to see what he is doing, as he is bent over in his suit in the rain, sort of fussing over this scared, three-legged dog. Both Sadie and Caleb fall in love with the three-legged dog at first sight and ultimately decide to co-adopt and co-parent her, sharing custody. So their relationship begins as they trade off their time with Lollipop the Dog, and then kicks into high gear as they realize their attraction is growing. (Lollipop is one of the best parts of this book!)
I love the way that Sadie slowly learns that she has been wrong about judging Caleb and has a change of heart. The interesting part of the story-and the potential romantic conflict-comes into play when they both start peeling back their layers to decide if they have a shot at making it. They're both seem so very different, but they really aren't. And they've both been through rough childhoods, but they won't know that until they start sharing about their respective pasts.
I really like Caleb and his ability to be so open and honest about who he is. He has this really great ability to be patient and kind with Sadie, even when I felt like she was slightly over the top with pushing him away. She has had a truly tough time in the past-I mean, her mother is horrible-and I get that she has baggage, but good grief, Caleb just seems so wonderful. I attribute this largely to Caleb being surrounded by supportive (but sometimes obnoxious and overbearing) sisters. He adores his family and he translates that love and adoration easily to Sadie. Sadie was a little more tough, but understandably so. Truly, there were times that I wanted to reach into the book and look Sadie directly in the eyes and tell her to snap out of it and trust Caleb already. Sadie, say YES! But he was so respectful of her (he makes consent sexy!) and her general wariness. Thankfully, she figured out that he was the perfect one for her with what felt like very little drama.
This was a great story and I'll keep reading this series as long as Ms. Shalvis writes the books. I still think that Hot Winter Nights (Molly and Lucas) has been my favorite so far, but every single one of these books is reread-worthy and just fun storytelling.
Sidenote, I also want to point out that Ivy, Sadie's BFF and the owner of the taco truck that everyone frequents, is pretty patient with Sadie too. She gives out great advice and seems to be a great friend. I'm hoping that she is featured in the next installment in this series. At this point, it looks like there is another full-length Heartbreaker Bay novel coming in September 2019 and a novella coming shortly after in November 2019, so we'll see.
Check out my other reviews in the Heartbreaker Bay Series:

Sweet Little Lies | The Trouble with Mistletoe | One Snowy Night | Accidentally On Purpose
Chasing Christmas Eve | Holiday Wishes | About That Kiss
Hot Winter Nights | Playing For Keeps | Wrapped Up In You | Twist Of Fate