Promise
by
Minrose Gwin
Published by
William Morrow
on February 27, 2018
Pages:
400
Source:
the publisher
Buy from Amazon
|
Buy from Barnes & Noble
|
Buy from Book Depository
Goodreads
In the aftermath of a devastating tornado that rips through the town of Tupelo, Mississippi, at the height of the Great Depression, two women worlds apart—one black, one white; one a great-grandmother, the other a teenager—fight for their families' survival in this lyrical and powerful novel

"Gwin's gift shines in the complexity of her characters and their fraught relationships with each other, their capacity for courage and hope, coupled with their passion for justice." — Jonis Agee, bestselling author of The River Wife

A few minutes after 9 p.m. on Palm Sunday, April 5, 1936, a massive funnel cloud flashing a giant fireball and roaring like a runaway train careened into the thriving cotton-mill town of Tupelo, Mississippi, killing more than 200 people, not counting an unknown number of black citizens, one-third of Tupelo's population, who were not included in the official casualty figures.

When the tornado hits, Dovey, a local laundress, is flung by the terrifying winds into a nearby lake. Bruised and nearly drowned, she makes her way across Tupelo to find her small family—her hardworking husband, Virgil, her clever sixteen-year-old granddaughter, Dreama, and Promise, Dreama's beautiful light-skinned three-month-old son.

Slowly navigating the broken streets of Tupelo, Dovey stops at the house of the despised McNabb family. Inside, she discovers that the tornado has spared no one, including Jo, the McNabbs' dutiful teenage daughter, who has suffered a terrible head wound. When Jo later discovers a baby in the wreckage, she is certain that she's found her baby brother, Tommy, and vows to protect him.

During the harrowing hours and days of the chaos that follows, Jo and Dovey will struggle to navigate a landscape of disaster and to battle both the demons and the history that link and haunt them. Drawing on historical events, Minrose Gwin beautifully imagines natural and human destruction in the deep South of the 1930s through the experiences of two remarkable women whose lives are indelibly connected by forces beyond their control. A story of loss, hope, despair, grit, courage, and race, Promise reminds us of the transformative power and promise that come from confronting our most troubled relations with one another.
I received this book for free from the publisher in exchange for an honest review. This does not affect my opinion of the book or the content of my review.
Review:
Promise by Minrose Gwin is a historical fiction story that is based on the F-5 tornado that tore thru Tupelo, Mississippi on April 5, 1936 at around 9:00 p.m. History says that over two hundred people died in this tornado — it was actually more than that, but only the white population was counted in the casualty reports. I was astounded as I read this, based on Minrose Gwin's extensive research.
Promise isn't only about casualties and the inaccurate numbers. This is the story of two families and how their lives are connected before this event and by this event. There are two main female POVs: Jo and Dovey. Young Jo suffers a head injury during the tornado, but manages to take care of her mother and the infant that she finds in a bush in the yard by her house – her brother, Tommy. The way Jo's entire family is changed by the tornado is heartbreaking, but Jo's reaction to her family's fate is even more heartbreaking; there is so much loss here, in ways that may not be what you're thinking.
Dovey has worked as Jo's family's laundress for many years. While this work pays the bills, she isn't partciularly connected this this family and there is certainly no love lost there. This is because of Jo's brother, who is essentially a snake (my word, not Dovey's – she has another word for him). He has caused a great harm to Dovey's granddaughter, and even though she tries to think good thoughts generally, Dovey does not forget these things. She is no stranger to loss. When the tornado comes, it literally picks her up and flings her into a nearby lake. Making her way out of the water and far from home, she is determined to find her way back to her family – every one of them – no matter what.
On her way home, Dovey finds herself smack-dab in the home of Jo McNabb. Tragic actions have meshed their families together before, and all of that is about to come full circle.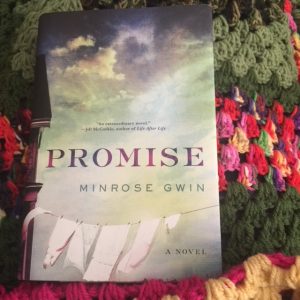 I don't know why, but I had created this assumption that Promise by Minrose Gwin would be about Dovey and Jo working together to find all of the missing members of their collective families. Why did I think that? That would have been way too easy, especially for the Deep South in the 1930's. Good grief, how naive of me. Promise tells of two women from entirely different worlds navigating an Act of Nature that did not discriminate based on race or socioeconomic status. Here, these two women should have been on entirely equal ground, even during the 1930's in Mississippi, when people came to help out and clean up and save lives, right? Well. There were several points in reading this book that I honestly felt sick – not because of anything in the narrative, certainly nothing gratuitous, but because I'm sometimes still taken aback when I encounter certain levels of horrifying behavior. In this case, denying people (including children) access to treatment and recovery and aid after a natural disaster.
Although Jo's family and Dovey's family suffered similar fates (complete destruction of their homes, major injuries, missing persons), Dovey's family was treated differently because of their skin color. Further, non-white people were not counted in the casualty numbers. So it was very difficult for Dovey's family and other people to determine if friends or family members had been found or not, buried or not, etc. (Even now, is there any way to go back and adequately rectify this and correct the number of casualties from Tupelo on this night? I can't see how. History just bears this as is, without an entire group of people accounted for.)
I knew from the synopsis that Jo finds a baby in the debris and wreckage, and from the story leading up to this point, I had suspicions about how this would steer the plot and play out toward the end. I WAS WRONG, I WAS SO WRONG. This turned out being, in my opinion, the driving point of the book and the center point of so many discussable, intersecting plot points.
This story is so good. SO GOOD. It is possible that some readers will say it is slow, but I say it is very character-driven. There is a lot of time spent setting up these characters. I think this is time well-spent, because as the story nears the middle and end, it pays to know them pretty well in order to understand their thought processes and actions. Especially Jo and Dovey. I felt like I understood them very well and I also felt connected to both women as I approached the latter third of the book, when things started to pick up.
I also think with something like a tornado, there is an assumption that the tornado will make the story action-driven, but it really doesn't. The tornado and its aftermath is very much there, like a huge, hulking thing. But it really like more of a vehicle to drive the story along: the tornado, the search and rescue, the recovery effort, the treatment of the injuries – all of these things felt like the curtain hanging directly behind these characters — if that makes sense. It made the main plotline stand out to me. What we are looking at here is how these characters are dealing with the merging of their families, the crossing of paths. How do they navigate something like that when one is black and one is white? Everything becomes one woman's word against another.
I could keep talking for a long time about this book, but I am afraid I would be spoilery, and I believe that uncovering the parts that I didn't expect is what made it extra excellent to me. I recommend picking this one up and spending some time with it. (It is BEAUTIFUL on the bookshelf and there are real historical photos in the back, a bonus!) Get to know Dovey and get to know Jo. Pay attention to the setting in terms of time and in terms of how things were in the Deep South in the 1930's. THEN. Then, it makes the story so much more compelling when things start to happen with the family members finally receiving the help they need with their injuries and with this little baby that was found.
ALSO: What did disaster relief look like in a racially-divided 1930's?
What a great story, not only because Promise is excellent, but because I appreciated the opportunity to put myself in this place at this time in this way.