Queen Bee
by
Dorothea Benton Frank
Series:
Lowcountry Tales #12
Published by
William Morrow
on May 28, 2019
Pages:
432
Source:
the publisher
Buy from Amazon
|
Buy from Barnes & Noble
|
Buy from Book Depository
Goodreads
Immerse yourself in the enchanting world of New York Times bestselling author Dorothea Benton Frank's Carolina Lowcountry in this evocative tale that returns at long last to her beloved Sullivan's Island.

Beekeeper Holly McNee Kensen quietly lives in a world of her own on Sullivan's Island, tending her hives and working at the local island library. Holly calls her mother The Queen Bee because she's a demanding hulk of a woman. Her mother, a devoted hypochondriac, might be unaware that she's quite ill but that doesn't stop her from tormenting Holly. To escape the drama, Holly's sister Leslie married and moved away, wanting little to do with island life. Holly's escape is to submerge herself in the lives of the two young boys next door and their widowed father, Archie.

Her world is upended when the more flamboyant Leslie returns and both sisters, polar opposites, fixate on what's happening in their neighbor's home. Is Archie really in love with that awful ice queen of a woman? If Archie marries her, what will become of his little boys? Restless Leslie is desperate for validation after her imploded marriage, squandering her favors on any and all takers. Their mother ups her game in an uproarious and theatrical downward spiral. Scandalized Holly is talking to her honey bees a mile a minute, as though they'll give her a solution to all the chaos. Maybe they will.

Queen Bee is a classic Lowcountry Tale—warm, wise and hilarious, it roars with humanity and a dropperful of whodunit added for good measure by an unseen hand. In her twentieth novel, Dorothea Benton Frank brings us back to her beloved island with an unforgettable story where the Lowcountry magic of the natural world collides with the beat of the human heart.
I received this book for free from the publisher in exchange for an honest review. This does not affect my opinion of the book or the content of my review.
REVIEW:
I knew I wanted to read Queen Bee when Dorothea Benton Frank's name was attached. I cannot tell you how much I love her stories and settings.
Holly is thirty years old and still living at home with her mother, called the Queen Bee by everyone around because of her personality-she's loud, a bit rude, she's become less active recently and therefore gained some weight, and she's a hypochondriac. Holly's sister Leslie got married and left home years ago, leaving Holly to take care of her mother by herself. This is when her mother spiraled downward in terms of her health and her personality. As a result, Holly has become a little more of an introvert and homebody over time, but she's honestly happy that way thankyouverymuch. She has dreams of becoming a teacher at Sullivan's Island school, but there's a waiting list for the position, so for now-aside from beekeeping-she works in the bakery at the local Publix grocery store, which she really enjoys. OH! She also has a pretty big crush on the neighbor next door, recently-widowed Archie. Holly has been close and neighborly with Archie's two young boys since they were born, and she has really taken them under her wing since they lost their mother to a tragic car accident last year. She loves cooking for them, taking them to the nearby park, and helping them with their homework after school.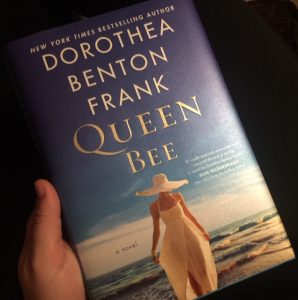 Holly has a wonderful personality. I just love her so much. It's true that she spends probably too much time on her mother and not enough on herself, but I adore the way she dotes on the young boys next door. In the beginning of the story, I thought there would be a romance between Holly and Archie, but it was very early in the book that I realized that would not be the case at all. In fact, that particular romantic relationship took a backseat to the well-being of young Tyler and Hunter, and Holly's role in making sure that they would be taken care of in the future. I wasn't really expecting this but there were parts of this storyline really made me laugh out loud.
Another huge part of the plot is that Leslie comes back home after something major threatens her marriage. And with both of her girls now back under her roof, Momma undergoes a personality change for the better. I LOVE seeing a family dynamic change for the better, and I love the way Ms. Frank writes family issues in her books. Throughout this family's path, there are a few characters along the way that kept me smiling and it was these characters that ushered particularly Leslie and Momma through some character development and growth. I wasn't always sure where this part of the story was going either, but I love where it ended up. What I loved most is Ms. Frank's infusion of humor throughout. She always does this so well!
One thing that I didn't expect that absolutely DELIGHTED me: I knew that Holly is a beekeeper but I didn't expect that the bees would play such a huge role in the story! Holly talks to her bees daily and she really has a loving relationship with them; she sort-of treats them like they're her pets. They are truly a character in this book! My daughter is a huge fan of bees in general and an advocate for honeybees and their role in the ecosystem and how important they are to humanity (she researches them and is considering continuing her research in college) and kept asking me about the bees in this book as I progressed further into the story. Every single thing about the bees in this story turned out to be a super-fun experience for me!
This book is filled with love and acceptance and humanity and even a little bit of hive mentality. The entire thing was full of surprises and I loved it, but to be fair, I expected to because I am a huge fan of Ms. Frank.