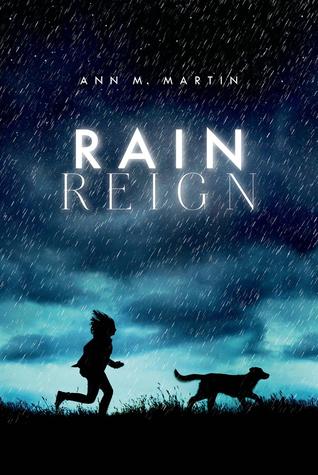 Rain Reign by Ann M. Martin
Published by Feiwel & Friends
Publish Date: October 7, 2014
240 Pages
Source: Publisher
Find It: Goodreads / Amazon / B&N

Rose Howard has OCD, Asperger's syndrome, and an obsession with homonyms (even her name is a homonym). She gave her dog Rain a name with two homonyms (Reign, Rein), which, according to Rose's rules of homonyms, is very special. Rain was a lost dog Rose's father brought home. Rose and Rain are practically inseparable. And they are often home alone, as Rose's father spends most evenings at a bar, and doesn't have much patience for his special-needs daughter.

Just as a storm hits town, Rain goes missing. Rose's father shouldn't have let Rain out. Now Rose has to find her dog, even if it means leaving her routines and safe places to search. Rose will find Rain, but so will Rain's original owners. (excerpt from Goodreads)



Rain Reign by Ann M. Martin

My Thoughts: I have to say that it was a no-brainer that I would read Rain Reign by Ann M. Martin as soon as it became available to me – like a ton of you, I have been a fan of this author's books forever and still love them. The thing is — I had no idea the JEWEL of a book this would be when I began it. It is the perfect combination of heartbreaking and heartwarming, and it is fantastic.


Meeting Rose Howard is such an interesting trip. She tells us a story in this book, and she is very forthcoming about her obsession fascination with homonyms; she can see prime numbers where other people see only other words or other people. It is incredibly obvious that Rose has obsessive issues with sticking to the rules and perhaps even more with other people not sticking to rules. Rose's ability to function at such a high level with her Asperger's is both positive and negative at times — as someone that does not routinely cross paths with a person on the autism spectrum, this story meant several really great things to me.


A few of these things:
Rose has a large heart. She feels everything so, so much and she understands far more than people give her credit for. Even so, she has an extremely difficult time managing her reactions when she becomes overwhelmed. I feel like Rose's Uncle Weldon may understand her more than anyone else — for this reason, I especially loved their interaction and special relationship.

Rose attends a regular classroom in a regular school but the difference between Rose and her peers is that she has an aide that stays with her at all times because of her frequent uncontrolled outbursts and obsessive behaviors. Having an aide embarrasses Rose because it is a constant reminder that she is different AND YET it is necessary for the (often)times that Rose has trouble in the classroom.

Rose has a relationship with her father that is emotionally exhausting. Rose loves him deeply and wants to make him proud – this is obvious by how well she takes care of him – but she has difficulty compensating for the fact that taking care of a child "like her" is stressful for him, particularly because of his single-father status and because of his own childhood which is revealed throughout the story.

Rose's relationship with her dog Rain is incredible in the very best ways – both young readers and adult readers like myself that have very little-to-no experience with autism can see how a pet can be extremely beneficial to someone like Rose.
The relationship between Rose and her dog is eventually able to bridge the gap with her fellow students but it also affects her relationship with her family in different ways. Most importantly, Rain gives Rose a sense of purpose when she needs one and an interesting topic to talk about with other people when she is nearly-maddeningly obsessive about prime numbers, rules, and homonyms. It's as if Rain is the best thing that has ever happened to Rose…
…until the day that Rain disappears…during a hurricane…when Rose is already overwhelmed because of the weather. This is when I found myself holding my breath for this sweet girl. I am a creature of habit myself – I thrive on a bit of loose routine to move comfortably around my day, and I am in no way in need of it the way that Rose is. To see Rose stretch herself and do hard things out of necessity made me smile and cheer for her, and by the end of the book I almost felt exhausted from her ordeal (even though things do end up working out in the ending).
**********************************************************
The structure of Rain Reign lends itself to demonstrating exactly how Rose's mind works, and the simple story-telling by Rose herself makes it very easy to connect to her on a deeper level. Rose tells her story in a way that flows well and is organized, gives plenty of background information, and enables you to create a vivid image in your head that shows exactly what is playing out on the pages as it is being told.
In truth, I believe wholeheartedly that this book needs to be in as many middle school classrooms as possible and I would love to see libraries everywhere have it on their shelves. I will be asking my children to read it as part of their school curriculum this year because I can see the value in learning about children/people like Rose. I think that while this is an incredibly enjoyable story about a girl and her dog, it is also much more than that. I am not at all surprised that this is a work by Ann M. Martin – I have grown up reading books by this author and will read and re-read them forever. I cannot even begin to share with you all how thrilled and excited and overjoyed that I am to be able to share a book this incredible with not only the reading public, but with my own family.
I recommend Rain Reign by Ann M. Martin to readers that love Middle Grade Contemporary Fiction, readers that love fantastic characterization, readers that love stories featuring pets, and readers that enjoy stories featuring characters facing mental challenges.
**********************************************************
Rain Reign will appeal to fans of:
Middle Grade, Contemporary Fiction
Strong Female Leading Character
Books featuring pets: Dog
Mental Challenges/Illness: Autism/Asperger's
Standalone
Rain Reign
by Ann M. Martin
will be available for purchase on October 7, 2014.
**********************************************************
Have you ever read any books by Ann M. Martin?
What are your favorite books featuring main characters with mental challenges or diagnoses?