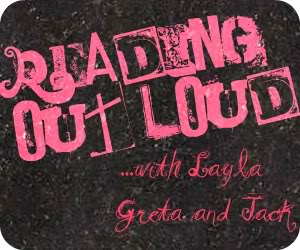 At our house, I read out loud to my children before I take them to school in the morning. In my opinion, sitting together for a few minutes before rushing off to start the day gives them a chance to chill out after the hustle and bustle of getting up, getting dressed, and having breakfast. I realize that this does not work for everyone, but at our house…it just does. It is my favorite part of the day and I think my kiddos like it too.
My children love talking about the books we read together, and so began our little collaborative effort: Reading Out Loud.
The second book of our Reading Out Loud series is The Twits by the amazing Roald Dahl. This seemed like the perfect choice for early morning reading together because it is hilarious and I figured it would start out our days on a positive, happy note. Another reason I chose this book is because we would be starting it at around the time of Roald Dahl's birthday and I wanted to make sure we celebrated it in some small way
(since we are a house full of such big, big fans)
.
The Twits
by Roald Dahl
Illustrated by Quentin Blake
Started September 16, 2011
Finished September 22, 2011
I recently finished reading The Twits out loud to the family (including Mike the Hubby). Here's the interview, exactly:
What are some of your favorite Roald Dahl books?
Layla

: Fantastic Mr. Fox and The Twits

Greta

: The BFG, The Twits, and Fantastic Mr. Fox

Jack

: Charlie and the Chocolate Factory, Matilda, Fantastic Mr. Fox, and James and the Giant Peach

(Jack is giving me his favorite Dahl movie adaptations, but I give him much credit for knowing which movies are from Dahl books at the age of five.)
In a couple of sentences, give me a summary of The Twits.
Layla

: Mr. & Mrs. Twit get tricked by their pets and a great big Roly-Poly Bird. They're very mean and I hope they learned their lesson!

Greta

: The Twits are two ugly, mean people who get tricked by the Muggle-Wumps because they have to stand on their heads all day.

Jack

: Mr. & Mrs. Twit are mean. They don't like to have windows. They like to play jokes on each other. In the end, their monkeys play jokes on them cause they get the shrinks.
The Twits are tricksters. Which of their tricks did you think was the funniest?
Layla

: I liked it when Mrs. Twit put her glass eye in Mr. Twit's beer!

Greta

: The spaghetti worms. (Layla) You just like it because it has to do with spaghetti!
Squiggly Spaghetti
illustration by Quentin Blake
Jack

: All of them. (me) You don't have a favorite? (Jack) No, not really.
The Twits used to work in the circus as monkey trainers.
Which animal would you train if you were an animal trainer?
Layla

: I'd train dogs to play 80's songs on the piano.

Greta

: I'd train a fennec fox to walk on a trapeze.

Jack

: I gotta go with bunnies. They'll eat anything!!!
Jack, tell me about the Muggle-Wumps.
Jack

:

They are monkeys. Mr. & Mrs. Twit made them stand on their heads. Those mean, mean people! They lived in a cage outside the house. They made the Twits get the shrinks because they were treating them and the birds so poorly! They probably didn't have a food bowl in the cage. Rude, rude people!
Layla, tell me about Bird Pie.
Layla

:

It's cruel and horrible. It's inhumane! But it fits in with the book. Bird Pie is birds baked in a pie. (me) Do you want to tell anything else about it? (Layla) No, they can read the story themselves.
Greta, tell me about the Roly-Poly Bird.
Greta

:

The Roly-Poly Bird is a giant colorful bird that travels all over the world. He says "holidays" when he means vacations. He helps the Muggle-Wumps by warning the other birds not to land in the tree that was covered with sticky glue so they won't be baked in Bird Pie.
Roly-Poly Bird
illustration by Quentin Blake
Jack, you thought The Twits was going to be a scary book when we
started reading it.
Are you still scared of it?
Jack

: Nope! Because the Twits aren't real. That was silly!
What would you tell other parents to convince them
to read The Twits to their kids?
Layla

: It's a good book and it's funny. Great illustrations, by the way. (me) You love illustrations, don't you? (Layla) Mmm-hmm!

Greta

: It is a book and it is relaxing and it'll relax the kids if you read it to them.

Jack

: I'd tell kids don't be scared of this story. It's only a book. It's not real…unless it's a non-fiction book. And it's funny! The pictures are funny too.
Do you have any other comments about The Twits?
Layla

: The Roly-Poly Bird is my favorite character. He is so colorful. He might be a peacock…well, maybe.

Greta

: Roald Dahl is my favorite author and he should be yours too. I hope you read this book. It is really good.

Jack

: No, thank you.
Layla & Greta, age 8
Jack, age 5
Excellent, guys! Thank you for another great interview!
This book was so much fun to read to everyone, you all. First of all, my husband joined the kids and I in the mornings for this–which was a real treat, as he is usually in a hurry to get to work. Second of all, the illustrations in this book are laugh-out-loud hilarious. My children laughed so hard sometimes I'd have to give them a few minutes to compose themselves before I'd start back reading. THAT was one of the best parts of this book.