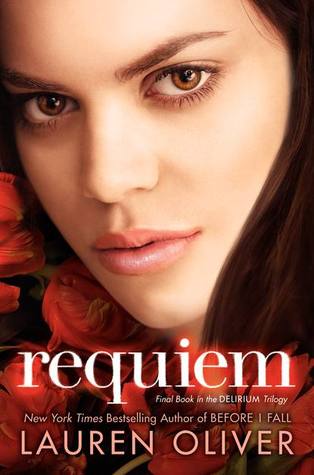 Requiem by Lauren Oliver
Series: Delirium #3
Published by HarperTeen
Publish Date: March 5, 2013
391 Pages
Source: Audio – Library, Book – Library


They have tried to squeeze us out, to stamp us into the past.

But we are still here.

And there are more of us every day.

Now an active member of the resistance, Lena has been transformed. The nascent rebellion that was under way in Pandemonium has ignited into an all-out revolution in Requiem, and Lena is at the center of the fight.

After rescuing Julian from a death sentence, Lena and her friends fled to the Wilds. But the Wilds are no longer a safe haven—pockets of rebellion have opened throughout the country, and the government cannot deny the existence of Invalids. Regulators now infiltrate the borderlands to stamp out the rebels, and as Lena navigates the increasingly dangerous terrain, her best friend, Hana, lives a safe, loveless life in Portland as the fiancée of the young mayor.

Maybe we are driven crazy by our feelings.

Maybe love is a disease, and we would be better off without it.

But we have chosen a different road.

And in the end, that is the point of escaping the cure: We are free to choose.

We are even free to choose the wrong thing.Requiem is told from both Lena's and Hana's points of view. The two girls live side by side in a world that divides them until, at last, their stories converge. -(from Goodreads)



I tried to stay spoiler-free but I probably/maybe/possibly slipped a little in here.
Be careful in reading ahead if you haven't read the book.
You've been warned!
Requiem by Lauren Oliver
My Thoughts: According to Goodreads, I finished Requiem like two months ago but I'm still trying to work my way through my feelings through my book (and my feelings for this series as a whole). There is something so satisfying about flying through it, I have to admit. But on the other hand, waiting so patiently for several years and getting THIS set of stories was just…odd.



The first thing you need to know is this
:
I really liked Delirium. Like, a lot.
Despite obvious flaws in the story, I felt invested in what the author was doing. She created a neat idea and ran with it – I get that. She made a great love interest that I fell pretty darn hard for – not a shock there! I never ever fell for Lena in Delirium, but I wasn't surprised about that. I feel like I'm the minority on that one. While I did see a little bit of growth in her from the beginning of the book to the end, I feel like the most of the world really liked her. I did not. However, I liked the story enough to keep going.
It's worth noting (again) that I tried to read the book in print a few times before I was able to settle into a rhythm of audiobook + print, which finally worked for me. It was only because of the voice actor and her amazing ability to read this book that I was able to become invested at all, to believe in the story at all, to put myself in the places of these characters at all – and I think that says something for this amazingly popular series.
Still, I loved Delirium. I found it what I call "wildly discussable" and found a great reading friend to discuss it with. I thought it wonderful – until the very last paragraph of the book, which I found STUPID. I never want to hear Lena address me directly. And I never want to hear Lena act like a badass when she's doing it. So…when I went into Pandemonium shortly after, I just pretended that part of the book didn't exist and that Lena was still what I considered a weak character. And I was really angry at her.
The second thing you need to know is this
:
I did not love Pandemonium. At all.
I realize that I'm one of only a few ever in the history of the world that will probably ever admit that, but I think there are more of us out there that just…won't. THIS STORY, in my opinion, is flawed even more than Delirium. But fine, let's just go with it again. I kept myself so very spoiler-free, so shaded from what was inside of the book that by the time I opened it, it was culture shock and then some and I never ever could get invested…until the last few paragraphs.
Basically I spent my entire
Pandemonium
reading experience shaking my head in disbelief, anger, and just UGH. Thank goodness for the people on the other side of my computer screen because there was some major keyboard pounding that occurred.
I won't go into all of my feelings about it because believe me, you don't want to hear them. But since I read the books straight thru instead of when they each came out, some of those flaws were pretty apparent. For example, it was pretty weird to me how Lena was immediately just ready to crawl up into Julian's arms only a few days – days!? – after the big event at the end of Delirium. WHAT IS THAT. WHAT!!! No, I'm sorry. That felt to me like the makers of the book were banking on people forgetting over the year between publication about the fact that there were only days between the end of Delirium and the beginning of Pandemonium. Too convenient and sloppy, in my opinion. And what's all that about (paraphrasing) OH EVERY TIME I SEE JULIAN I REALLY AM THINKING OF ALEX. EVERY TIME I TOUCH JULIAN I'M THINKING OF ALEX. EVERY TIME I KISS JULIAN I'M THINKING OF ALEX. — Lena, if that's how you feel, perhaps you should keep your paws off of Julian, because you're CERTAINLY not being fair to either one of those guys.
I have ALWAYS maintained and forever will maintain that I love a well-written triangle. Let's just leave it at that and you can decide whether you think I like this one. (The answer is NO.)
Also, the structure was wonky and weird and I had a hard time keeping up. I realize that I was audiobooking, but you guys KNOW that I was following along in print and I'm a pretty smart gal and it still was a little tough for me. Just, why? Can't it be easier? I KNOW that I'm not the only smart person that had trouble keeping the "Then" and the "Now" straight. So, there's that.
THE BEST THING EVER IN THE SERIES WAS THE WAY PANDEMONIUM ENDED. HANDS DOWN. I actually LAUGHED OUT LOUD. I was so thrilled and happy. I could've done cheerleader moves if I was a cheerleader. THANK GOODNESS I was reading the books straight through so I wouldn't have had the brutality of that awful cliffhanger. *thank you to the person that warned me about that!
The third thing you need to know is this:
I have mixed feelings on Requiem. For the most part, I really liked it.
I had certain suspicions that I would like the book simply because: the people that had been reading the series as it came out were not clicking with it at all. I was pretty excited-yet-nervous to read it, especially with that amazing ending to Pandemonium. (I seriously LOVED that ending and couldn't wait to see where it went.) But again, there were things in Requiem that I loved – LOVED – and there were things about it that I found a little odd.
**************************************************************
Requiem by Lauren Oliver is a story that I can completely understand, I think. I understand why the author had to go and do what she did. She had ENTIRELY too many loose ends to tie up, and many of them were left just flapping there in the breeze and felt entirely too sloppy. So by the time the book ended, they were hasty and just…I don't know. Incomplete? I still have questions, you guys, and THAT is not a great ending to a series. It felt more like the ending of this kind-of sloppy series than this amazingly done series. Do with that what you will.
I feel in my heart of hearts that this series would've been better with two longer books and not three. But that's just me – nobody in the publishing world asks my opinion. But I'm pretty doggone serious about this. I think it got carried too far and suffered for it.
The structuring was just, no. WHY DO THIS? There is one character's point-of-view that I just didn't want to know. I didn't care about at all. BUT I've also read all of the little novella-books and I knew this character's secret and basically felt this righteous anger toward that character that carried throughout the series. SERIOUS HATRED FOR A FICTIONAL CHARACTER, YOU GUYS. There was nothing this person could do to redeem himself/herself to me. So I could not have CARED what he/she did, said, felt, worried about – I cared NOT about his/her outcome in the story. For all intensive purposes, every single POV of this person could've been ripped from the pages and I wouldn't care. THAT is how intense my feelings are for this person.
HOWEVER – in this person's storyline, there are some absolutely crazy, wild, weird, and unusual things that were introduced at the hands of yet another character that I kind of loved. I realize that doesn't make any sense – that I could despise a character so much and yet love the storyline surrounding him/her, but I kind of did. Because it was WEIRD. You guys figure that one out and I'll tell you if you're correct.
About this horrid love triangle (those are words I'm pretty sure I've never uttered before) – I was worried SO HARD throughout the book about Alex and Julian both because by Requiem, I had established that I liked them both. Alex was my favorite from the beginning, obviously, but Julian never deserved to be pulled along by Lena. She really screwed him over and it wasn't his fault. But she screwed Alex over too! So my feelings were that in the end, if the book ends like most of them, someone will get hurt – that just wore on my heart and soul the entire time I was reading. Honestly, it was one of the driving forces for me even continuing this series – who will she pick?
I remember sending an email to a friend when I had only one hour left in the audiobook (just a few pages left in print) and I was worried because I felt like there were SO MANY loose ends to tie up. And I think that basically explains my overall feelings about Requiem. ALL of the loose ends get squished together at literally the very end and in doing so, some of them get resolved and some of them don't. So when everything is said and done, readers are left with their mouths hanging open – and not in a good way.
I literally felt like I invested years of waiting for this series and hours and hours of reading/listening to it – only to feel a sense of oddness and HUH? at the end. I didn't find everything I was looking for, which was sadly disappointing. Throughout everything (since loving Delirium so much), the second driving force for me reading and finishing this series has been flat-out anger. That has never happened to me before and honestly, I don't want to experience that again. I hated characters, which drove me to hope bad things for them (bad! bad! bad!) And I loved the anger that some of the characters had, which made me want them to get some revenge (I'm SO NOT LIKE THAT.) I don't like what this series made me. I don't like how it ended, but it was a heck of a ride.
I think the premise was brilliant. I think had it been edited better? written differently? SOMETHING?? It could've been much better BUT BUT BUT it wasn't my story to tell – I could only read it and I did that finally and thank goodness I can put this hot mess behind me.
OH YEAH! Two things: 1) Why even include the stuff about Lena's mom? Seriously? and 2) I read all of the novellas. I liked some of them and felt them necessary to know more about some of the characters and some of them were a little less important. BUT NONE OF THEM WERE WORTH THE MONEY. I'm so thankful my library had them all.
The audiobook format of
Reqiuem
by Lauren Oliver is published by
Harper Audio
and is 10 hours, 13 minutes, Unabridged. I'm thrilled as I can be that
Sarah Drew
read this trilogy in its entirety. I would've never made it through it without this reader in particular. She was able to portray every single emotion at every single time in every single book that was necessary for the story and I think this will work for any audience.
FYI: This audiobook works well as a first read or a re-read.
I recommend Requiem to people who want to finish the Delirium trilogy and to die-hard Lauren Oliver fans.
********************************************************
Reqiuem will appeal to fans of:


YA Sci-Fi/Dystopian with Romance
Romance: Complicated and Messy Love Triangles.
Open endings.
Great Audiobook Narrator

Reqiuem by Lauren Oliver
is currently available for purchase.
********************************************************
I feel like I'm in the minority for liking this trilogy as a whole –
maybe – but seriously, this last book is wonky.
BUT it was better than Pandemonium.