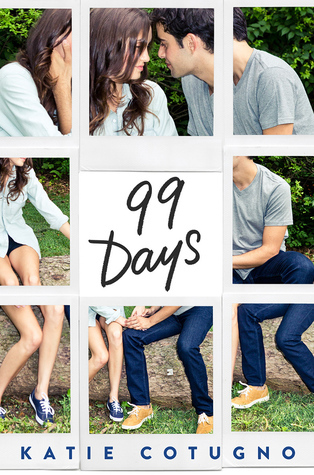 99 Days by Katie Cotugno
Published by Balzer + Bray
Publish Date: April 21, 2015
Source: Book – Library, Audiobook – Library
Find It: Goodreads / Amazon

Day 1: Julia Donnelly eggs my house my first night back in Star Lake, and that's how I know everyone still remembers everything—how I destroyed my relationship with Patrick the night everything happened with his brother, Gabe. How I wrecked their whole family. Now I'm serving out my summer like a jail sentence: Just ninety-nine days till I can leave for college, and be done.

Day 4: A nasty note on my windshield makes it clear Julia isn't finished. I'm expecting a fight when someone taps me on the shoulder, but it's just Gabe, home from college and actually happy to see me. "For what it's worth, Molly Barlow," he says, "I'm really glad you're back."

Day 12: Gabe got me to come to this party, and I'm actually having fun. I think he's about to kiss me—and that's when I see Patrick. My Patrick, who's supposed to be clear across the country. My Patrick, who's never going to forgive me. (Goodreads)
My Thoughts:
Sometimes you can make a really bad choice and screw up your best friendships and pretty much all of your relationships, and sometimes your mom can write a bestselling book about how that happened and make you sort of famous. That's what happened to Molly Barlow. That's why she ran away from Star Lake and life as she knew it. And that's why life is waiting for her almost as she left it when she decides to come back.
The way Molly is received when she returns to Star Lake tells her that her bad deeds have not been forgotten, are still talked about. She is treated like crap! And this treatment continues, and Molly continues to feel shame. Her house is egged. Her car is keyed. Near-constant slut-shaming. And Molly notices that Gabe isn't treated the same way for his same bad deeds. Even Gabe knows that he isn't treated the same; he acknowledges it and that it isn't fair.
********************************************************************************


THIS BOOK.
I read 99 Days once before and it was great, but it was a tough, tough read. No, I didn't like most of what was happening in this story. Yes, I was mad at this choice and this choice and how-could-she/he/they do that? I was so balled-up and nerve-y over everything that it took me ages to decompress. Not because I was upset over the story, but because OHHHH THE BRUTAL HONESTY OF IT. Even when they hurt, I love stories like this, and that is what happened here: it hurt to read this one.
I revisited 99 Days again just a few days ago for a reread. It still wasn't an easy story, but my gosh, it was still so, so wonderful.
The thing that this book does really well is show that bad choices have consequences, and that sometimes things cannot be fixed. It also shows that we need to grow from our bad choices in order to not make them again, and also so people will be able to trust us. This book contains secrecy, honesty, betrayal, bad choices, friendships gone bad, friendships mended, hearts broken-then mended-then shattered, trust hanging in the balance, and trying to figure out what to do next in life as major themes! WHOA, right?This book has cheating in it, so if that is a thing for you when you read, you may want to just stay away. This story is messy, but it is not a mess. It is a super well-written story about a girl that does some super-dumb things and never seems able to pull herself out of them and make good on her apologies. Does she feel remorse? I think she does, for a time. But I think her remorse is short-lived while her body and brain fight for control — because she is young and impulsive. Like so many of us are/have been.
I'd like to think that there is a positive ending for Molly, even though the book ends in a bit of a cloudy place. I'd like to think that if, perhaps, the story was carried out just a little longer, Molly would have a happy ending, complete with the remorse and character development that we-the-readers generally want to see. I'd like to think that her story just isn't complete yet and she is a little slow-to-go on these things. I remember that Molly is young and that Molly's mother is deplorable in what she does, so she had basically no guidance or listening ear or shoulder to lean on through this time in her life. Reading the story for the second time helped me show Molly the grace I was too emotionally wrung-out to give her the first time (I'm so sorry, Molly!).
I haven't read How To Love by Katie Cotugno yet, but I have pulled it off of my shelves. I want more from this author! Reading this very difficult book *twice* has been a real treat for me. Listening to the audiobook is even more of a treat because the narrator, Allyson Ryan, is so-good-amazing in the role of Molly.
Audiobook Notes: The audiobook format of 99 Days by Katie Cotugno is published by HarperAudio and is 8 hours and 34 minutes, Unabridged. It is narrated by Allyson Ryan, who was THE perfect Molly Barlow. I knew I would love Allyson in this role because I've loved her narration in titles like Life By Committee by Corey Ann Haydu and I Shall Be Near To You by Erin Lindsay McCabe. Once again, she perfectly captured the persona of a young girl that is stuck at small-town Star Lake: not really wanting to be there but without a choice until school starts back, uncomfortable in her own skin around everyone because of mistakes she has made in the past, and also waffling back and forth between feelings she has for two boys that happen to be brothers. Her reading is believable and I was fully invested enough to be emotional over the events taking place throughout this story, and there were plenty of emotional events! Great narration by the reader. I completely recommend this audiobook.
********************************************************************************
99 Days will appeal to fans of:


Young Adult Contemporary with Romance
Romance: It's pretty complicated…
Imperfect, flawed characters.
is currently available for purchase.
********************************************************************************
I'm so excited to read How To Love!
I've heard great things about it.