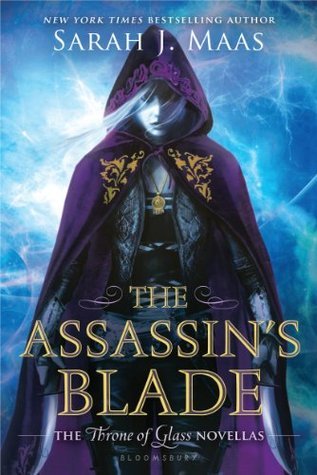 The Assassin's Blade by Sarah J. Maas
Series: Throne of Glass #o.1-o.5
Published by Bloomsbury USA Children's
Publish Date: March 4, 2014
Source: Book – Bought, Audiobook – Bought
Find It: Goodreads / Amazon
Celaena Sardothien is her kingdom's most feared assassin. Though she works for the powerful and ruthless Assassin's Guild, Celaena yields to no one and trusts only her fellow killer for hire, Sam.

When Celaena's scheming master, Arobynn Hamel, dispatches her on missions that take her from remote islands to hostile deserts, she finds herself acting independently of his wishes—and questioning her own allegiance. Along the way, she makes friends and enemies alike, and discovers that she feels far more for Sam than just friendship. But by defying Arobynn's orders, Celaena risks unimaginable punishment, and with Sam by her side, he is in danger, too. They will have to risk it all if they hope to escape Arobynn's clutches—and if they fail, they'll lose not just a chance at freedom, but their lives…

A prequel to Throne of Glass, this collection of five novellas offers listeners a deeper look into the history of this cunning assassin and her enthralling—and deadly—world. (Goodreads)



The Assassin's Blade by Sarah J. Maas

My Thoughts: I WISH I HAD READ THIS BEFORE I READ THRONE OF GLASS.

I've seen so many people say this and now I understand why! I read Throne of Glass around its release date and I liked it enough, but I never fell head-over-heels in love with it like so many others. As a result, I never felt compelled to continue with the series as subsequent installments released. Why? Because the hype and excitement surrounding this series feels super duper huge to me and I never do well with that. That may be unpopular, but I'm a reader that must separate myself from lots of hype and promotion. Over the past few years, I've bought a few of these books, but I've not yet given them another go.


Until now.


A few days ago, someone Twitter-suggested to me that I should read The Assassin's Blade before diving back in with this series. The reasons discussed: the amazing backstory, the great storytelling, and Celaena's character is more palatable than in the first book in the series. After finishing these novellas, I totally agree with all of these things. I like Celaena so much more now than I ever have before.


I understand now how Celaena became such a well-respected and well-known assassin. I understand how she became fiercely independent and WOW I understand why she has trust issues. (I certainly had trust issues while I read; I trusted NO ONE.) I understand now why she felt so difficult to me in portions of Throne of Glass, although I admit that I don't really remember much of that book (so, reread time?). I feel like I understand her as a character about 1000x better than before and I NEEDED THIS SO MUCH AT THE BEGINNING OF MY THRONE OF GLASS SERIES EXPERIENCE.


I don't know which of the novellas is my favorite. I think they all had a place in setting up the series, and I think they all had strong points. I do know that there was a certain place that I came to and I realized that my heart might break, and then there was a certain place where it did. There was also several places throughout the collection of novellas where I felt angry and betrayed and just NO! STOP! WHAT? I will have my eye on some of these characters as I continue on with this series – I definitely want Celaena to meet some of these bad guys again.


I can't even begin to act like I understand the why's and how's of planning series like these – but I want new readers to read this book before starting the series. I wholeheartedly wish that I could go back and redo my first Throne of Glass experience. I wish I could read it again for the first time and only know Celaena like I know her now. I'm so thankful for the recommendations and encouragement of friends on Twitter, though. THIS is why the book community is amazing – I can't say when I would have gotten around to picking this series up again except that it would have for sure been far after the series is completed. Instead, I'm pretty excited about continuing with the series now.


Audiobook Notes: The audiobook format of The Assassin's Blade by Sarah J. Maas is published by Audible Studios and is 12 hours and 52 minutes, Unabridged. It is narrated by Elizabeth Evans, who delivered an excellent performance with this audiobook. I'm so excited to see that she is reading the rest of the series! (At least so far.) She is a great Celaena; she sounds fiery and defiant at the right times yet is also able to deliver the right amounts of vulnerable when Celaena shows it or thinks it. I love the way this narrator voices other characters too, particularly other females. I loved the accent that Ms. Evans chose for Ansel's character in particular. – I'd already purchased the next several audiobooks in this series, but listening to this one just solidified what a great idea that had been. This audiobook is fantastic and I highly, highly recommend this format for those that want to reread and experience listening to these characters (YES YES YES!!) or even those looking to read this book for the first time.
********************************************************************************
The Assassin's Blade will appeal to fans of:
Young Adult Fantasy with Romance
Romance: Slow-building.
Butt-kicking female lead.
Great world-building.
This is a collection of novellas.
The Assassin's Blade by Sarah J. Maas
is currently available for purchase.