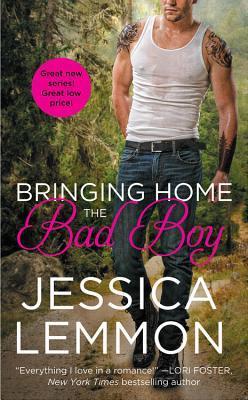 Bringing Home the Bad Boy by Jessica Lemmon
Series: Second Chance #1
Published by Forever
Publish Date: January 27, 2015
Source: Publisher
Find it here: Goodreads / Amazon / B&N


Evan Downey needs a new beginning. Since the death of his wife five years ago, the brilliant tattoo artist has shut himself away in a prison of grief that not even his work can break him out of-and what's worse, Evan knows his son Lyon is bearing the brunt of his seclusion. Moving back to the lake town of Evergreen Cove where he spent his childhood summers is his last chance for a fresh start.
Charlotte Harris knows she owes it to her best friend's memory to help Evan and his son find their way again, but she can't stop her traitorous heart from skipping a beat every time she looks into Evan's mesmerizing eyes. Charlotte is determined to stay strictly in the Friend Zone-until a mind-blowing night knocks that plan by the wayside. Now, if they're brave enough to let it, Charlotte and Evan might just find a love capable of healing their broken hearts . . .
(Goodreads)
Bringing Home the Bad Boy by Jessica Lemmon
My Thoughts: I think it's so fun that I chose to read this book because 1) I'm sometimes wary of the mysterious "bad boy" with tattoos and 2) this cover looks like exactly that type of character. HOWEVER, HOWEVER this character is not that way at all, not mysterious or broody or angsty, and it made me very happy that I decided to read this book because I feel like people need to know this!
Bringing Home the Bad Boy by Jessica Lemmon
is a really wonderful second-chance romance.
Evan Downey is an artist – a painter, a book illustrator, and a tattoo artist. He also sports plenty of tattoos of his own. He has the messy-hair, dark t-shirt, great-looking jeans vibe going on and his best friend is a rock star. SO! I can see where the cover of the book comes from. BUT OH OH, see, Evan is anything but a bad boy. He's actually a very good boy.
The book opens with Evan packing his young son up to move away. They need a fresh start in Evergreen Cove, somewhere familiar and comfortable for them, and it doesn't hurt that they'll be closer "Aunt Charlie." Charlie was his wife's best friend and is the closest family that young Lyon knows except Charlie isn't really Lyon's aunt by blood; she and Evan's first wife Rae were not actually sisters. But they were incredibly close. When Rae unexpectedly died a few years ago, it devastated them all. Evan is hoping that this move will give Lyon a better sense of family – being closer to Charlie – and he is also hoping for some closure for himself because he just has to get out of the house where Rae died unexpectedly.


Evan is not expecting to fall for Charlie. But, man, he really wants to see where their relationship goes.


It's true that Charlie had a crush on Evan even back when they were all young, but when he chose Rae, she respected that decision and never crossed any lines. NOW THOUGH, with Evan and Lyon living just a couple of houses down from her, it's difficult to keep all of her feelings buried under the surface. Evan always smells great, he always looks fantastic, and it's so awesome to see him interacting with his son the way that he does. Plus, it's really sexy to watch him make his art.


Charlie's biggest problem is the guilt she feels in admitting her feelings for her best friend's husband.
********************************************************************************
I could never even begin to imagine what kind of guilt and stress and strain the death of somebody-you-both-love would put on a relationship like it did between Evan and Charlie. Here we have two people that were friends years ago, even into adulthood – but that friendship had a respectable boundary, which was very well-written. This was all before the book began but it was a palpable respect that I could feel throughout the story. Rae, Evan's now-deceased wife, is a character that is never alive while the story is taking place (her character dies before the book begins), but she is written well enough that I felt her at the most appropriate times, which meant that the respect that Evan and Charlie had for one another because of Rae was very well-placed. It also meant that once the two began to admit that they had feelings toward each other, there was a depth of emotion present that is extra for an adult contemporary romance like this one. It was not too heavy, but it was just a little something there, and I think this was because of the second-chance romance thing.
Evan is called the "bad boy" in the title, but I genuinely feel like he is a great guy. First and foremost, he is a great father. He is smitten with his child, parenting him to the best of his ability, ALSO recognizing that he's doing it alone, without the assistance of a mother for his son. I loved this show of vulnerability and the way he never hesitated to ask Charlie for help. Evan placed himself geographically closer to Charlie because she had a vested interest in the boy's life and because she wanted to help raise him; in doing so he ended up feeling things toward this woman. And this is okay, you see. It's been years since Evan's wife died – he realizes that he needs to move on. He wants to. Charlie helps with this without even realizing it. Evan is thrilled that he is able to feel things again for another woman, and he is thrilled that it is Charlie because they have so many shared interests – his son, their grief, a love for art, several other things. They are helping each other work through the grief process when it rises. But Evan is a man just like any other man, ya know? He is ready for a relationship.
And Charlie…oh, Charlie. She had a relationship before – it wasn't a great one. The guy ended up breaking her heart for not-great reasons, which left Charlie with baggage. So not only is she carrying unwarranted baggage, but she's got this huge amount of guilt over feeling things for Evan, for wanting to be with him. Charlie has to work though this and IT. TAKES. FOREVER., which drove Evan crazy at times (and me too, doggone it!). Despite wanting to reach through the book to squish Charlie into Evan's face so he can kiss her senseless, I love these two together and love their happy ever after and YAY FOR SECOND CHANCES, they make life and reading so much fun.
This book introduces some fun secondary characters that I'm having a fit to know more about, A ROYAL FIT. And I love the small-town feeling that I'm getting from Evergreen Cove – it feels like a vacation destination even though these characters actually live there, at least some of them do! The second book in this series is coming out in May and features one of these fun characters, but there are several that I want to know more about as soon as possible. SEVERAL. I hope some of them get a book of their own, wink wink Gloria and Asher. Ahem.

I'm excited about this book and I love that this is the Second Chance Series because I LOVE these types of stories. I recommend Bringing Home the Bad Boy by Jessica Lemmon to fans of small-town romance stories, fans of second-chance romances, and fans of happy ever afters.
Click on the Rafflecopter link below to enter the
tour-wide
giveaway hosted by
Author Jessica Lemmon and Forever Romance!
*One winner will win a collection of books by Jessica Lemmon
*Ten winners will win a print copy of Bringing Home The Bad Boy
Bringing Home the Bad Boy will appeal to fans of:
Adult Contemporary Romance
Romance: No triangle. Second chance romance.
Bringing Home the Bad Boy by Jessica Lemmon
is currently available for purchase.
********************************************************************************
Jessica Lemmon has always been a dreamer. At some point, she decided head-in-
the
-clouds thinking was childish, went out, and got herself a job . . . and then she got another one because that one was lousy. And when that one stopped being fulfilling, she went out and got another . . . and another. Soon it became apparent she'd only be truly happy doing what she loved. And since "eating potato chips" isn't a viable career, she opted to become a writer. With fire in her heart, she dusted off a book she'd started years prior, finished it, and submitted it. It may have been
the
worst book ever, but it didn't stop her from writing another one. Now she has several books finished, several more started, and even more marinating in her brain (which currently resides in
the
clouds, thankyouverymuch), and she couldn't be happier. She firmly believes God gifts us with talents for a purpose, and with His help, you can create
the
life you want. (While eating potato chips.)
********************************************************************************